Warehouse lot of Cambridge Glass Reissues Sold OffBy
Mark Chervenka
Warehouse Lot of Cambridge Glass Reissues Sold
Mirror Images (MI), a Michigan based gift ware business, liquidated its remaining stock of two figural Cambridge Glass reissues in mid-1990s. The two figures were the 8 1/2" Draped Lady flower holder and the 6 1/2" Bashful Charlotte flower holder. A combined total of 650 pieces were sold through a Midwestern glass distributor between April and May, 1995.
Imperial Glass made the figures for MI in the 1980s. The Bashful Charlotte figure, marketed by MI as "Venus Rising", was made in 1981; the Draped Lady was made in 1985. Both figures were made in original Cambridge molds which were purchased by Imperial when Cambridge closed. Fortunately, Imperial altered the molds somewhat and it is relatively easy to tell the reissues from Cambridge originals.
The most obvious differences between originals and reissues will be in side surfaces and colors. Original Cambridge flower figure bases are usually smooth-sided, but were being made with Cambridge's new Type III ribbed base by the mid-1950s; bases on reissues always have the vertical ribbing. Collectors should also keep in mind that the Draped Ladies and Bashful Charlottes are today found on ribbed bases in various colors not used by Cambridge Glass. These will be later reproductions made by other companies, not Cambridge originals.
Additional mold work on the Charlotte figure removed the flower holes and made the base hollow. An "81" and Imperial's IG logo appear on most, but not all, of the Charlotte figures on the underneath side of the shoulder of the base.
Draped Lady figures are marked with the letter "I" superimposed over the letter "M" on the underneath side directly under the figure. Like the other marks, this is often difficult to read.
Although the newer figures are collectible in their own right as Imperial Glass, they should not be confused with the Cambridge originals. At the time, an original Cambridge Draped Lady in Moonlight Blue was priced $275-$375.
The Imperial Draped Lady reissue in a virtually identical blue was liquidated at $26 each.
The distributor handling the sale reported that all the Imperial figures were sold within days of being placed on the market. Draped Lady figures were priced $25-$28; Charlotte figures, $15-$17; prices varied according to color.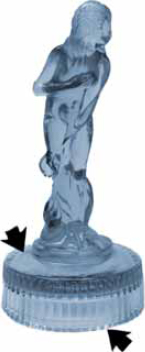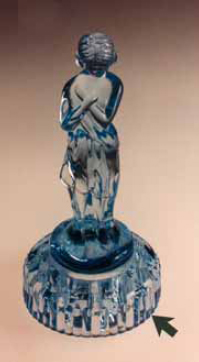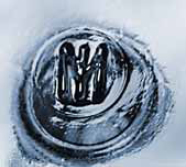 Real Or Repro is an industry resource powered by
a vetted marketplace of dealers and winner of numerous
Ecommerce Bytes Sellers Choice awards
for Quality, Usability, Customer Service, Communications and Most Recommended Selling Venue
---
So now,
Our Ruby Lane Shop Owners
invite You
to shop with them for the
Real Deal
on Ruby Lane ...
View More Similar Items