Roseville La Rose Pattern ReproducedBy
Mark Chervenka
Roseville La Rose Pattern Reproduced
At least one shape of Roseville La Rose has been reproduced. It is the 9″ handled vase (Fig. 1) with an RV mark on the base (Fig. 3). This shape copies the original La Rose catalog shape #242.
Original La Rose was introduced in 1924. It has an ivory background with molded garlands painted green and molded clusters of roses painted reddish pink and crossing bands painted blue.
Colors on the new piece are quite accurate but there is no detail in the molded pattern (Fig. 2). In originals, separate leaves are visible in the garlands; individual petals are obvious in the rose clusters. The new ink stamp is pale blue like faded denim. Original ink stamps are dark navy blue or black and are thicker in width than the new stamp. New vases are also much heavier than originals.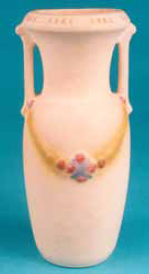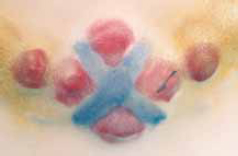 Real Or Repro is an industry resource powered by
a vetted marketplace of dealers and winner of numerous
Ecommerce Bytes Sellers Choice awards
for Quality, Usability, Customer Service, Communications and Most Recommended Selling Venue
---
So now,
Our Ruby Lane Shop Owners
invite You
to shop with them for the
Real Deal
on Ruby Lane ...
View More Similar Items