Reproduction Muncie Pottery Ruba Rombic BowlBy
Mark Chervenka
Reproduction Muncie Pottery Ruba Rombic bowl
A reproduction Muncie Pottery bowl in the Ruba Rombic style was on display at the Wisconsin Art Pottery show in Madison, Wisconsin, Saturday, August 28, 1999. The reproduction was a copy of shape #306 as shown in Muncie's 1929 catalog.
The reproduction was made with a high gloss solid yellow glaze. Although Muncie did make some originals with such a glaze, they are very rare and seldom found. The new bowl is also considerably lighter in weight than originals.
Whoever made the new bowl attempted to die stamp a Muncie mark in the base of the new bowl but only the letters CIE were visible. A full mark with all the letters may appear on other copies of the new bowls.
Original Muncie pieces like this are particularly sought after because they were designed by Reuben Haley who produced similar lines for Consolidated Glass Company. Probably Haley's most famous, and now most expensive line of glass, is the jagged geometric Art Deco glassware "Ruba Rombic" sold by Consolidated. Although Ruba Rombic is technically a line of glass, Muncie pieces of the same design are also referred to by that name. Competition from Consolidated collectors, Art Deco buyers and Muncie enthusiasts pushed up the price for Haley designed Muncie.
An original marked Muncie shape #306 bowl in a standard glaze is worth $300-$400; in an unusual glaze, $450+.
Where did the piece come from?
The new bowl was shown as part of an educational exhibit of reproduction pottery sponsored by the American Art Pottery Association (AAPA). Norm Haas, an AAPA trustee, maintains and manages the exhibit.
"The bowl was purchased by an experienced Muncie Pottery collector at an antique mall," Haas told ACRN in a telephone interview. "Once they got it home, they became uneasy with it and contacted me. I made a few calls and found out the bowl had been made as part of an experiment. Two Muncie collectors had an argument whether the (#306) bowl was made from a two-or three-piece mold so they produced a new mold. They told me only two or three new bowls were made. Somehow one piece got loose and ended up in the antique mall. That's the piece we had on display."
Haas told ACRN he had promised the bowl's makers he would not reveal their names in return for being allowed to exhibit the piece. The new bowl was shown one more time, at the American Pottery, Earthenware and China (APEC) show, State Fairgrounds, Springfield, Illinois, September 25, 1999. After the show, Haas said the makers told him they planned to destroy this particular bowl.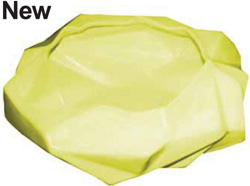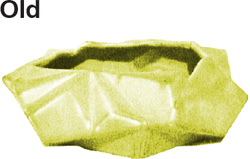 Real Or Repro is an industry resource powered by
a vetted marketplace of dealers and winner of numerous
Ecommerce Bytes Sellers Choice awards
for Quality, Usability, Customer Service, Communications and Most Recommended Selling Venue
---
So now,
Our Ruby Lane Shop Owners
invite You
to shop with them for the
Real Deal
on Ruby Lane ...
View More Similar Items