Railroad Gondola CarBy
Mark Chervenka
Railroad Gondola Car
The original railroad gondola car (Fig. 2) is an open dish made of pressed glass. Originals were available in clear, blue and amber. Bess Lindsey lists it as Figure 4139 in her book American Historical Glass. The fake in clear glass (Fig. 1) appears to be identical when viewed in profile but differs under close examination.
Most of these details are in the raised glass lettering. The car number, which appears on both sides, is "No. 2353" on the original; on the fake, it's "No. 2352". The weight figure, which appears on the right side of each car, is "Wt. 18,000" on the original; on the fake, it is "Wt. 48,000". New and old numbers are shown in Figs. 3-4.
Another small difference appears on the left side only. On the original, the capacity of the car is listed as "50,000 lbs." The same lettering appears on the fake, but the letter "s" in lbs. is upside down.
The easiest difference to detect between new and old is the size. The original is 8 X 6 X 2½ inches; the new pieces are two inches longer at 10 X 4 X 3 inches.
But unless you have memorized these details, the fakes look identical to the profile of the original in Lindsey's American Historical Glass. If you don't read the description on page 166, you wouldn't know the car, shown two pages away on page 168, is two inches wider and 2 inches shorter than the original.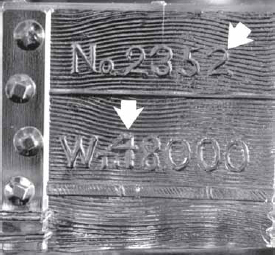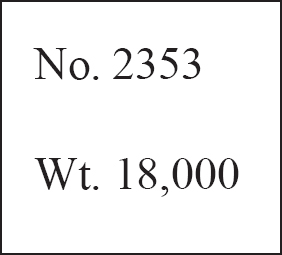 Real Or Repro is an industry resource powered by
a vetted marketplace of dealers and winner of numerous
Ecommerce Bytes Sellers Choice awards
for Quality, Usability, Customer Service, Communications and Most Recommended Selling Venue
---
So now,
Our Ruby Lane Shop Owners
invite You
to shop with them for the
Real Deal
on Ruby Lane ...
View More Similar Items