Previously Unreported Fake Tiffany BuckleBy
Mark Chervenka
Previously Unreported Fake Tiffany Buckle
The Marine Corps buckle shown here is a previously unknown Tiffany fake. The majority of the fake buckles marked Tiffany date from the mid to late 1970s although production continued at least through the 1980s.
If you look at the fake mark in Fig. 2, you'll see that the word Studio is singular, no letter S after the letter O. The original mark found on authentic Tiffany bronze products has the letter S after the letter O forming the plural, Studios. (Keep in mind, however, that similar marks on other fake Tiffany buckles are spelled correctly.)
But all these large buckles marked Tiffany are fantasy items; Tiffany never made any similar items. Marks in all the fantasy buckles were formed in the same crude molds which created the buckles. Marks in authentic bronzes by Tiffany Studios have die-struck marks, authentic marks were not molded.
Sellers of the fake buckles went to the trouble and effort of writing a 90 page book to "document" their forgeries. Titled "Tiffany & Gaylord Express & Exhibition Belt Plates," the book presents altered catalog pages purportedly printed in the 19th century depicting the fantasy buckles. The book has a false copyright date and a fictitious author. Smithsonian expert J. Duncan Campbell exposed the entire belt buckle hoax in his book "New Belt Buckles of the Old West" published in 1973.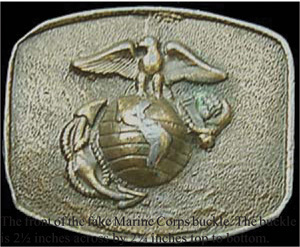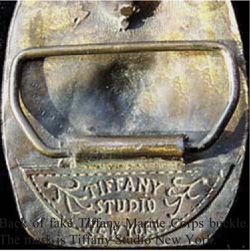 Real Or Repro is an industry resource powered by
a vetted marketplace of dealers and winner of numerous
Ecommerce Bytes Sellers Choice awards
for Quality, Usability, Customer Service, Communications and Most Recommended Selling Venue
---
So now,
Our Ruby Lane Shop Owners
invite You
to shop with them for the
Real Deal
on Ruby Lane ...