New Nippon Marked Kerosene LampBy
Mark Chervenka
New Nippon Marked Kerosene Lamp
This new 9" ceramic kerosene lamp marked Nippon is was sold by a reproduction wholesaler in the late 1990s. The new Nippon green wreath mark is virtually identical to genuine pre-1921 Nippon marks. It is a fantasy item; no lamp like this was ever produced with an authentic Nippon mark. Even though the mark is difficult to detect as new, there are several other ways to catch this recent product. For example, the font and base are glued together. Under long wave black light, the glue shows up as a yellowish white line around the joint (Fig. 2). This glue joint is also visible in most reproduction glass lamps. Authentic kerosene lamps, either glass or ceramic, were permanently joined at the time of manufacture. Glass lamps were fused together while soft; ceramic pieces were joined together with slip (liquid clay), and fired.
The inside of the new font is unglazed. If it were actually used as a lamp, the kerosene would be absorbed into the porous unprotected clay.
This particular example is shown without a brass collar for a burner. Keep in mind that these new lamps could easily be fitted with genuinely old collars and burners of various genuine manufacturers.
Thanks to Joan Van Patten for providing this example to for photography. Encyclopedia of Nippon Porcelain series of books.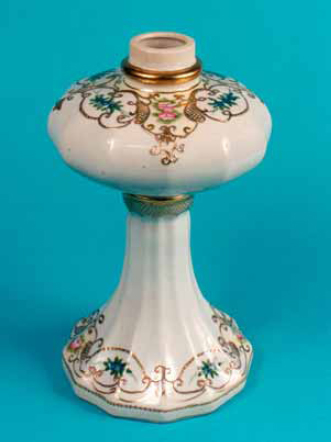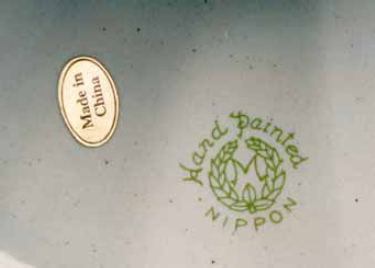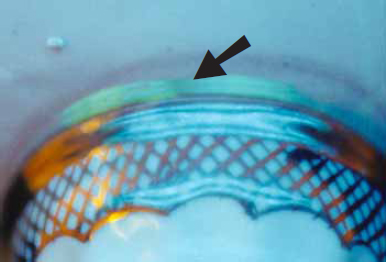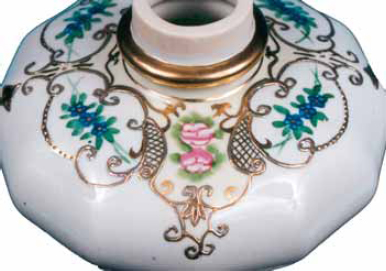 Real Or Repro is an industry resource powered by
a vetted marketplace of dealers and winner of numerous
Ecommerce Bytes Sellers Choice awards
for Quality, Usability, Customer Service, Communications and Most Recommended Selling Venue
---
So now,
Our Ruby Lane Shop Owners
invite You
to shop with them for the
Real Deal
on Ruby Lane ...
View More Similar Items