New Halloween Collectibles - A Variety of Items and Figures now AvailableBy
Mark Chervenka, editor ACRN
New Halloween Collectibles - A Variety of Items and Figures now Available.
Reproductions of Halloween collectibles aren't limited to jack-o-lanterns. There are a number of new products made in the style of vintage Halloween collectibles.
In the past collectors had only a small group of fairly easy to detect pumpkin lanterns to worry about. Starting around 1999, you could find everything from figural witches and goblins to paper mache nut cups to elaborate sets of nesting boxes. Virtually all are direct copies of old original styles and designs. Most are deliberately "aged" or "distressed" to resemble age and wear found on genuinely old collectibles.
Expect the unexpected
One of the biggest dangers is to mistake the hand finished Halloween reproductions for unique or "one-of-a-kind" items. The nesting boxes in Figs. 1 & 2 are good examples. They are decorated in an early style and are apparently hand painted.
These and other "hand made" pieces are coated with a heavy transparent matte finish seal coat. It has been applied very thickly and shows obvious brush marks. At first glance, you can easily confuse the brush marks in the seal coat for thick hand brushed paint. Look closely and you'll see that the paint is actually quite thin and applied by silkscreen. The illusion of thick brushed paint is all in the heavy seal coat.
Hand painting by itself, however, is no guarantee of age. The new round covered pumpkin box in Fig. 3 is entirely hand painted. Facial features on the lid have also been crudely cut by hand and backed with hand painted paper on the reverse side. Again, this is an attempt to capture an early vintage look with modern hand work.
You should also be wary of modern resins and synthetic materials masquerading as traditional Halloween materials such as paper mache. The figural pieces in Figs. 4-6, for example, have a rough textured surface like vintage paper mache pieces but are made of a much harder, heavier and denser substance. The new figures are mostly made of solid rather than hollow pieces and those pieces appear to be cast rather than hand formed.
Another interesting use of modern synthetic material is a group of candy containers with all over applied glitter (Figs. 7-10). This glitter, like all modern glitter, is finely cut pieces of very thin plastic (mylar). The small pieces of plastic reflect light like miniature mirrors which produces the glitter effect.
This group also had the unusual feature of a three dimensional design attached to their wire handle. No old pieces with either the handle attachments or the glitter effect were located. Note, however, that this group does feature hand painted facial features and the containers are mounted on flat cardboard bases which are indeed copied from vintage originals.
Other new candy containers include the two traditional paper mache designs shown in Fig. 14. Previously, these smaller shapes had not been seen in this vintage construction. Both pieces have handpainted features. Be sure to notice the ears on the cat; they are made of black pipe cleaners. Each container is about 2½″ in diameter.
Reproductions of traditional jack-o-lanterns have been improved. Some paper mache versions now have hand brushed painted facial details; before, the features were only airbrushed. Surfaces are also artificially scuffed to simulate age and wear (Fig. 13). In addition to traditional pumpkin lanterns, which have been available for some time, there is a black cat on the market. Both lanterns shown here, as well as most other new lanterns, are direct copies of old originals.
Be suspicious of painted wire handles on all Halloween items. The majority of wire handles on original Halloween pieces were not painted; original handles have turned dark because of age. New handles are painted black to simulate this dark patina.
Just as in many cases of exact copies with hand painted details, separating old and new Halloween pieces can be difficult. Long wave black light is still the most practical way to make quick, accurate examinations. Every new piece examined for this article fluoresced either entirely or in part. This included painted details, paper inserts in lanterns, glue on bases, glitter and raw exposed paper pulp. Black light shouldn't be your only test, but it can quickly eliminate nine out of ten Halloween reproductions currently in the market.
Several of the pieces shown in this article have hand applied "artist's" names on them; a couple have dates. Just because they have a name or date on them when they are first offered for sale doesn't make these reproductions any less troublesome. Dates are easily removed or painted over.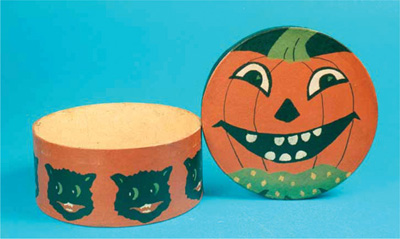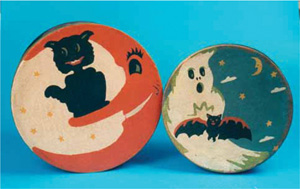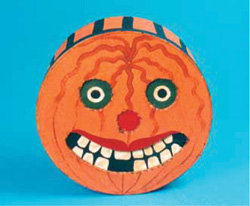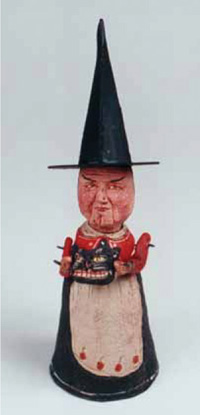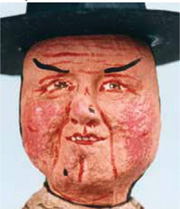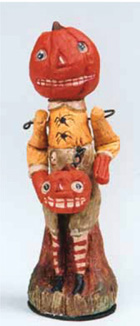 Glitter candy containers