More New Sterling MatchsafesBy
Mark Chervenka
More New Sterling Matchsafes
New sterling matchsafes continue to appear in English fairs and markets. The pattern has been for the safes to first appear in England, then gradually spread into the American market. Many new safes are brought back to the US–either knowingly or through honest mistakes–as dealers' stock. Other new safes are purchased by American collectors from English dealers offering new pieces through internet auctions.
This group has a hallmark of the letter G inside a diamond grouped with the word Sterling and the number 925. Generally, all pieces of sterling marked with 925 are new because the 925 is an international standard mark established in the mid-1970s. This is especially true of pieces that have undocumented hallmarks such as this G in a diamond. This new mark is similar to a GJ in diamond hallmark that began appearing on new sterling matchsafes with sports themes in 2001.
All of the new safes shown here, as well as many other reproduction safes, have uniformly blackened interiors. Old vintage safes, of course, have a dark patina inside, but rarely is the old patina so uniform. Authentic patina inside genuinely old safes usually has a random, irregular appearance and varies from safe to safe. If a dealer has a case full of safes with exactly the same black patina inside every safe, that is an obvious clue that you're probably looking at reproductions.
The quality of work in the new safes is not so strikingly bad as to attract notice unless you have handled many safes or are familiar with vintage silver. In this group, for example, the jump rings were of particularly low quality and not up to the usual standard of quality typical of vintage silver safes. Detail in some pieces was also a little shallow and blurred, but again this is probably more obvious to an advanced collector rather than a beginner or a dealer unfamiliar with the original safes.
The simple presence of jump rings can by itself raise suspicion. The great majority of old American safes, for example, averaging 2½- to 3-inches long, do not have jump rings. Due to their size, most American safes were carried in a trousers or jacket pocket. English safes, however, designed for the smaller English vesta, or match, average only 1¾- to 2¼-inches. Most vestas were small enough to carry in vests and waistcoats on watch chains. Thus the need for a jump ring to attach the vesta to the chain.
The rings are particularly out of place on distinctly American designs and American size safes. The Elks, for example, are an American fraternal organization, not English. Why the ring? The same question could be asked about the cowboy on the bronco safe. Although the American West and cowboys were a popular subject overseas, would an English gentleman be likely to need a jump ring to wear this example on his watch chain? A jump ring alone is certainly no guarantee of a reproduction. But if one appears on a larger safe with an obviously American subject or theme, you should at least become more alert.
How To Detect Fake English Hallmarks
Over time, there have been an increasing number of new safes coming into the market with faked English hallmarks with early date stamps. Many of these new pieces are sold in internet auctions and are being found in American antiques malls and shows.
One easy way to catch the majority of these pieces with faked date marks is to become familiar with the English marking system. Up until English hallmarking laws were changed in the 1990s, all English silver made in two or more pieces must carry two sets of marks. One full set on the main or primary section and an abbreviated set of marks on the secondary section. Secondary sections or parts include removable lids on covered dishes, coffee and tea pots as well as hinged lids on matchsafes, tankards and similar shapes.
A typical set of marks on the primary section usually consists of the maker's mark, standard mark, assay mark and year date. The secondary section must include at least two marks: the standard mark and the year date. Location of the secondary marks varies. Sometimes the secondary mark is close to the primary mark, in others it may be a considerable distance away.
None of the matchsafes with forged English hallmarks on the body have had secondary marks in the lids. Although the presence of a secondary mark does not prove a piece is a forgery, a secondary mark is generally a positive sign of a correctly applied English hallmark. Individual stamps should all be about the same size and generally well aligned.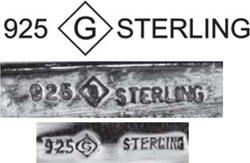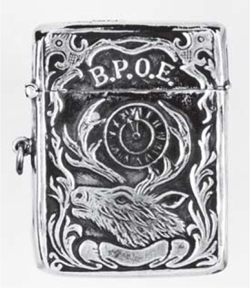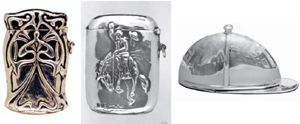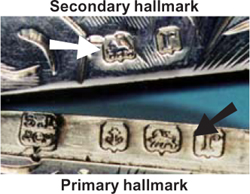 Real Or Repro is an industry resource powered by
a vetted marketplace of dealers and winner of numerous
Ecommerce Bytes Sellers Choice awards
for Quality, Usability, Customer Service, Communications and Most Recommended Selling Venue
---
So now,
Our Ruby Lane Shop Owners
invite You
to shop with them for the
Real Deal
on Ruby Lane ...
View More Similar Items