More Confusing Names Found on Other InstrumentsBy
Mark Chervenka
More Confusing Names Found on Other Instruments
This new ship's clock was being made in India. However, it is marked "Smith-London." The obvious implication is that it was made in London, England by the firm of Smith.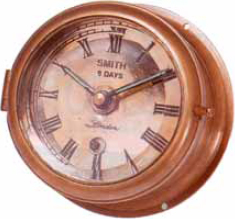 The number of new scientific instruments is growing. There are so many different pieces being reproduced with old maker's names that a list is being compiled by a dealer and collector group that specializes in instruments.
The new instruments are currently being manufactured in India. When they are made, they are being marked "London" and a variety of makers' names such as "Stanley", "Smith" and others.
New pieces, like the old, are made of solid brass. Instruments being reproduced include sextants, telescopes, several types of compasses, various clocks and a number of surveying pieces. Some new pieces require detailed examination of internal parts like washers, nuts and bolts to separate them from old originals. Look for the use of plastic pieces and rough grind marks.