Italian Cruets from 1970-1980s Copied Victorian Art GlassBy
Mark Chervenka
Italian Cruets from 1970-1980s Copied Victorian art glass
During the 1970-1980s, Murano, Italy was one of the leading suppliers of reproduction Victorian art glass. Mother of pearl glassware, commonly called MOP, was one of the 19th century decorative techniques the Italians copied.
MOP is one version of the glass decorating techniques known as air-trap. Air-trap glassware begins with blowing a small gather into a pattern, or spot mold. This leaves a pattern in the gather alternating from high to low areas. The gather is now coated with a thin clear glass overlay which covers or "traps" the air between the raised pattern. The trapped air creates a luminous sheen in the glass surface similar to natural mother of pearl for which it was named. Typical Victorian patterns in MOP include raindrop, herringbone and diamond commonly called diamond quilted.
An original catalog sheet offering Italian reproductions of MOP is shown in Fig. 2. A new MOP cruet in pale blue is on the bottom row, far right (white arrow). The 1970-80s wholesale price of the new MOP cruet was $6.50.
There are two good clues to help you detect the vast majority of the Italian MOP cruets. First, original 19th century MOP cruets virtually without exception have at least ground if not polished pontil marks. The majority of Italian MOP cruets have no sign of a pontil mark on the base (Fig. 3) Some new cruets have a scarred or broken pontil, an area where the pontil rod was snapped off and not ground. If present, this area is usually small, typically ¼″ to ½″ diameter.
The other important clue is the handle. Original 19th century cruets were rugged enough to be filled with oil or vinegar, passed around the table and washed after use. Compare the handle on a typical old cruet in Fig. 5 to the new Italian cruet handle in Fig. 4. Handles on the Italian cruets are exceptionally thin and spindly. New handles did not have to be strong enough to withstand normal everyday use. It wasn't made to be used as a dining room cruet; it was made for display as an "antique."
Other known Italian cruets with the characteristically thin handles and no pontils include Burmese hobnail, smooth sided Burmese, peachblow, rainbow MOP, and millefiori. Several new styles were also made with applied glass decorations such as flowers and rigaree, ridges and trails of crimped glass.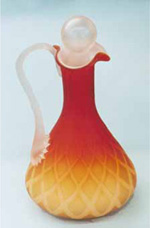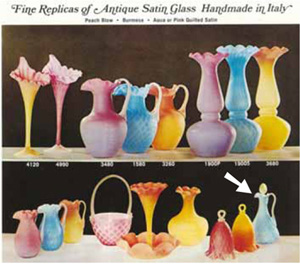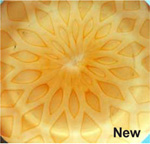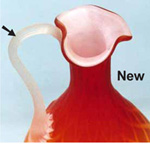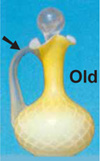 Real Or Repro is an industry resource powered by
a vetted marketplace of dealers and winner of numerous
Ecommerce Bytes Sellers Choice awards
for Quality, Usability, Customer Service, Communications and Most Recommended Selling Venue
---
So now,
Our Ruby Lane Shop Owners
invite You
to shop with them for the
Real Deal
on Ruby Lane ...
View More Similar Items