Improved Fake Nippon MarkBy
Mark Chervenka
Improved Fake Nippon Mark
Another copy-cat Nippon mark began appearing on new china in 1995. This copy is of the wreath mark with "M" in the center in green. A previous imitation of the wreath mark with an hourglass rather than an "M" in the center and the wreath was upside down was fairly obvious. Although closer to the original, there are still several differences between this new wreath mark and old original wreath marks.
Look at the H in "Hand" and the P in "Painted" in both marks below. In the new mark, these letters are rather plain with straight lines. These letters in the old mark have decorative flourishes at the cross bar in the H and in several places on the P. Next look at the three leafed cluster at the base of the wreath. In the new mark, this figure does not have a stem; in the old mark, there is a stem. There is also a difference in the wreaths: the wreath in the old mark is open above the M; in the new mark, the wreath is closed above the M. In general, the new mark is less sharp with an almost hand painted appearance. ACRN found this new mark on the hatpin holder shown below purchased in a Midwestern antique mall for $29.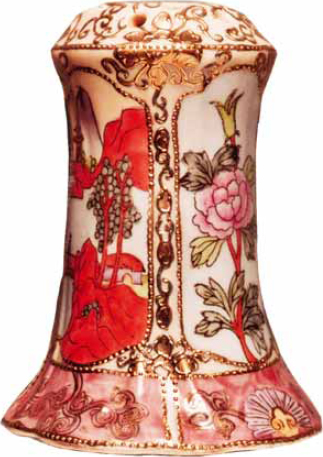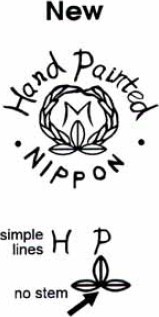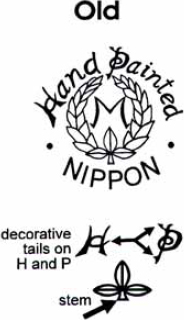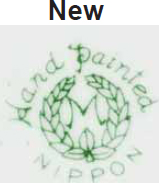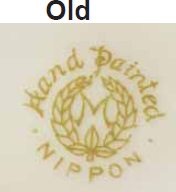 Real Or Repro is an industry resource powered by
a vetted marketplace of dealers and winner of numerous
Ecommerce Bytes Sellers Choice awards
for Quality, Usability, Customer Service, Communications and Most Recommended Selling Venue
---
So now,
Our Ruby Lane Shop Owners
invite You
to shop with them for the
Real Deal
on Ruby Lane ...
View More Similar Items