Forged Marks of Schneider Glass CoBy
Mark Chervenka
Forged Marks of Schneider Glass Glass Co.
Schneider Glass was a French glass firm founded by brothers Ernest and Charles Schneider. The business made decorative glass from 1917, the year it was founded, until 1932 when it went bankrupt. After World War II, Schneider descendants of the original founders made clear crystal under the Schneider name until 1981.
Schneider chemists and designers introduced many original Art Deco inspired glass textures, colors and shapes. The company made a wide variety of art glass including cameo, internally decorated, and wheel cut.
Although overshadowed for many years by other French glass makers such as Galle, Daum and Lalique, Schneider glass steadily rose in both popularity and value throughout the 1990s. Schneider glass has become so popular forgers are now applying faked Schneider marks almost as often as fakes of the more famous French makers.
There are two types of faked Schneider marks currently in the market. One group consists of the mass produced factory-made pieces where the faked mark is created at the time and place of manufacture. The other group is made up of all the do-it-yourself forgeries applied one at a time to a wide variety of glass pieces. The one-of-a-kind marks are often on new glass, but can also be placed on genuinely old but unmarked inexpensive glass from many makers.
An example of the mass produced Schneider fakes, a cameo glass vase made in China, is shown in Fig. 7. It has a fake raised glass Schneider mark, Fig. 8, which was applied at the factory when the vase was made.
The other type of forgery is represented by Fig. 1. In this example, the forger applied a fake Schneider mark to a genuinely old Czech glass vase made 1918-1938, Fig. 2 (Two Czech pieces with identical construction–black bodies with yellow vertical striping and mottled orange and yellow splashes and sheared top rims–are shown in Collectible Bohemian Glass Vol II, Truitt, pg 60.) Genuinely old glass, with appropriate signs of normal wear, pontil marks and construction, can be particularly confusing when found with a forged mark. That's why it is important to never base your judgement of age on a single test such as marks and signatures.
The marks being forged
More can always come on the market, but there are at least four different Schneider marks known to be forged. They include "Schneider" with a vase in raised glass (Fig. 1), "Schneider" alone in raised glass, "Le Verre Francais" in raised glass, Fig. 11, and Charder in raised glass, Fig. 14.
Charder was a trade name of Schneider Glass. The name is formed by the beginning and ending letters of Charles Schneider–the first four letters of CHAR-les and the last three letters of Schnei-DER.
Charder was a subdivision of a line of cameo glass by Schneider Glass called "La Verre Francais". The La Verre Francais line was generally made of a thick usually mottled glass body with a very thin highly polished overlay in contrasting colors.
Typical La Verre Francais decorations are very Art Deco in character with very geometric styling. The vast majority of designs were produced with single acid cuttings. La Verre Francais pieces are signed "La Verre Francais" in script, either etched or engraved, usually, but not always in the overlay. Authentic pieces marked Charder are generally, but not always, also marked La Verre Francais.
Separating old from new
The single most important rule to remember about authentic marks used by Schneider Glass is that the vast majority (except Charder, discussed later) are engraved or etched below the surface. So far, almost all the forged marks, especially on the mass produced factory-made fakes, are in raised glass.
Don't confuse the homemade forgeries in Figs. 1 and 11 for engraved or etched marks. In these examples, the background around the marks has lowered by sandblasting or acid etching. With authentic Schneider marks, it is the mark itself–such as the word "Schneider"– which is engraved and etched below the surface, not the glass around the mark. There are no original counterparts to the forged marks with lowered backgrounds.
The only glass by Schneider that routinely had a raised glass mark was a line called Charder, a subdivision of Le Verre Francais. The authentic script Charder mark does appear as raised glass. However, most, but not all, authentic pieces with raised Charder marks are also marked "Le Verre Frandais" etched or engraved below the surface of the glass.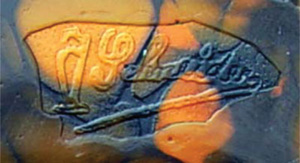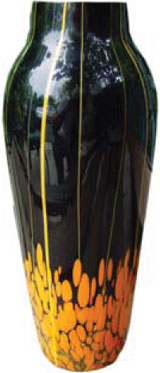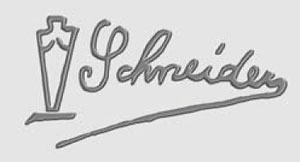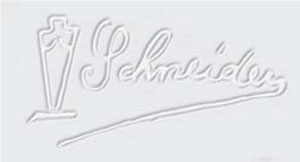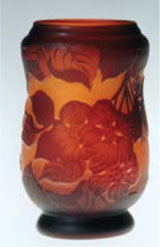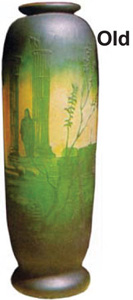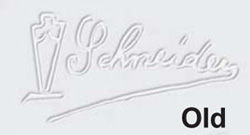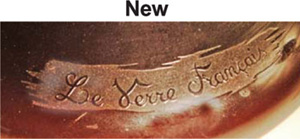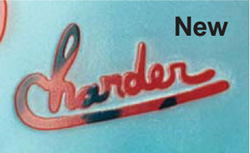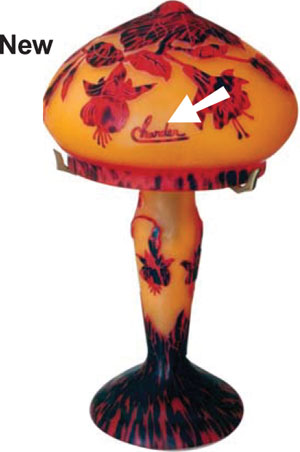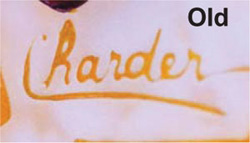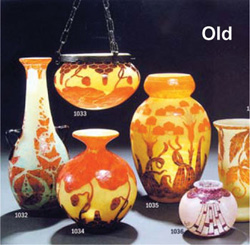 Real Or Repro is an industry resource powered by
a vetted marketplace of dealers and winner of numerous
Ecommerce Bytes Sellers Choice awards
for Quality, Usability, Customer Service, Communications and Most Recommended Selling Venue
---
So now,
Our Ruby Lane Shop Owners
invite You
to shop with them for the
Real Deal
on Ruby Lane ...
View More Similar Items