Figural matchsafe updateBy
Mark Chervenka
Figural matchsafes
New figural sterling matchsafes are available at shows, malls and Internet auction sites. This new group does not have the DAB touchmark or correct English hallmarks to identify and date them as new. All of the new safes are copies of well known and relatively expensive originals.
Four of the most commonly seen new silver figurals are Toby dog, Punch, owl and devil head. Generally, quality is low with badly fitting lids, lack of detail, poorly finished seams and incorrect strikers. The striker on the owl, for example, is applied. Virtually all original strikers were formed as an integral part of the safe, not applied. The other new strikers have very narrow deep grooves as seen in Figs. 4 & 5 below. Although old strikers bear a general resemblance to each other, very few are exactly alike. If the strikers are identical on a number of different safes, be suspicious.
One of the key identifying features of the new safes is the .925 silver mark. This mark was rarely used on genuinely old safes, but is used almost exclusively on new safes. On some new safes, the word "sterling" has been added to the .925 mark (Fig. 4). Although sterling was certainly used on old safes, .925 and sterling rarely appeared together.
Many new marks and strikers are manufactured intentionally blurred to give the appearance of age and wear. In some cases fake hallmarks are applied to suggest English manufacture (Fig. 4). On close inspection the shield-shaped hallmarks are perfectly blank without any proper markings. How can you tell if a mark is worn by natural use or made new? Easy. Any mark worn smooth by natural wear will show numerous scratches running through the mark. New pieces manufactured as "worn" are smooth with no scratches, they've never been subject to normal use.
A fifth figural safe, lady on chamber pot, is silver plated brass (Figs. 1). The inside is a frosted gray color which is also typical of the sterling safes. The original of this shape is only known in brass. If the original were plated, it was most likely nickel. Virtually all original plated safes were nickel plated, not silver plated. Some areas of the silver plating on the new safe have been deliberately ground away to shown the brass below as if by natural wear.
The reproduction lacks the handle found on the original. Old and new lids are also hinged differently and open in opposite directions. The new lid is hinged and opens from the back of the chamber pot. The old lid is hinged and opens from near the front of the chamber pot.
All the safes shown here were purchased in England. Prices ranged $29 to $41 except for the lady on chamber pot which was $85.
Thanks to George Sparacio for his comments and loaning these matchsafes for photography.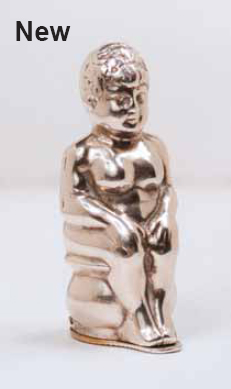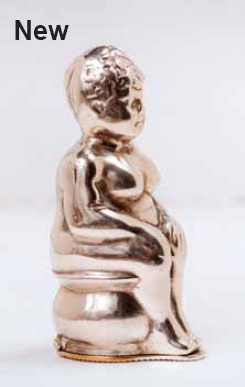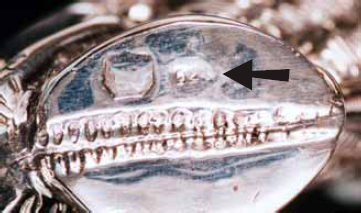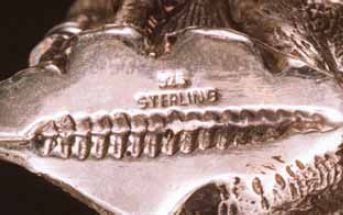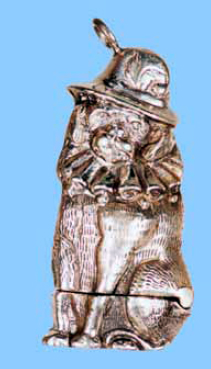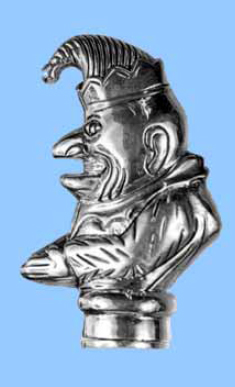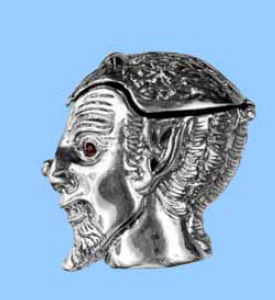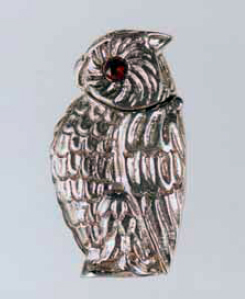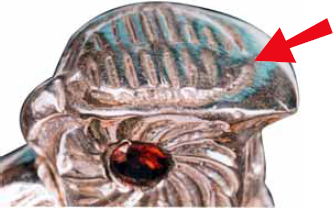 Real Or Repro is an industry resource powered by
a vetted marketplace of dealers and winner of numerous
Ecommerce Bytes Sellers Choice awards
for Quality, Usability, Customer Service, Communications and Most Recommended Selling Venue
---
So now,
Our Ruby Lane Shop Owners
invite You
to shop with them for the
Real Deal
on Ruby Lane ...
View More Similar Items