Fantasy Pieces of Railroad ChinaBy
Mark Chervenka
Fantasy Pieces of Railroad China
Dining car china is a popular railroad collectible. So popular it's been widely reproduced and reissued for a number of years.
Many new pieces are faithful recreations of original patterns and pieces and fully marked by present day china companies or retailers. These pieces generally present little problem to collectors.
The bigger problem in railroad china comes from the unmarked fantasy pieces mass produced by antique reproduction wholesalers. Such pieces typically have names of famous railroads like Union Pacific, New York Central, Santa Fe and others.
A batch of such pieces that appeared in the market are six shapes with the "trademark" of the Denver & Rio Grande Railroad (D&RGRR) appearing in blue on white blanks. This particular trademark dates to 1899 but was never used on china in blue, only brown. But unless you have access to a highly specialized book on railroad china, you would never know what constitutes an authentic trademark or design, what years they were used or what colors are appropriate. For the dealer or appraiser who only occasionally encounters railroad china, the best approach is to study how the pieces are made.
Your best defense against the cheaply made knockoffs is to keep in mind the purpose of original railroad china. All authentic railroad china had to withstand the constant shaking of rail travel plus the usual demands of institutional china. That means authentic china is virtually without exception thick, strong and ruggedly made. All surfaces, except for some bottom rims, should be glazed.
Authentic railroad china decorations are almost always based on a railroad's trademark or corporate image. Although some fading and wear from normal use is expected, original decorations are high quality, sharp and distinct.
The "trademarks" on the D&RGRR pieces almost without exception are very heavily blurred, some entirely illegible. The D&RGRR mustard jar lid is not glazed on the inside which renders it unfit to hold condiments or food of any sort for sanitary reasons.
The pieces shown in Figs. 6-8 are another group of fantasy pieces. All are very thin lightweight ceramics characterized by a deliberate heavy crazing (Fig. 7). Although the names of the railroads are authentic, none of the "trademarks" ever existed in the forms shown in Fig. 8.
Conroy, B. Restaurant China : Identification & Value Guide for Restaurant, Airline, Ship, Railroad Dinnerware © 1998 Collector Books
Luckin, R. Dining on Rails : Ency of RR China. date unknown, (out of print)
McIntyre, Douglas. Railroad Dining Car China, ©1990, McIntyre. Wadsworth Press (out of print)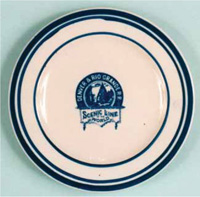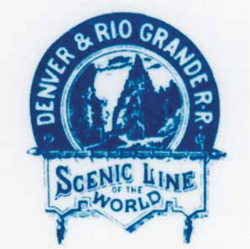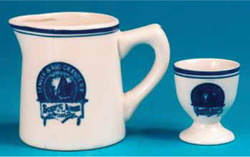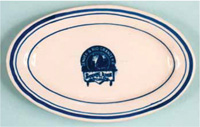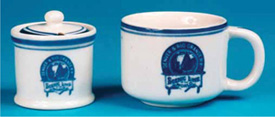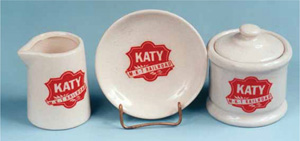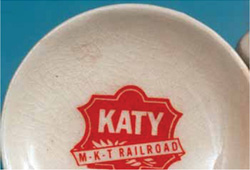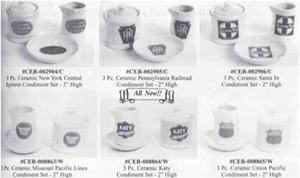 Real Or Repro is an industry resource powered by
a vetted marketplace of dealers and winner of numerous
Ecommerce Bytes Sellers Choice awards
for Quality, Usability, Customer Service, Communications and Most Recommended Selling Venue
---
So now,
Our Ruby Lane Shop Owners
invite You
to shop with them for the
Real Deal
on Ruby Lane ...