Fake acid-stamped Handel marks on glass shadesBy
Mark Chervenka
Fake acid-stamped Handel marks on glass shades
We have seen a set of four glass shades with forged acid-stamped Handel markings. Although the shades were indeed old, estimated ca. 1900-1920s, the acid marks were applied within the last 5-10 years.
The forged mark–a large letter H through which the letters A-N-D-E-L run vertically–is a copy of an authentic Handel mark. However, no original Handel products made 1885-1936 were ever marked with an acid stamp. The original vertical H marks were either hand painted or stamped in indelible ink (Figs. 3-4).
Painted vertical H marks rarely appear on any Handel glass shades. Original vertical H hand painted marks were used primarily on china and porcelain. The round vertical H stamp appears on a variety of decorated opal (white) glass bodies; it never was used on shades.
The forger may have gotten the idea of applying the vertical H mark to shades because that mark appears with drawings of shades in Handel reference books (Fig. 7). However, the H mark in those drawings is used only as a company trademark. Apparently the forger never read the text or company history describing how and where the original H mark was applied.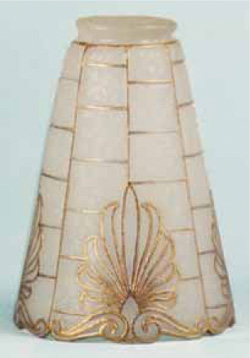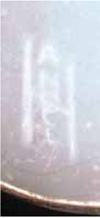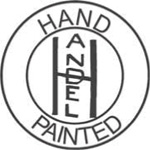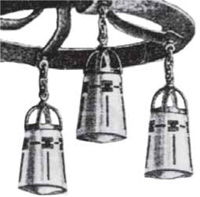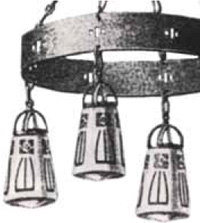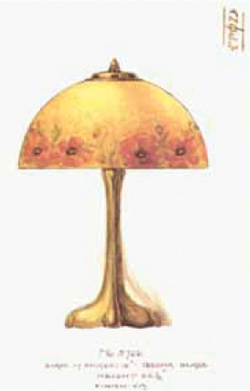 Real Or Repro is an industry resource powered by
a vetted marketplace of dealers and winner of numerous
Ecommerce Bytes Sellers Choice awards
for Quality, Usability, Customer Service, Communications and Most Recommended Selling Venue
---
So now,
Our Ruby Lane Shop Owners
invite You
to shop with them for the
Real Deal
on Ruby Lane ...
View More Similar Items