English Molded Jugs ReproducedBy
Mark Chervenka
English Molded Jugs Reproduced
Portmeirion Potteries of Staffordshire, England, has reproduced a line of Victorian styled jugs (pitchers) from original molds.
According to company advertisements, about 50 original molds were found. A number of designs are in several sizes. The molds were originally used from about 1835 to 1890. All are highly detailed with deeply embossed and molded features. Original manufacturers of these types of jugs were potters like Samuel Alcock, W. Ridgway, T.J. & J. Mayer and many others. Original bodies ranged from salt glazed stoneware to parian porcelain and white stoneware.
The molded jugs were originally made for the lower middle class. To attract this market, the jugs featured whatever subjects attracted the most sales. These included popular celebrities of the day like Price Albert and Queen Victoria, entertainers like Isaac Van Amburgh, a lion tamer, and Ada Menken, an actress, and expressed political themes of the times like Repeal of the Corn Laws and scenes from Uncle Tom's Cabin.
These period scenes and celebrities are what make the jugs so attractive to today's collectors. Many see the jugs as ceramic snapshots of Victorian heroes, villains, pastimes, government policies and sentiments.
Subjects featured on the new Portmeirion jugs include cupid, nightingale, Gothic, grapes, and Pilgrims. Those four are available in three sizes. Additional subjects available in small jugs only include tournament, huntsman, babes in the wood, Hannibal, George Washington, mask and flower, and grape harvesters.
Portmeirion Potteries never made Victorian pottery. The company name has been in use only since 1962. Any piece with the Portmeirion mark cannot be earlier than 1962 at the oldest. Some Portmeirion pieces are marked in the mold and these should not be a problem. Others, however, are only ink stamped and those marks could be removed. If an ink stamp mark is removed, new and old jugs could be confused. A Canadian collector noticed that a small Portmeirion jug costing $26 looks identical to antique jugs for which he has paid $100. This large price difference could make it tempting to remove the ink stamps.
There's a growing interest in Victorian molded jugs. Two books have been released on the subject: A Collector's Guide to Nineteenth Century Jugs by K. Hughes and Relief Moulded Jugs 1820-1900 by R.K. Henrywood.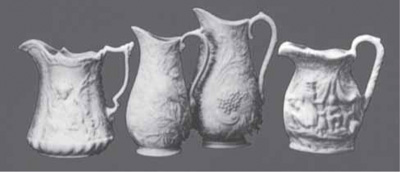 Real Or Repro is an industry resource powered by
a vetted marketplace of dealers and winner of numerous
Ecommerce Bytes Sellers Choice awards
for Quality, Usability, Customer Service, Communications and Most Recommended Selling Venue
---
So now,
Our Ruby Lane Shop Owners
invite You
to shop with them for the
Real Deal
on Ruby Lane ...