Czech perfumes copiedBy
Madeleine France & Donna Sims
Czech perfumes copied
reproductions of rare figural stoppers imported
Rare Czech figural perfume stoppers have been reproduced since late 1996. Among the first reports of the new stoppers came from perfume specialists and dealers Madeleine France and Ken Leach.
In March 1997, France became suspicious when a number of the stoppers showed up at the New York Pier show and a New York "repro" shop at the same time. France phoned a Czechoslovakian importer friend, Source A, to see what he knew of the stoppers.
Source A told France, yes, in 1996 there were approximately 20 old molds found in the Czech Republic (formerly Czechoslovakia), 15 figural and 5 floral. He requested some samples made for his approval. The samples were accepted and an order was placed in January of 1997 for 1,000 stoppers in clear and color. Different bottles are also being made in color and clear. Source A told France that he will sell all of his stoppers and bottles as new.
France also tracked down a second importer, Source B who ordered 1,500 of the new stoppers at about the same time as Source A. Source B, however, is selling the new stoppers and bottles as old claiming they are "from the 1920s found in an attic" (Fig. 2). All of Source B's 1,500 stoppers and bottles are clear.
France sent a friend to purchase four samples of the new perfumes being sold as old for $250 each in a New York shop. These appear in Fig. 1. The label shown in Fig. 2 is from these pieces.
While France was running down her information, a second perfume dealer, Ken Leach, was also becoming suspicious of stoppers he was being offered. It began with a 1996 phone call from Prague. A picker who he has bought from over a number of years called Leach to say he had found a box of stoppers, "in the back room of an antique shop." When Leach examined the pieces in New York, he passed on them because of the lack of detail. In the spring of 1997, the Prague picker was back on the phone. This time he had found a source for the stoppers and would Leach like 1200! There were 20 styles--10 figural and 10 floral. Price was $100 each or all for $60,000. At that point Leach contacted France and discovered she also had concerns about Czech perfume stoppers based on her own experiences.
France shared her information, along with a cautionary letter from Leach, in the Spring 1997 Perfume Bottle Quarterly, the newsletter of the International Perfume Bottle Association. In the same issue, Donna Sims, the Quarterly editor, wrote and photographed a side by side comparison of three of the reproductions with their original counterparts: Chrysanthemum Woman, Harem Dancer and The Jitterbugs. Sims' photos and descriptions form the basis of this article. Those examples, show how to separate new from old.
Detecting the reproductions
In general, the main difference between the reproductions and originals is quality. You can compare quality by checking the details.
A good place to begin checking details on suspect stoppers is the dowel (see illustration, Fig. 3), the part of the stopper that fits into the bottle. Dowels of original stoppers are individually finished to fit the bottles they were paired with at the factory. They are almost always smooth with a matte finish created by grinding during the fitting process. This grinding many times leaves a series of rings around the circumference of original dowels which is easily seen under magnification. Bottoms of original dowels also generally have a nicely shaped bevel (Fig. 5).
Quality of reproduction dowels ranges from not-good to very poor. Some are plain shiny glass showing no grinding; others are frosted but from sandblasting, not from grinding. Most do not have a bevel at the bottom and have poorly shaped irregularly formed sides (Fig. 4).
All the original stoppers shown in this article have droppers; none of the reproductions have droppers. Keep in mind, though, that a dropper is not by itself a guarantee of age or quality. Not all original Czech perfumes came with droppers and some original droppers have been broken and ground off over the years.
Another general test is to compare the way the figures are frosted. Original figures were acid etched which almost always leaves a frosted surface with a smooth finish. It feels silky when you run your finger across it. Reproductions feel coarser perhaps due to using sandblasting rather than acid etching. The difference is readily apparent when new and old are side by side but may not be as obvious when examined separately.
If you have trouble feeling the difference, try this test. Place any original intaglio figural stopper with the intaglio (recessed) side face up over a black background. The figure becomes very faint. When the reproduction stoppers are placed intaglio side up over a black background, the figures become whitish gray. It is not necessary to do this test with the pieces side by side. Just viewing an original stopper alone should be enough to give you a sense of how the old pieces appear.
Another clue to a new stopper is a chalky white residue left in small crevices and tight spaces like figures' hair, faces and folds in clothing. This is most likely a polishing compound left over from finishing. Although this is good clue when present, you cannot depend on it because the residue can be washed off with soap and a brush.
Generally, details in all the new stoppers lacked sharpness when compared to the originals. Though this is somewhat difficult to detect without a direct comparison, it is still a good relative point to keep in mind. Differences will be more obvious to someone familiar with Czech perfumes; less so to someone without previous experience.
Specific differences
Besides looking for the common problems outlined above, there are a number of specific clues that can be used to evaluate specific stoppers.
CHRYSANTHEMUM WOMAN The original Chrysanthemum Woman stopper, for example, has several key features that make it easy to separate from the original (Figs. 7-8). First, the original stopper has carefully cut notches around the edge; the reproduction has a smooth edge without notches. Next, there is a definite waist ground above the dowel on the old; there is no waist ground on the new. The original dowel is ground to fit; the new is not.
HAREM DANCER Differences between old and new Harem Dancer stoppers are less obvious. Perhaps the major clue is that the original has a beaded necklace while the reproduction does not. (Figs. 10-11). The original has been carefully frosted on the edges of the stopper to increase the illusion of depth and dimension to the dancer's hair, arms and clothing. On the original, grinding wheels have been used to contour and sculpt the edges of the stopper to enhance the 3-D effect. Edges of the reproduction are basically squared off as if made with a cookie-cutter and edges are not frosted.
THE JITTERBUGS Of the three specific reproduction stoppers used in this article, The Jitterbugs is perhaps most like an original. You just need to look at the details to pick out the impostor (Figs. 12-14).
Check where the elbow of the male and the head of the female touch the edges of the stopper. In the original, these areas are frosted to increase the sense of depth; they are not frosted in the reproductions. Original dancers are standing on a frosted sphere located at the bottom of the stopper. This sphere is incomplete in one reproduction although fairly complete on another. The beveling along the edge of the stopper is straight and continuous; even the points of the star are beveled. Bevels on the edges of reproductions are fairly crude and show starts and stops; points on the star are not beveled.
Don't waste your time looking at bottles. Genuinely old bottles can be mated with reproduction stoppers. Focus your attention on the stopper which is the most important factor in determining price.
The guidelines outlined in this article are for the first batches of reproduction stoppers that appeared in late 1996 and early 1997. Some of these stoppers may appear later with their edges and dowels "reworked" in America. Higher quality finishing may be applied to stoppers before they leave the Czech Republic. More sophisticated copies were probably made later. When examining any suspected reproduction, never rely on a single test for authentication. Use a variety of tests to determine age.
Original bottles used in this article courtesy Ruth Forsythe. Reproductions provided by Ken Leach and Madeleine France.
For more information on perfume bottles, consider joining the International Perfume Bottle Assn. Visit their web site at www.perfumebottles.org.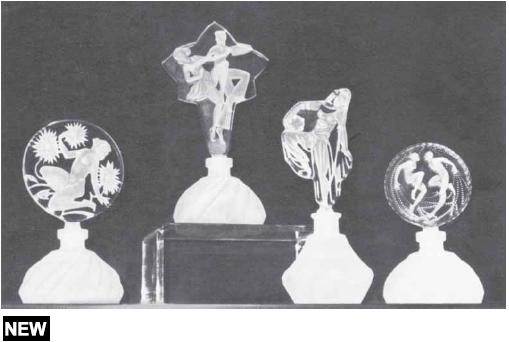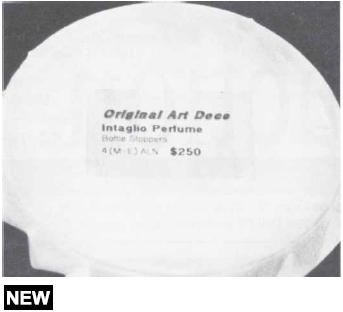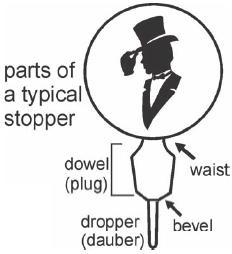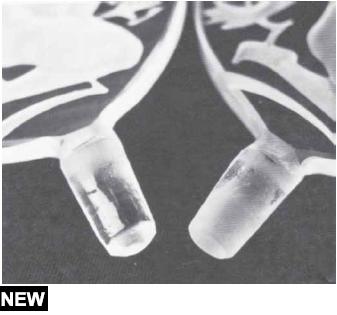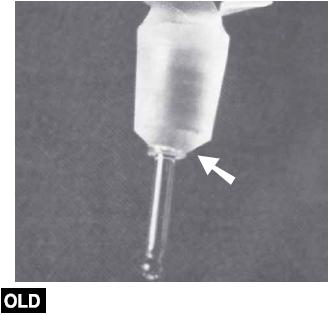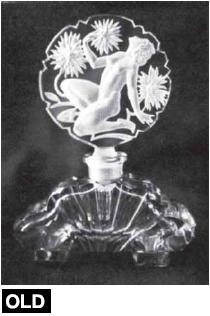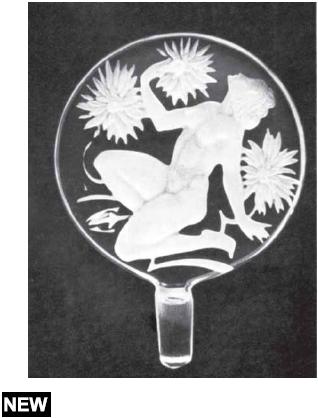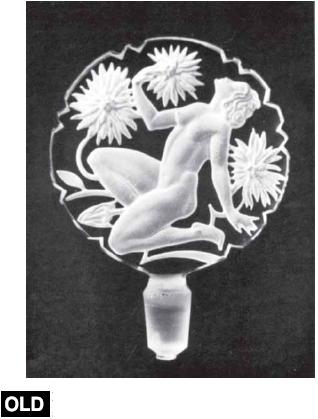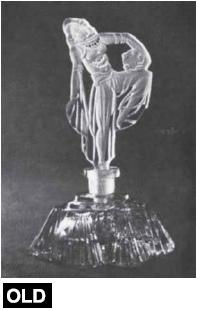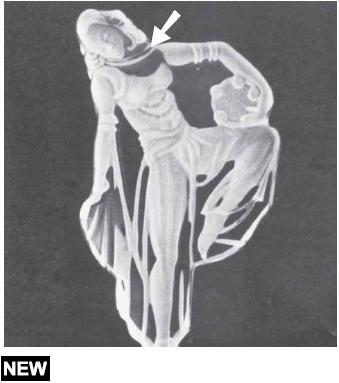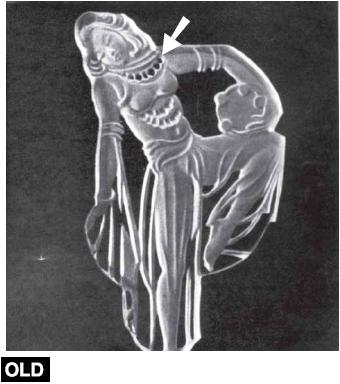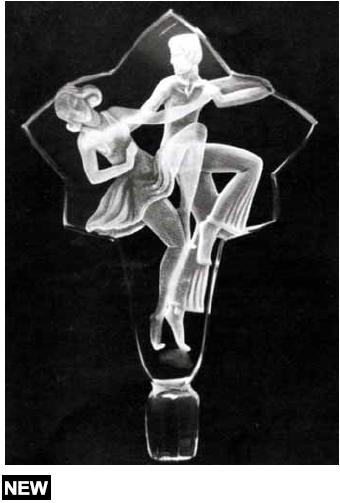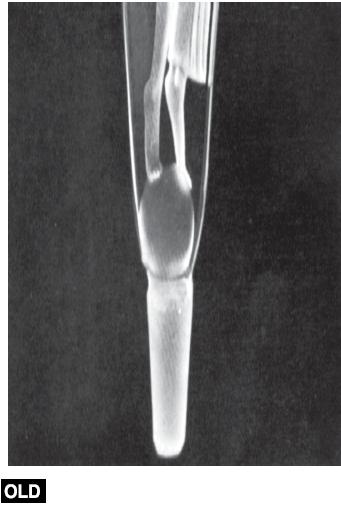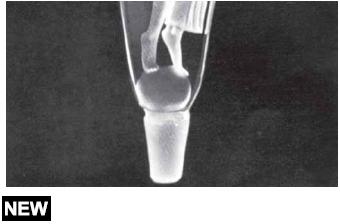 Real Or Repro is an industry resource powered by
a vetted marketplace of dealers and winner of numerous
Ecommerce Bytes Sellers Choice awards
for Quality, Usability, Customer Service, Communications and Most Recommended Selling Venue
---
So now,
Our Ruby Lane Shop Owners
invite You
to shop with them for the
Real Deal
on Ruby Lane ...
View More Similar Items