Another New Fenton InsertBy
Mark Chervenka
Another New Fenton Insert
Fenton Glass Co. continued to expand the number of colored glass pickle castor inserts it has produced. One pattern is Fern in vaseline opalescent. Although all Fenton products are advertised as being marked in the glass, this example is the only insert of over 20 ACRN has examined that has had the mark. It has the Fenton oval with the decade mark of 0. (9=1990 to 1999, 0=2000 to 2009, etc.).
A spokesperson of Fenton said the reason not every piece is marked is due to the handmade nature of the inserts. The pattern is first formed in a spot mold which also holds the mark slug. The glass is then blown out into the final form. The blowing distorts and often completely obliterates the mark.
None of the straight sided opalescent glass inserts Fenton has been making in various colors has an old Victorian counterpart. This shape in opalescent colors was first introduced by L.G. Wright in the middle of the 20th century.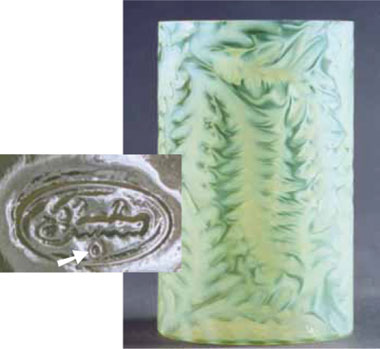 Real Or Repro is an industry resource powered by
a vetted marketplace of dealers and winner of numerous
Ecommerce Bytes Sellers Choice awards
for Quality, Usability, Customer Service, Communications and Most Recommended Selling Venue
---
So now,
Our Ruby Lane Shop Owners
invite You
to shop with them for the
Real Deal
on Ruby Lane ...