An Update on Figural Napkin RingsBy
Mark Chervenka
An Update on Figural Napkin Rings
Portland, Oregon silversmith James Mackie's new figural napkin rings are so well made, they are virtually impossible to separate from antique Victorian originals. Most of Mackie's new rings are copies of highly sought after originals such as Kate Greenaway children, cupids and animals. All are cast in pewter with some parts made of brass. They are then silver-plated and given an antique finish.
In many cases, the only way to identify which is which is by the presence of a maker's mark. You must either know the mark of the original manufacturer or be familiar with Mackie's touchmarks. He uses two: one is simply his initials in an eight-sided box (Fig. 2) and the other is a crown with his initials (Fig. 3).
The first mark, Fig. 1, is very small; less than 1/8″ high. Its small size can make it difficult to find depending on where it is placed. If an unethical seller wanted to misrepresent a new ring as old, it is relatively easy to remove this small mark or partially conceal it by filling it in or tarnishing the surface. The other Mackie mark with the crown is larger and more easily found. Both marks are in current use; occasionally both may be found on the same piece.
Mackie's line has included a rabbit pulling a ring on wheels (Fig. 1), a deer pulling a ring on a sleigh (Fig. 4), dog pulling ring on wheels with seated girl (Fig. 6) and an updated model of his boy reading book on chair with girl standing in back (Fig. 8). The earlier version of boy in chair had a chair with straight legs; in the revised version, the chair has turned legs and appearing on the pages of the book are the words "Once upon a time there were three bears" copied from the opening of Goldilocks and the Three Bears. It is a copy of a Victorian original by Simpson-Hall-Miller. Pages on original books are blank.
The new deer pulling sleigh is apparently copied, or at least inspired, from an Victorian original made by Toronto Silver Plate Company. The original is shown in an 1888 catalog illustration in Fig. 5; it is marked Toronto Silver Plate Co. 1112. Mackie's touchmark is on his new version shown in Fig. 4.
His dog pulling ring on wheels with girl in Fig. 6, is also copied from a Toronto Silver Plate Co. original. The original has sold for $500+; the new piece has retailed for $260. Wheels on both new and old turn freely; the dogs and harness shafts are nearly identical. Mackie makes a mate to this piece with a boy seated atop the ring.
Mackie's pieces are legitimate collectibles in their own right; each marked and sold as new. However, the rising prices of authentic figural rings have produced an ever increasing number of deliberate fakes and forgeries plus "married" or made up rings.
One of the best ways to catch these frauds is to compare model numbers on suspected pieces to model numbers in original catalogs or napkin ring reference books. For years, the standard work on figural rings was American Victorian Figural Napkin Rings by Victor Schnadig, © 1971, Wallace-Homestead Book Co., shows 500+ figural rings including model numbers. Long out of print, the Schnadig book has been known to run around $75-$125 from out of book dealers. In late 1996, Collector Books released Figural Napkin Rings by Lilian Gottschalk and Sandra Whitson, $18.95, which shows 731 figural rings with model numbers. The book also includes 28 pages of reprinted catalog pages and a 21 page chapter on fakes.
Comparing model numbers is also good way to catch what may be genuinely old parts--like figures from bud vases, toothpick holders, shaker sets, etc.,--soldered to any convenient napkin ring in an attempt to create a more valuable figural ring. If the number on a figural ring doesn't match the model number shown in the reference books above or in an original catalog, be suspicious. Remember, don't rely on any one test to form determine age or authenticity.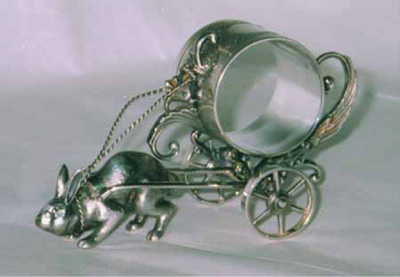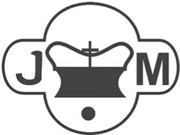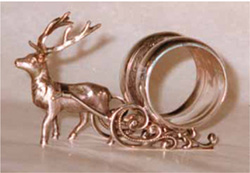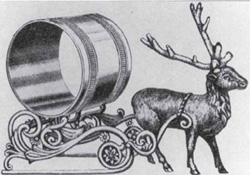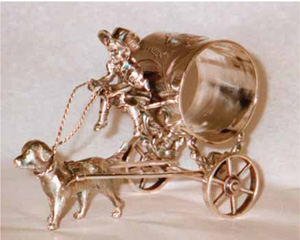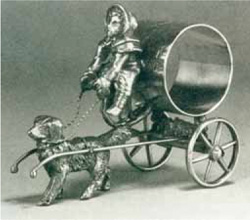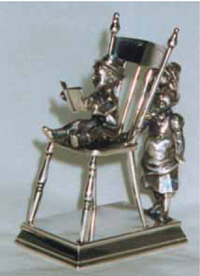 Real Or Repro is an industry resource powered by
a vetted marketplace of dealers and winner of numerous
Ecommerce Bytes Sellers Choice awards
for Quality, Usability, Customer Service, Communications and Most Recommended Selling Venue
---
So now,
Our Ruby Lane Shop Owners
invite You
to shop with them for the
Real Deal
on Ruby Lane ...