Searching for Glass
Small ruby stained glass mugs with souvenir-style messages from important glass companies are in the market. The mugs are 2″ tall with a simple arch pattern around the base. One version of the mug reads, "Northwood Glass Co. Tour 1914." A similar mug dated 1902 advertises the Indiana Tumbler and Goblet Company (Greentown). Both mugs originally came from the Chicago, Illinois area.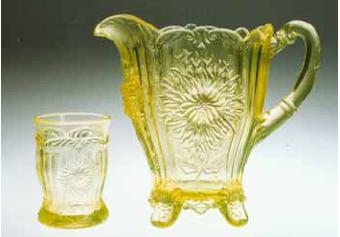 Royal Lace cookie jars and water tumblers are being reproduced in blue. In general, the new is darker with thicker glass than the originals. The new glass is slick to the touch and feels wet or greasy like most other reproduction glass.
Two reproduction wholesalers, AA Importing, St. Louis, Missouri and Castle Antiques and Reproductions, Hawley, Pennsylvania were prominent buyers of L.G. Wright Glass Company molds auctioned May 27, 1999.