Western theme wood signsBy
Mark Chervenka
Western theme
wood signs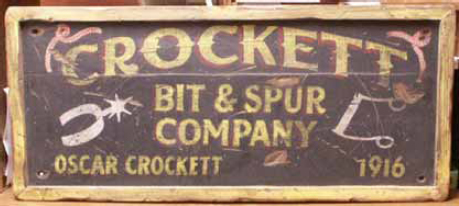 A source in New Mexico reproduced an extensive line of made in America wooden signs. Unlike many of the overseas reproduction signs which are made of Philippine mahogany, this line of signs is made of various American western pines.
The new signs are "distressed" to imitate the look of genuine age. There are numerous gouges, splinters and the paint is smeared and looks worn. Front sides are painted, most back sides have a simple brown stain.
All the new signs that were purchased for research were made of two or more boards joined along each edge. Unsupported butt joining along an edge has only made practical in relatively recent years and proves the signs' recent manufacture. Strong flush fitting edge joints are made possible by two important advances--improved glues and the development of biscuit joinery.
Modern glues made of polymers and synthetics are many times stronger than old adhesives based on animal by-products such as hide glue. With the smoother flat edge on modern lumber, glue alone is almost strong enough to hold an edge joint by itself.
A new type of joinery--the biscuit joint-- was also developed to take advantage of the stronger modern glues. Biscuit joinery gets its name from a thin oval shaped piece of wood that is called a biscuit. To use the biscuit, a matching semicircular groove is cut by a special biscuit tool into the pieces of wood to be joined. Biscuits are placed about every 12-18" along an edge joint depending on the strength of the wood and the use of the piece being built.
Biscuits and modern glue alone are enough to provide quick production of strong durable edge joints not possible in earlier years. Biscuit joinery was developed in Europe in the 1960s and began to be used in U.S. about 10-15 years later. An X-ray of the joints confirmed our suspicions. Modern biscuits were used along all the edge joints.
You don't need a lot of expensive equipment to detect most of these new signs. Understanding how old signs were made and used will give you the understanding to catch most reproductions fairly easily. In this article we will be discussing only this specific group of American made reproductions constructed of native western pines. Keep in mind that construction methods and woods used in other reproduction signs may be substantially different.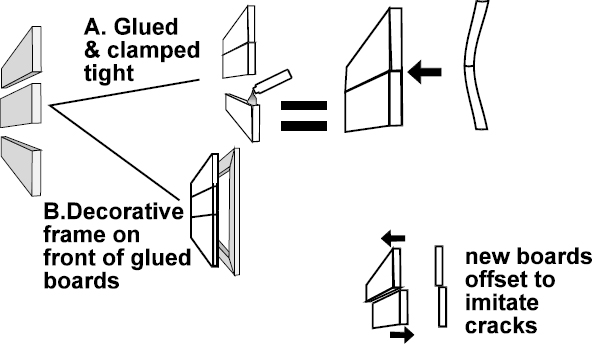 Boards in the new signs shown in this article are edge joined with glue and biscuits. All edge to edge joints are tight with no space in between the boards. Some glued together signs have a border around the front of the sign but it is primarily decorative and does not function to hold the sign together.
Since the boards are glued solidly together, the entire surface of the sign expands and contracts as the boards absorb moisture or dry out. This would obviously be a problem if the sign were to be used outside. But these signs are reproductions of signs not antique signs. They are made to be looked at, not used outside as an actual sign would be. It would be virtually impossible to join old boards edge to edge with only hide glue to hold the boards together.
In some of the new signs, the board are offset which gives the illusion of gaps or cracks between the boards but the gap does not exist. You cannot see any daylight between the tightly glued up boards.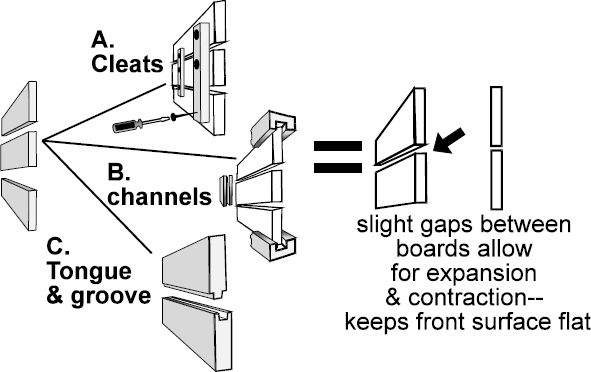 Typical old signs allowed for the expansion and contraction of the separate boards by leaving small gaps between the boards. You can generally slip a piece of paper between the boards in old signs or at least see daylight. Rather than being glued edge to edge, boards in old signs are usually held together by U-shape channels running around the edge of the signs, cleats in back of the sign or used tongue and groove edges. All three of these old methods allowed slight movement of the boards which resulted in a flat surface which was the main requirement of a real sign that remained out in the weather. Both sides of old signs generally are covered with the same type of paint. The backs of new signs have only a simple stain.