Weller Mark Faked on Art Nouveau VaseBy
Mark Chervenka
Weller Mark Faked on Art Nouveau Vase
A new Art Nouveau style vase marked Weller was sold by a Midwestern reproduction wholesaler.
The vase–with figural nude handles, molded flowers and vines and high gloss glaze–is unlike any product made by the Weller Pottery Company of Zanesville, Ohio, operating ca. 1882-1948. The closest authentic Weller product that even bears even the slightest resemblance to the new vase would probably be a line named L' Art Nouveau made 1903-1904. This line featured Art Nouveau subjects including women. But authentic L'Art Nouveau is matte glazed, not gloss glaze; and all known authentic marks on the original line are impressed or incised, not raised like the mark on the new vase.
No script-style raised mark with the single word "Weller" was ever used on any Weller product in any line. The only authentic marks with the single word Weller are impressed or incised, not raised. The only raised script-style mark was "Weller Pottery" which was molded on various lines from about 1933 until the factory closed in the 1940s.
Like many other ceramic reproductions, this new vase has random crazing in the glaze. Crazing, although it may appear on genuinely old pieces, is in no way a sign or guarantee of age. Crazing is a manufacturing flaw unrelated to age. It is deliberately produced in reproductions because so many people believe it indicates age.
The new piece is made of a modern ceramic product, not true clay as original Weller pottery. Wholesale price of the new vase was $20.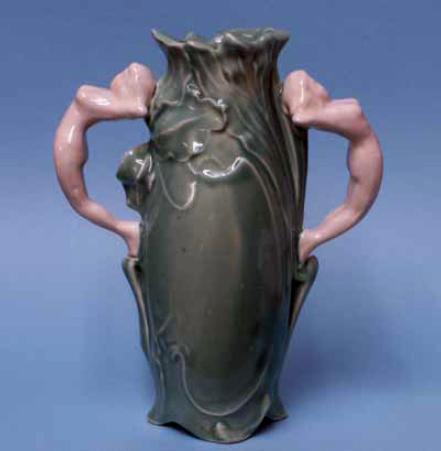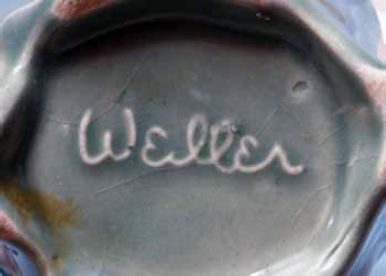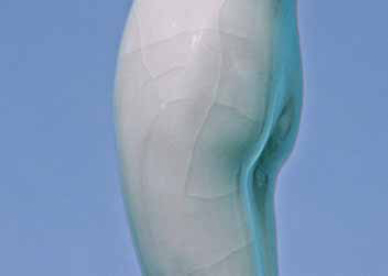 Real Or Repro is an industry resource powered by
a vetted marketplace of dealers and winner of numerous
Ecommerce Bytes Sellers Choice awards
for Quality, Usability, Customer Service, Communications and Most Recommended Selling Venue
---
So now,
Our Ruby Lane Shop Owners
invite You
to shop with them for the
Real Deal
on Ruby Lane ...
View More Similar Items