Weller Coppertone Copy Now in MarketBy
Mark Chervenka
Weller Coppertone Copy Now in Market
A well known Weller Pottery Coppertone shape has been copied. The new vase in Fig. 1 with figural frogs and lily pads was originally purchased at a retail store for $16.99. It was obviously copied from the original ca. 1920-30s Coppertone vase in Fig. 2. Originals have sold for $500 to $1000+ depending on glaze, marks and artist signatures.
"Coppertone" refers to the glaze, not the subject or shape. It has a dark brown or bronze background randomly breaking through a matte green top glaze. Weller made the original Coppertone line in the late 1920s through about the mid-1930s.
Coppertone was applied to shapes from several standard Weller lines including Warwick, Silvertone and Pumilla. It was also used on pieces featuring themes from nature such as frogs, fishes and water plants. The naturalistic pieces are the most sought after and bring the highest prices.
Originals are not always marked. If they are, the most common marks found on authentic Coppertone are the ink stamped "half kiln" mark (Fig. 6), "Weller Pottery" hand incised in script (Fig. 5), or "Weller Hand Made" hand incised in script (Fig. 4).
Differences between old and new
The main differences between new and old are the size and glaze. Like most reproductions made of ceramics or pottery, new pieces are smaller than the originals. In this case, the authentic Coppertone vase is 8″ tall, 9″ wide; the copy is 6½″ tall X 8″ wide.
The glazes are also quite different. Original Coppertone is predominantly green in color with patches of dark brown or bronze showing through from underneath. Glaze on the new piece is just the opposite: glaze on the new surface is predominantly bronze/brown with streaks and patches of green showing through from underneath.
New pieces are quite heavy. The new sample weighed over three pounds.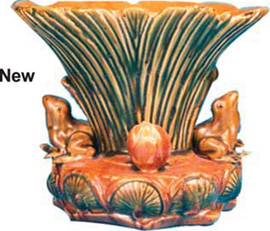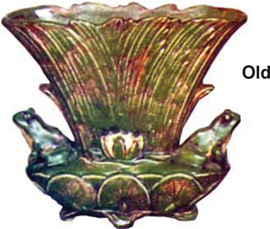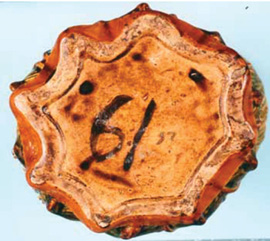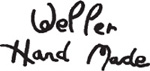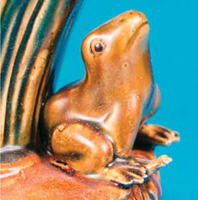 Real Or Repro is an industry resource powered by
a vetted marketplace of dealers and winner of numerous
Ecommerce Bytes Sellers Choice awards
for Quality, Usability, Customer Service, Communications and Most Recommended Selling Venue
---
So now,
Our Ruby Lane Shop Owners
invite You
to shop with them for the
Real Deal
on Ruby Lane ...