Wedgwood Fairyland Lustre ImitationsBy
Mark Chervenka
Wedgwood Fairyland Lustre Imitation
A new biscuit jar has been found loosely imitating the iridescent glazed fantasy designs introduced by Wedgwood in 1915 as Fairyland Lustre. Its characteristic fairy themes painted in bright colors outlined in gold was developed by Wedgwood artist Daisy Makeig-Jones. Original vintage Wedgwood Fairyland Lustre was produced from 1915 through 1932.
The new jar features a winged fairy comforting a human child. A pearl-like iridescent glaze covers the entire jar. Original Wedgwood line, which apparently inspired this new jar, was also copied extensively by Wedgwood competitors in the early 20th century.
With the exception of some earthenware plaques and juvenile breakfast pieces, virtually all original Wedgwood Fairyland Lustre was painted on bone china blanks. Almost all bone china pieces are marked with the Portland vase outline stamped over the glaze in gold (Fig. 4). Some authentic earthenware pieces may have impressed marks.
The new jar isn't bone china but a very thick heavy pottery. Although it's made in China, its fantasy mark suggests it was made in England with such words as "Braithwaites" and "Cumbria." The new mark also includes "Fairy Lustre Ware"(Fig. 3). Original Wedgwood Fairyland Lustre is hand painted. Decorations on the new jar are applied as transfers (decals).
The metal hardware on the imitation is crudely cast in heavy pot metal with no plating. Poorly soldered joints are obvious (Fig. 5). Typical pre-1930 biscuit jar hardware in England had nickel plated brass or silver plated white metal. Vintage hardware was carefully made with virtually no obvious sign of soldering or tool marks. No biscuit jar appears in Wedgwood's list of the 72 shapes most frequently decorated with pre-1932 Fairyland Lustre and no authentic jars have yet been found.
Fairyland Lustre was widely copied before 1930. You need to be alert for those impostors as well. Be particularly alert for fake Wedgwood marks applied to pre-1930 lustre ware by other makers.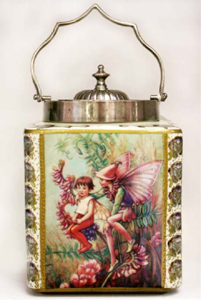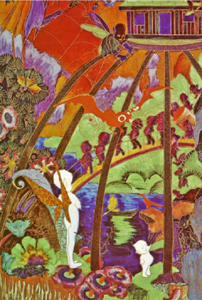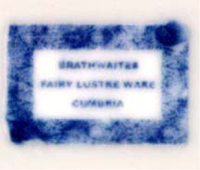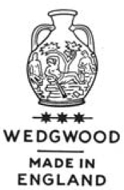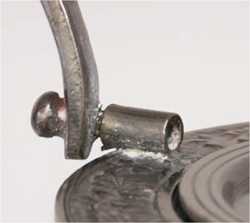 Real Or Repro is an industry resource powered by
a vetted marketplace of dealers and winner of numerous
Ecommerce Bytes Sellers Choice awards
for Quality, Usability, Customer Service, Communications and Most Recommended Selling Venue
---
So now,
Our Ruby Lane Shop Owners
invite You
to shop with them for the
Real Deal
on Ruby Lane ...