Wear and Hardware Shadows - Inspecting Drawers for Clues to AgeBy
Mark Chervenka
Wear and Hardware Shadows - Inspecting Drawers for Clues to Age
There are many pieces of new unpainted furniture in the antiques market today. From new Arts and Crafts oak made in America, to the flood of Indonesian mahogany in 19th century styles, many of these new pieces are virtually indistinguishable in shape from the originals. Add new hardware cast from vintage originals and you have the potential for confusion.
One of the clues furniture experts look for to authenticate age of furniture is the presence of appropriate "shadows." When discussing antique furniture the term "shadow" refers to differences in finish and color produced by natural aging. Shadow in this sense does not necessarily mean dark or black, but refers to a relative difference. In many cases, a furniture shadow is lighter, not darker, than a surrounding surface but is still referred to as a shadow.
Wood covered by a drawer pull, for example, would not be exposed to the wood smoke, grime and abrasion as the surrounding wood not covered by the pull. If the original hardware has been on the furniture for 100 years and the piece has not been refinished, the protected surface under the hardware should logically look different than surrounding unprotected surfaces. Similarly, areas subject to normal movement over many years also show shadows caused by continuous wear.
Drawers are one of the best places to check for shadows because they include both hardware (pulls) and movement (sliding in and out). Whether inspecting an entire chest of drawers or a single drawer in a desk, drawers can often tip you off as to whether the entire piece is right or wrong.
The material of which draw hardware is made – metal, wood, glass, ceramic – has little effect on the creation of the shadow. Any reasonably solid material will create a shadow. The exact time it takes to produce a shadow depends on the original finish, how the piece has been used or stored and the conditions to which a piece is exposed such as coal or wood smoke, cooking fumes, sunlight, humidity, etc. Generally, drawers in the original finish made before ca. 1930 should show at least some evidence of hardware shadows. Usually, but not always, the older a piece, the more obvious the shadows.
Of course genuinely old pieces can be refinished and original hardware may be replaced with identically shaped new hardware. Shadows should be only one part of your examination. Always use a variety of tests to determine age and authenticity.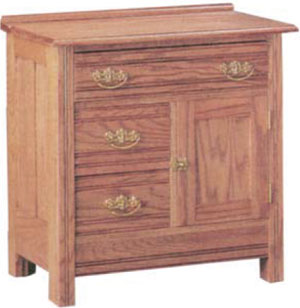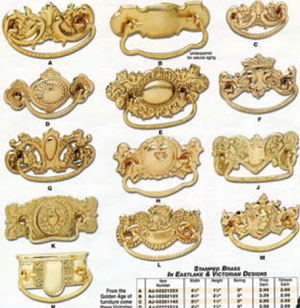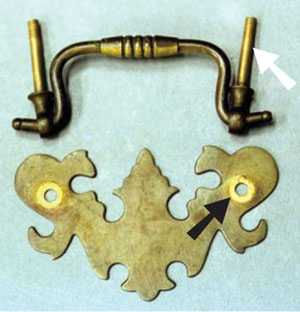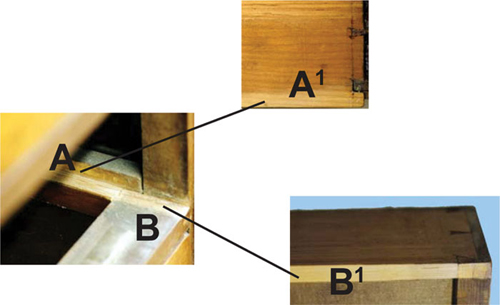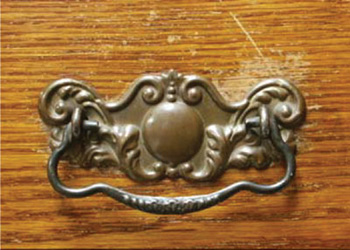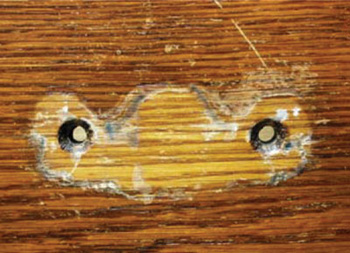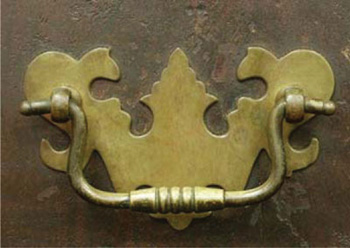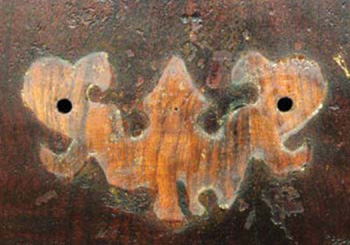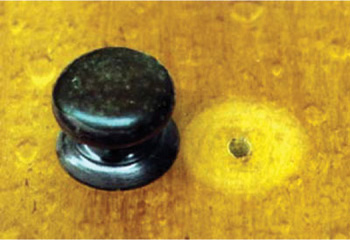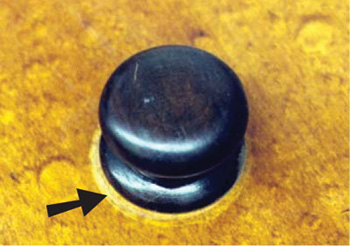 Real Or Repro is an industry resource powered by
a vetted marketplace of dealers and winner of numerous
Ecommerce Bytes Sellers Choice awards
for Quality, Usability, Customer Service, Communications and Most Recommended Selling Venue
---
So now,
Our Ruby Lane Shop Owners
invite You
to shop with them for the
Real Deal
on Ruby Lane ...