Watt Pottery ReproductionsBy
Dennis Thompson, Susan Gray, Mark Chervenka
Watt Pottery Reproductions
Hand decorated wares by the Watt Pottery are highly sought-after by collectors. The bold, cheerful designs--executed with only a few brush strokes--are popular among pottery collectors as well as those decorating in the country style. Reproductions and newly designed pieces in identical decorations are on the market.
Look-alikes by Four Rivers Stoneware
The first series of new Watt-like pottery appeared in mid-1994 and was made by Four Rivers Stoneware in Hazel, Kentucky. Most of these pieces are clearly marked with a green ink backstamp "Four Rivers Stoneware" and usually the initials "MM" for Melanie Majors, the designer (Fig. 2). All the Four Rivers Stoneware is carefully marked and originally sold as new. However, some pieces of Four Rivers have been found with the bottom marks ground off or otherwise obscured.
Four Rivers produced pitchers, mugs, large cups, mixing bowls, cylindrical jars and bird houses but the majority of the pieces are not original Watt Pottery shapes. The Apple pattern is the most common decoration in the Four Rivers line, but Rooster, Tulip and Dutch Tulip were also made. At first, the color of the clay which Four Rivers used was much whiter than the authentic Watt Pottery cream colored clay. Later, Four Rivers did begin using a clay closer to the darker Watt original.
The Four Rivers pieces which can be confusing are the bean pots, individual bean cups, and plates. The scarcity of originals and their high market value make reproductions of these shapes of particular concern. An original #75 Apple bean cup, for example, is worth between $400-$650; a #76 Apple bean pot, $175-$225; authentic Apple dinner plates (without advertising) are worth $500 and up.
New Four Rivers #76 bean pots have substantially smaller lids and are shorter. Original Watt lids on the #76 bean pot are 5" in dia.; new Four Rivers bean pot lids are 4 3/8" dia. The height of new Four Rivers bean pots is 6 1/4" including lid; height of original Watt #76 bean pot including lid is 6 1/2" (Figs. 4-5).
New Four Rivers #75 bean cups are made from new molds and are full size. Even if the original backstamp is removed you can still identify the new bean cups by looking at the bottom. New cups have a perfectly flat bottom; old have a raised resting ring leaving the bottom recessed (Figs. 6-7). New bean cups appear in a number of designs. You should be aware that no original Watt Pottery bean cups are known in Tulip, Dutch Tulip or Rooster patterns.
Although most pieces of original Watt Pottery have impressed bottom marks, many authentic plates are unmarked. This is because original plates were made face down on jiggering machines which scraped the bottoms smooth during shaping. If the mark on a Four River's plate is ground away or painted over in an attempt to pass it for original, there are several ways to determine age.
First, the appearance of the bottom is much different. The undersides of original Watt plates are smoothly molded with a raised resting ring. New Four Rivers plates have an abrupt drop into a central recessed area. The resting ring on the Watt #102 plate is 5 3/4"; the recessed area in the Four Rivers plate measures 4 1/2". Four Rivers plates are the same diameter as Watt originals but are much heavier. The Watt #102 weighs about 11 ounces; the Four Rivers #102 weighs almost 50% more at 17 ounces.
Most buyers won't have a problem detecting Four Rivers Stoneware if the backstamp is not tampered with. Be cautious, however, if the bottom surface of piece looks disturbed, repainted or off-color.
There are also differences in decorations between Four Rivers pieces and originals. However, since most differences are generally the same for the second group of reproductions, decorations are covered in the second half of this article.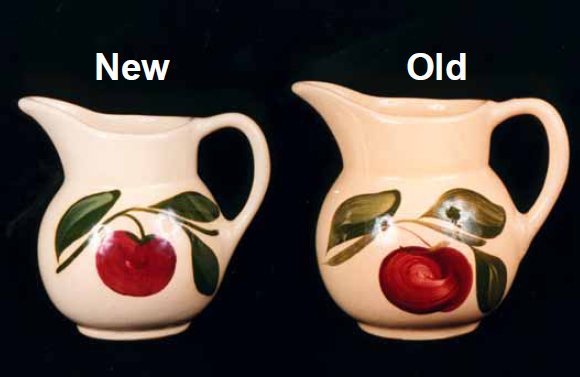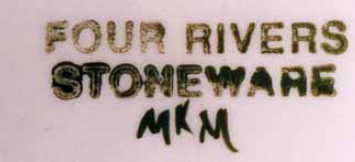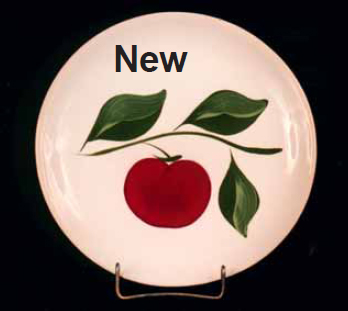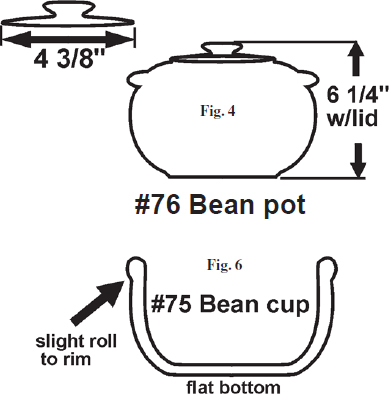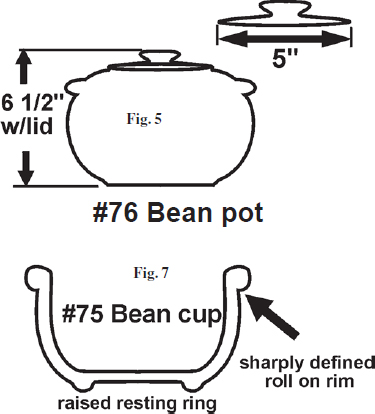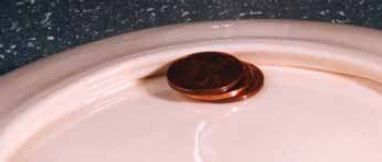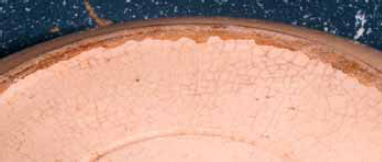 Cross sections of plate bottoms


Group X Reproductions
A second series of new pottery decorated with Watt patterns appeared in the spring of 1995. It was made in molds taken from original pieces and included the impressed marks found on authentic Watt Pottery. For the purposes of our discussion, we are calling this ware Group X.
Unlike Four Rivers Stoneware, which has a distinct backstamp and was openly promoted as new, Group X wares filtered into the market through antique auctions, antique shows and wholesale batches. Many perfectly honest dealers bought the new wares and placed them for resale, unaware of their reproduction origin. The same is true of collectors.
Among the first shows where Group X was sold were Don Scott's shows in Columbus, Ohio and Atlanta, Georgia. One weekend a person knowledgeable on Watt alerted Scott to a booth with many Watt reproductions mixed in with original pieces. Scott made the dealer remove the pieces that could be positively identified at that time as new. The same dealer appeared at other shows. He quoted wholesale batches of Group X ware at $45 a piece regardless of shape or decoration (which would be a very attractive price for original Watt.)
Group X was also sold through auction houses in several New England states and Georgia. Typically, a seller appeared at an auction house the day of a scheduled sale with a consignment of 25-50 pieces. He seemed unwilling to leave the pottery for even a few days. Presumably this was to limit the time pieces were exposed to examination and prevent contacting knowledgeable persons not attending the sale.
Group X shapes we are aware of include: #62 creamer, #15, #16 and #17 pitchers, #17 ice lip, nappy series #04, #05, #06, #07, pie plate and #63 bowl.
There is no one single feature that proves a piece is new but rather a combination of factors. Group X pieces are about 5% smaller than authentic pieces. Measurements of new and originals are included in the chart. Height of pitchers is measured to the pouring edge of the spout. Most, if not all, of the original Watt Pottery patterns are appearing on the faked pieces. Although some bottom markings on Group X are blurred and indistinct, many are no worse than the smudging in authentic marks. One bright spot is that so far, no Group X piece has been found with advertising.
SUMMARY OF GROUP X DIFFERENCES
Here is a list of differences noted on new Group X pieces. Most of the information on decorations and patterns also applies to Four Rivers Stoneware. Information on shapes and dimensions applies only to the specific Group X piece being discussed.
Pitchers and creamers
Inside, where the handle joins the body, there is usually a fairly pronounced, recessed dimple in new Group X. The vast majority of original Watt pitchers do not have this dimple (Figs. 16-17).
Pie plate
The pie plate shape being reproduced has four raised rings on the side. This particular pie plate shape was never hand-decorated by Watt Pottery. The correct hand decorated shape is smooth sided (Figs. 18-21).
Bisque ware
Authentic Watt Pottery bisque ware is undecorated and unglazed on the outside. The insides (and entire lids of covered pieces) are glazed brown. Original shakers are brown on the upper half and unglazed below the center. Any piece with brown glazed interiors and hand decorated exterior is not original. Unglazed surfaces of originals are rough & dull; glazed surfaces on new "bisque" are smoother and very shiny. Be alert for genuinely old bisque bodies with new decorations.
Nappies
Group X nappies are smooth sided. Original Watt Pottery nappies are ridged around the upper 1/3 (Figs. 24-25).
Glaze
Group X pieces frequently show a two-layered glaze. New pieces with crazing generally have the crazing only in the bottom layer of glaze; the top layer of glaze is not cracked through to the surface. Original pieces of Watt Pottery never show this condition as they have a single glaze only; they craze all the way through to the surface, (Figs. 26-27).
Patterns & decorations
APPLE--Original dark green leaves are shaded with yellow-green. The shading on new leaves is much lighter and often appears as white. Original branches vary in width with markedly wider ends. New Apple branches appear uniform in width (Figs. 27-29, also Fig. 1).
ROOSTER--Group X roosters have chests that are less rounded than originals. Although hand painted originals vary among themselves, the new roosters are noticeably thinner with flatter chests (Figs. 38-39). Some new pieces with no grass around the rooster have also been reported.
DUTCH TULIP--New design is made of lines uniform in thickness. Original design is painted with single broad brush strokes about three times as large as new (Figs. 34-37). The blue of new tulips is a bright blue; the blue in original tulips is a dark cobalt blue that looks almost black.
AUTUMN FOLIAGE-- The original Autumn Foliage pattern is made up of brown bud- or leaf-like shapes painted in a single broad stroke, four buds to a stem. Very few original bud shapes even on the same stem are exact matches; shape, size and direction all vary. Points of the buds on opposite sides of a stem generally point in opposite directions (Figs. 30-33).
On most original pieces, except for low horizontal shapes and tall thin shapes, the complete pattern is usually formed by two "blocks" or "groups" of buds. One group is mostly horizontal; the other mostly diagonal. The original Autumn Foliage pattern usually spills around the front half of a shape, especially pitchers, and the entire pattern is not always visible from the side.
The new Autumn Foliage buds are about half the size of originals. They are formed by multiple brush strokes, are very similar in shape and size and point in the same direction. On new pitchers, the entire pattern is visible in a side view and both blocks of buds are diagonal (Fig. 38).
About the authors: Dennis Thompson is co-author of Watt Pottery, A Collector's Reference with Price Guide, Schiffer Publishing. Thompson also published a Watt Pottery newsletter, Spoutings. Sue Gray, a leading collector of Watt Pottery, published Watts News, a monthly report on Watt Pottery.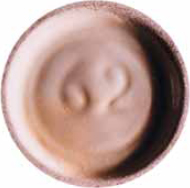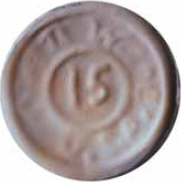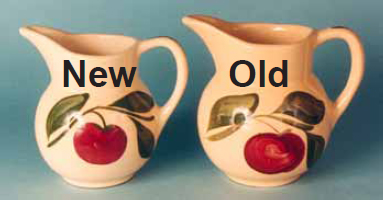 Fig. 15 Size Chart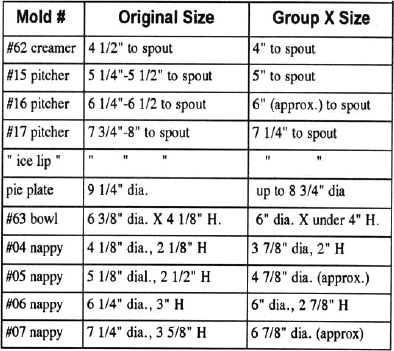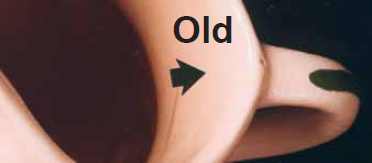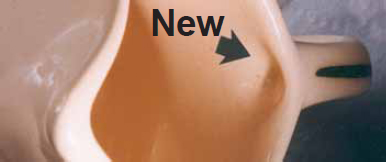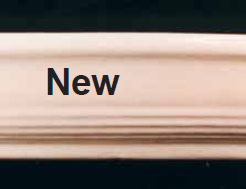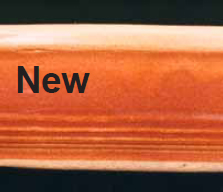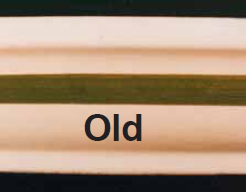 Brush strokes on all patterns
Most new decorations are made with many narrow brush strokes or simple daubs of paint. Many lines are perfectly uniform showing no variation in width. Larger areas of paint often look "filled-in" and show many zig-zag brush strokes.
Decorations on original Watt Pottery are almost without exception formed of only a few very broad brush strokes. Even fairly large areas of paint like an apple are generally formed with not more than two or three brush strokes.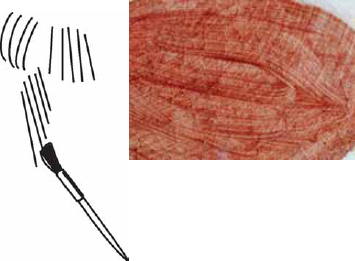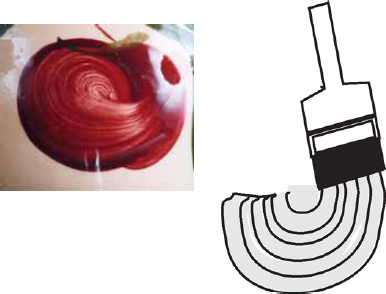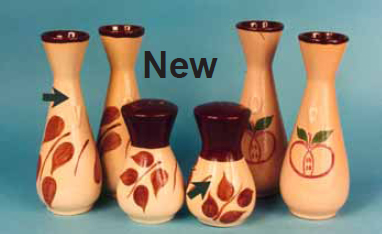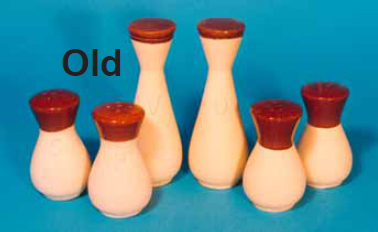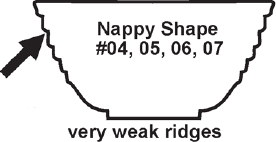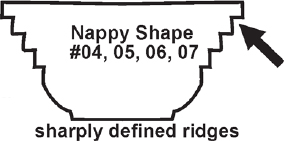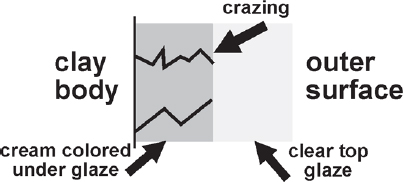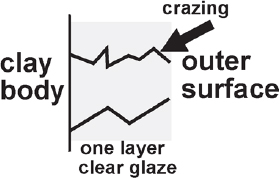 Apple



Autumn Foliage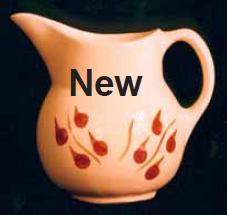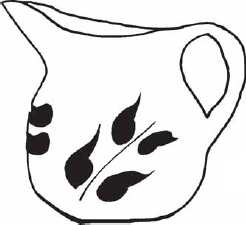 Dutch Tulip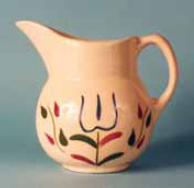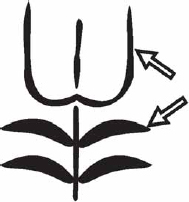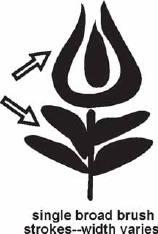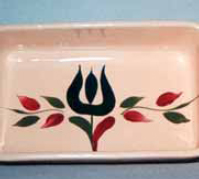 Rooster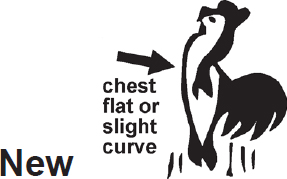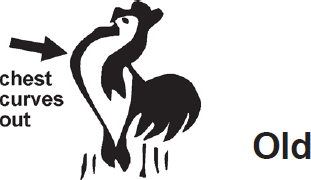 Other Patterns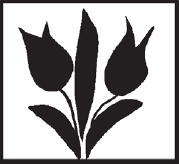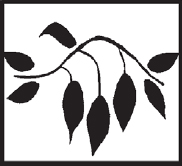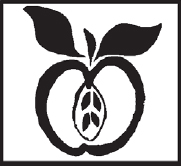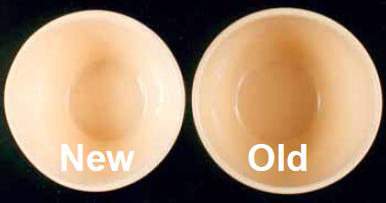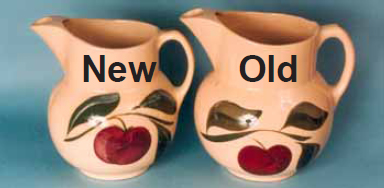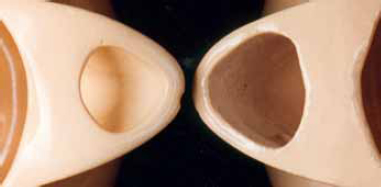 Real Or Repro is an industry resource powered by
a vetted marketplace of dealers and winner of numerous
Ecommerce Bytes Sellers Choice awards
for Quality, Usability, Customer Service, Communications and Most Recommended Selling Venue
---
So now,
Our Ruby Lane Shop Owners
invite You
to shop with them for the
Real Deal
on Ruby Lane ...
View More Similar Items