Victorian Ceramic TilesBy
Mark Chervenka
Victorian Ceramic Tiles
Including Exact Copies of 19th Century Designs with Dates and Signatures
An English firm has made and sold exact copies of many 6″ X 6″ Victorian era ceramic tiles. A good number of the new tiles bear the original artists' signatures and 19th century dates. This article will examine the patterns reproduced and the differences between old and new tiles based on decoration, dimensions and how the backs are finished.
Background
Ceramic tiles are a Victorian example of combining art with mass production. This idea--that common everyday objects should be of good design--was lead by William Morris of England and others who rejected the drab, poorly designed products of the Industrial Revolution. Tile manufacturers used many of Morris' ideas in the second half of the 19th century to produce practical, attractive products to meet the demands of the rapidly growing middle class consumer. These ideas became to be known as the Aesthetic Movement which later matured into what became known as the Arts and Crafts style.
Incorporating these ideals in ceramic tiles was first begun in England. Using patterns by famous designers like William De Morgan, potteries such as W. B. Simpson, and Minton began making tasteful, practical tiles cheap enough to decorate the walls and floors of middle class drawing rooms, kitchens and entry ways. From mid-19th century to the brink of World War I, no English household was complete without them. The beautiful designs that made ceramic tiles so popular in the 19th century are now being made as reproductions to meet a growing interest in Victorian based designs and products.
Original Decorations
The type of tiles now being reproduced were originally made for walls, ceilings and decorative use only (not for floors). For these uses, there were generally three types of decoration used. One type of decoration was hand-painted. This was reserved for special custom ordered tile or special commemorative tiles. It was the most expensive because it required the most skill, each tile being in effect a miniature painting. This decoration can be identified by individual brush strokes.
Another method of decorating original Victorian tiles was with transfers called "transfer decorated." In this process designs are printed either directly on a tile or printed on a tissue which is then applied to a tile. If applied directly to the tile, the tile is then glazed and fired. If applied to a tissue, the tissue is applied to the tile and left on during firing in which case the tissue burns off leaving the design on the tile.
The third type of decoration, hand filled or hand finished is a combination of the first two techniques. First, an outline of the master design is transferred to a tile. Then a worker, following a model, hand paints the various parts of the design similar to a paint-by-number process.
NOTE: Other techniques were used as well such as molding, carving, squeeze bag (slip) decorations and more but those methods are not used on the particular reproductions in this article so they will not be discussed here.
Separating old from new
Since the designs and patterns on many new tiles are exact copies of original decorations, being familiar with old designs is of little help in identifying the new pieces. A more reliable method is to look for clues of modern color printing techniques used in the process of transfer decorating.
Modern color printing leaves a very distinctive rosette pattern (Fig. 5) composed of black, yellow, red, and blue dots. These dots, which are the primary colors, are mixed to create all other colors. Rosettes of mostly blue and yellow dots, for example, make green. The rosette is easily seen with a 10X magnifier. All of the new tiles shown and listed in this article are decorated with full color transfers that include this rosette pattern. The rosettes are particularly obvious in solid blocks of color such as backgrounds.
Generally, old tiles are also thicker than the new. The new tiles are all 1/4″ thick whereas old tiles are rarely under 3/8″ and usually about 1/2″ thick. Backs of the tiles on old and new are also different. Old backs are nearly always formed with ridges or grooves to "bite" into the plaster or other 19th century adhesives. Backs of new tile are nearly perfectly smooth because of the better holding qualities of modern adhesives.
Prices for the new tiles in this article ranged from $6 to $25. The new tiles were from the Original Style© group made in England by Stovax Limited, Falcon Rd, Sowton Industrial Estate, Exeter, Devon, England.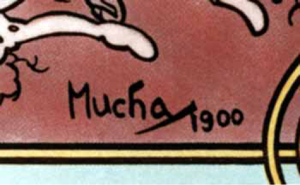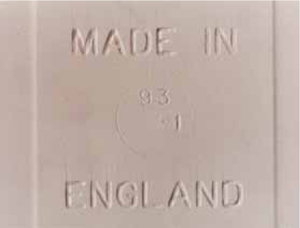 Decorations On Old Tile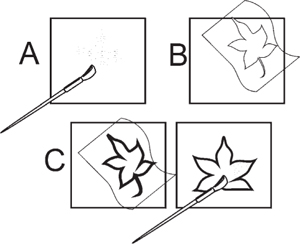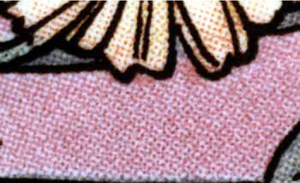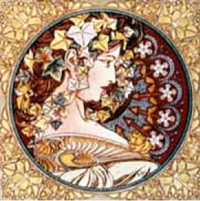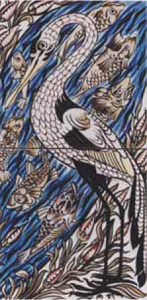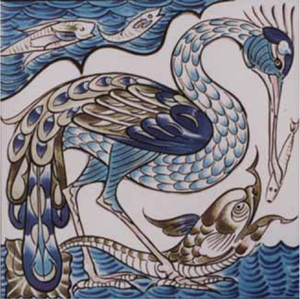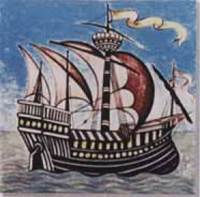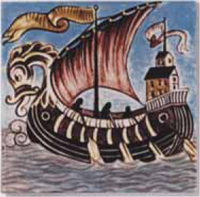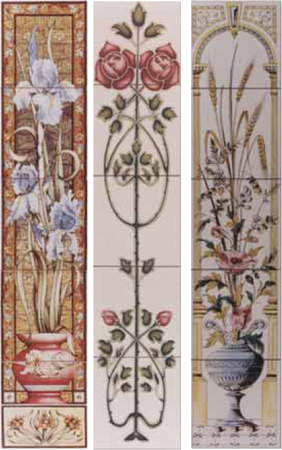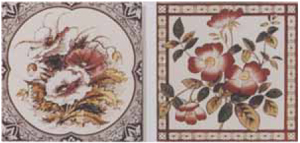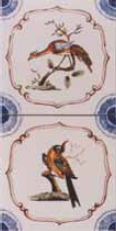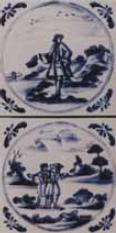 Real Or Repro is an industry resource powered by
a vetted marketplace of dealers and winner of numerous
Ecommerce Bytes Sellers Choice awards
for Quality, Usability, Customer Service, Communications and Most Recommended Selling Venue
---
So now,
Our Ruby Lane Shop Owners
invite You
to shop with them for the
Real Deal
on Ruby Lane ...
View More Similar Items