Look-alike Venetian GlassBy
Jon Atkinson
Look-alike Venetian Glass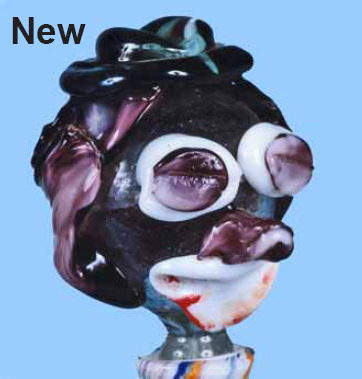 Venice, Italy has been a trading and manufacturing center for glass since the tenth century. By the 13th century Venetian glass workers were restricted to the island of Murano. As a result, both "Venetian" and "Murano" are often used to describe the same glass. In this article the term "Venetian" will be used.
The current interest in Venetian glass is greatest for that made from about World War II. Importers and returning tourists brought thousands of pieces of Venetian glass into a booming postwar US economy.
The popularity of Venetian glass has produced a wide range of lookalikes and copies. Glass manufacturers in Mexico, Japan, and here in the United States have all attempted to copy the look and techniques of Venetian workshops.
Identifying Venetian glass can be frustrating because most pieces were not permanently marked at the time of manufacture. If pieces were marked, it was mostly with paper labels and stickers. Many stickers carried only an importer's name; others wore off through time and washing. And it's always possible that labels can be switched and removed.
The best way to separate lookalikes is to study details of design, glass working skill and glass quality. Typical clown figures illustrate these differences.
Venetian glassmakers placed special emphasis on details like hands, hair, eyes and facial expression. The Venetian face in Fig. 2, for example, is are highly detailed: the eyes are expressive, the nose is well shaped and the mouth is detailed.
Contrast this work to the typical lookalike clown face in Fig. 1. This Mexican-made piece shows the crude simplistic, less detailed style generally found on lookalikes. Eyes and noses are reduced to small blobs with little anatomical detail: eyes are flat discs, noses are usually just patches of different colored glass. Mouths and eyes do not create any particular facial expression or mood.
Now compare the hands shown in Figures 3-7. Hands on the lookalikes are usually simply flat discs applied to the side of the body. There are no individually formed fingers; the glass has only been crimped to suggest fingers.
Hands on Venetian figures show more realism and detail. Individual, distinct fingers rise from hands; hands extend into the air from wrists. Wrists and hands are frequently posed to match the mood of the facial expression.
Another indication of Venetian origin is the quality and color of the glass. Lookalike copies are usually made with only two or three colors of glass cased under a thin layer of clear glass. Venetian pieces generally average between 5 to 9 or more different colors of glass. The top layer of clear glass, or casing, on Venetian pieces is usually much thicker.
Weight is another consideration. Although this is hard to convey in photos and print, Venetian pieces generally weigh more than the lookalikes. First, Venetian glass itself weighs more than a comparable volume of imitation glass. Second, Venetian glass workers made things differently. Most Venetian stoppers in decanters, for example, are solid; new stoppers are generally hollow. Old stoppers are carefully ground for a secure tight fit with virtually no wobble. Lookalike stoppers are usually very crudely ground and fit very a loosely in the decanter body.
Although many pieces of Venetian glass are decorated with gold dust, gold dust was not used by Venetian glassmakers alone. Internal gold decoration and gold decorated surface details are typical of the better quality Venetian products but do not prove a piece is Venetian.
Labels, Labels, Labels
The presence or absence of labels should not influence your judgement of Venetian glass. Let the quality of the glass be your guide. Fig. 16 is a Venetian pig ca. 1955-65. Internal color shades from white to pink, the controlled air bubbles are individually gold dust lined and there is a thick clear glass casing. The pig is vintage Venetian with or without the ca. 1950s Koscherak Bros - Made in Italy - paper label.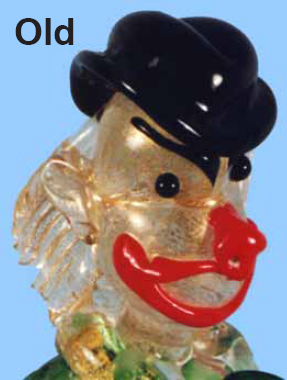 New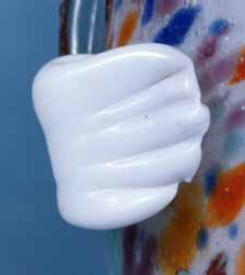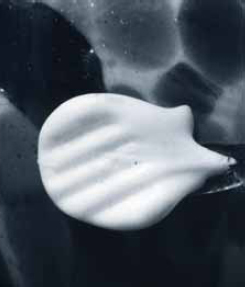 Old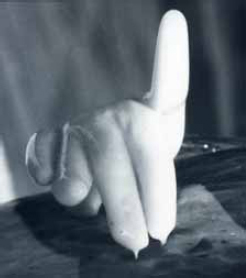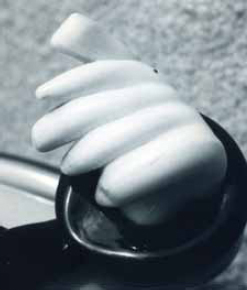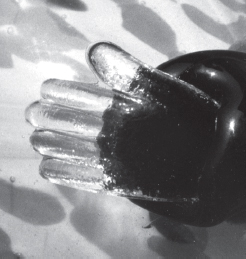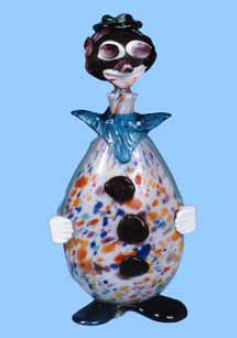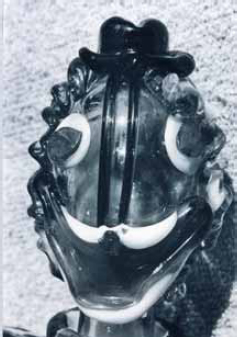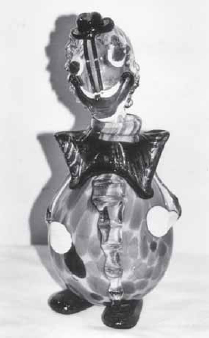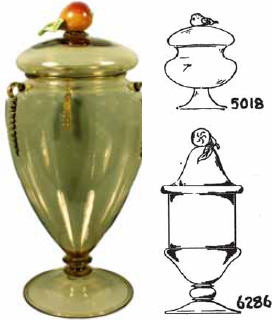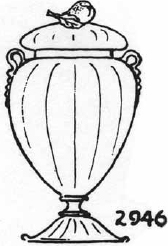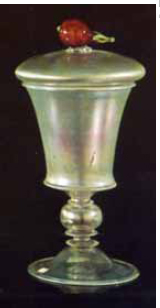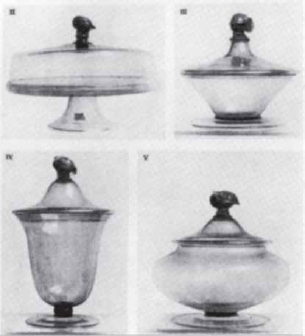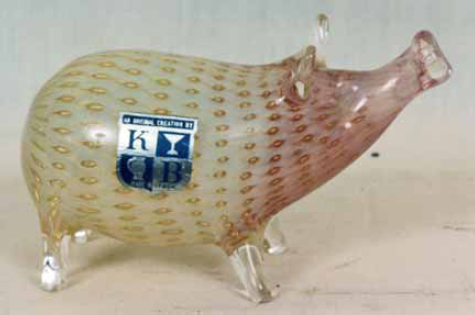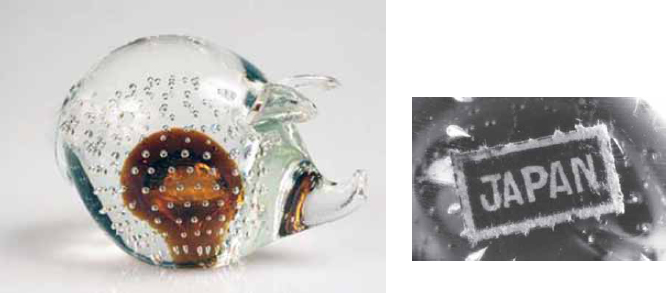 Jon Atkinson is a long time collector
of Italian glass.
Real Or Repro is an industry resource powered by
a vetted marketplace of dealers and winner of numerous
Ecommerce Bytes Sellers Choice awards
for Quality, Usability, Customer Service, Communications and Most Recommended Selling Venue
---
So now,
Our Ruby Lane Shop Owners
invite You
to shop with them for the
Real Deal
on Ruby Lane ...
View More Similar Items