Vaseline Salt Dip from L. G. Wright MoldBy
Mark Chervenka
Vaseline Sale Dip from L.G. Wright Mold
A 1960s salt dip mold from the former L.G. Wright company is back in production. The Cherry pattern salt dip mold was purchased at the Wright mold auction in May, 1999 by Rosso Wholesale Glass. Rosso produces no glass itself, but like Wright, jobs out the work to glass factories like Mosser, Summit and others.
The Cherry salt dip mold was made in 1960 by B. Machine and Mold of Cambridge, Ohio, owned by Albert Botson. Wright jobbed the Cherry mold out to various companies for production including Imperial and Wilkerson. The current maker is unknown.
The shape was never made originally. The pattern is loosely based on a turn-of-the-century pattern of the same name by Dugan Glass. In 1939 Wright bought several original Dugan Cherry molds. In the 1950s and 60s, Wright had new Cherry molds made to expand the number of shapes offered.
The example shown here is made in vaseline which does fluoresce under long wave black light. Other colors are sure to follow. Just keep in mind that any piece in this shape regardless of color is not a vintage item.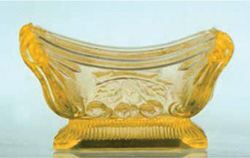 Real Or Repro is an industry resource powered by
a vetted marketplace of dealers and winner of numerous
Ecommerce Bytes Sellers Choice awards
for Quality, Usability, Customer Service, Communications and Most Recommended Selling Venue
---
So now,
Our Ruby Lane Shop Owners
invite You
to shop with them for the
Real Deal
on Ruby Lane ...
View More Similar Items