Van Briggle Pottery FakesBy
look-alike marks
Van Briggle Pottery Fakes
Van Briggle pottery has now joined Roseville as a target of widespread fakes and reproductions. Reports and examples of forgeries have been seen and purchased across the United States from Florida to California. The new pieces seem to be the most numerous in Ohio and Indiana.
Fakes and reproductions carry what appears to be genuine factory and finisher's marks. The false marks appear on three types of wares. 1) on reproductions of original Van Briggle shapes; 2) on new fantasy shapes never made by Van Briggle; and, 3) some genuinely old pottery by other manufacturers to which forgers have added the Van Briggle mark.
Background Van Briggle Pottery
Van Briggle pottery has been made continuously since 1901 in Colorado Springs, Colorado. It was founded by Artus Van Briggle. Before moving to Colorado for health reasons in 1899, Van Briggle was a major decorator for Rookwood Pottery in Ohio. The Van Briggle Pottery Company built its success on soft dull (matte) glazes.
After Artus died in 1904, the business was taken over by his wife Anna and was renamed the Van Briggle Company. The business was reorganized again in 1910 as Van Briggle Pottery and Tile Company. Anna's involvement ended about 1912. Various managers and owners ran the business through the 1920s. In 1931, the business was renamed again as Van Briggle Art Pottery which it remains to this day.
Authentic Marks
Despite the various business names, the words and symbols that appear on Van Briggle pottery have been fairly consistent over the years. Authentic marks can be divided into two broad categories: 1) those from ca. 1901-1920; 2) those after 1920. The vast majority of authentic marks from both periods include a monogram consisting of two letter A's and "Van Briggle". Pre-1920 marks usually included a date and often had a design or glaze number. After 1920, pieces were rarely dated and Colorado Springs was added, usually abbreviated as "Colo Spgs". Although authentic marks contain essentially the same words and symbols, they vary considerably in appearance. This is because they were all incised (scratched in) by hand rather than molded in or impressed with a machine made stamp.
The Fakes
Since original hand formed marks vary so much, it is somewhat difficult to detect the fakes by marks alone. Most of the fakes with forged marks so far have been shapes never originally made by Van Briggle. The Indian jar, Fig. 3, is somewhat similar to a series of busts made in the 1980s but no original was ever made into a jar. The western theme pieces shown in Figs. 6 & 7, are complete fantasies; Van Briggle never made anything even close to those patterns. Unfortunately, unless you are very familiar with the large number of original shapes, you'll probably have trouble recognizing fantasy shapes.
At this time we can't offer any single test to catch the fakes. Other than the obvious mistake in the AO mark, Figs. 13-14, the forged marks are virtually identical to original marks. The best information we have on avoiding the fakes is listed in the following guidelines.
1). Be suspicious of any mark that includes two finisher's marks, i.e. both a number and initials (Fig. 11). The vast majority of original marks have only one finisher's mark which is either a number or initials both not both (Figs. 10 & 12).
2). Almost all original Van Briggle pottery had a highlight or accent color applied over the main body color, i.e. dark blue over light blue, dark blue over maroon, etc. So far, all of the fakes with forged marks have been solid single colors with no highlight colors.
3). Experienced Van Briggle buyers have said that colors of fakes do not match colors of original glazes. However, colors are subjective and may change. What may be obvious to an experienced eye may not be noticed by a general or beginning buyer.
4). There are some faked original shapes reported. A 16" Despondency, an Art Nouveau styled male nude atop a vase, was seen in Ohio. The original Despondency is 14".
5). Experienced Van Briggle buyers have also reported that some fakes use lighter colored clay and weigh less than originals. But again, what may be obvious to an experienced person, might not be apparent to a novice. The fakes which have seen used several different colors of clays. Just look at the bottoms and you'll see a variety of clays on both new and old.
6). Beware of any unusually rough or crude bottom marks. Darlyn Mangus said she has seen some marks on fakes very badly done. The clay was raised along the lines of the inscribed mark. Also be suspicious of flat sided "trench like" bottom marks. Mangus says that she has seen a number of such marks that have been engraved with rotary tools after the clay has been fired.
The most common original shape reproduced seems to be the 8" columbine vase (original shown in Fig. 16). Three were seen at a single Ohio flea market. The reproduction has good detail and a convincing bottom mark. All the columbine pieces seen have a forged finisher's mark of the letter K joined with the letter V (Fig. 15). We could find no evidence of any authentic KV mark.
Summary
It is unknown at this point where the new fakes are being made. It seems unlikely they are coming from overseas because they have not been seen in importers' catalogs or warehouses.
When examining a suspected piece, be sure to use a variety of tests to determine authenticity. Marks alone are not a reliable indicator of age.
Thanks to William Schulze for sharing photos and background information. Also thanks to Van Briggle Art Pottery and Darlyn Mangus.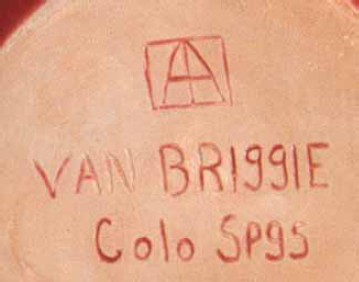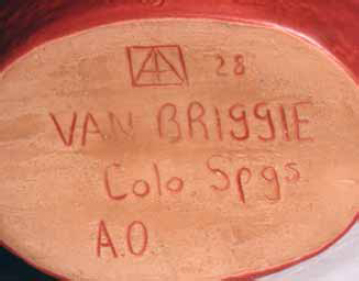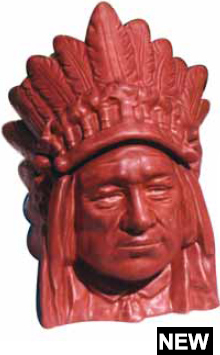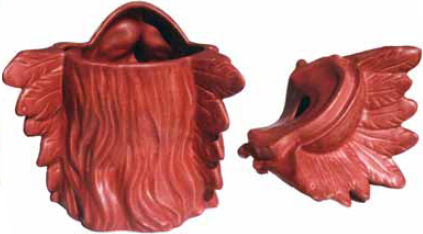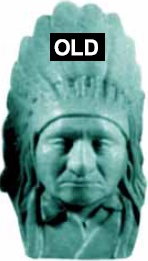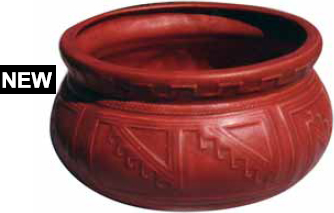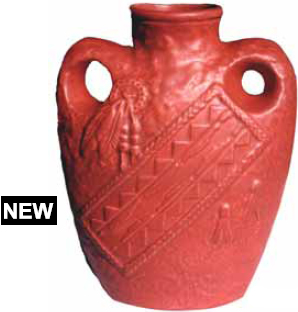 Comparison of Marks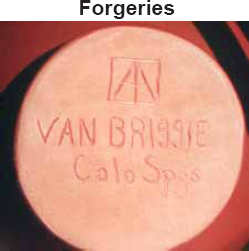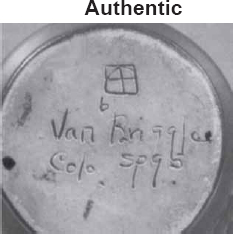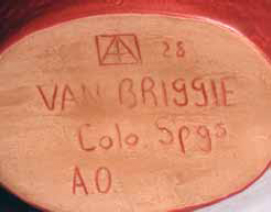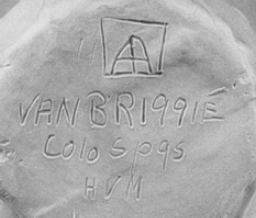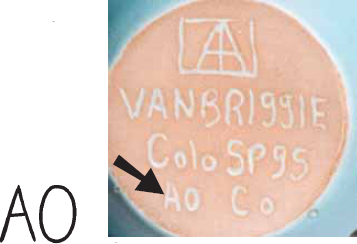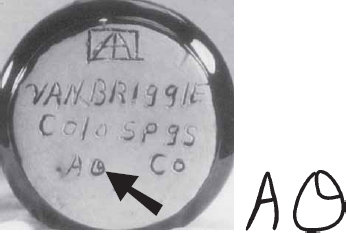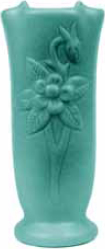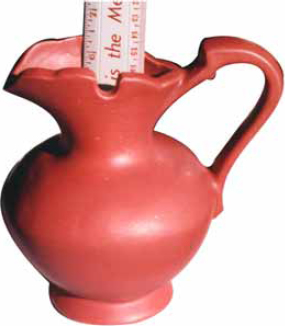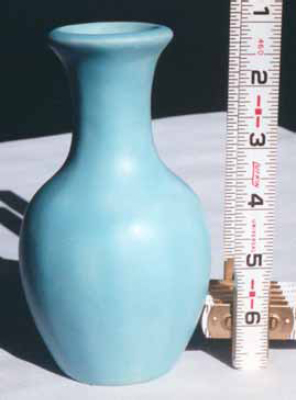 Van Briggle Pottery is no longer in operation.
Real Or Repro is an industry resource powered by
a vetted marketplace of dealers and winner of numerous
Ecommerce Bytes Sellers Choice awards
for Quality, Usability, Customer Service, Communications and Most Recommended Selling Venue
---
So now,
Our Ruby Lane Shop Owners
invite You
to shop with them for the
Real Deal
on Ruby Lane ...
View More Similar Items