Turnabout is foul playBy
Mark Chervenka
Turnabout is foul play
Famous Mice Faked
As the popularity of cookie jars has increased, so have the reproductions. One of the latest is this combination Mickey & Minnie Mouse jar. This piece has a crossover interest to Disney and Mickey and Minnie collectors. Originals of this jar sell for about $100-$145. This particular reproduction jar wholesaled for $35. The copy is relatively easy to detect.
Old and New
The old jar was marketed by Leeds China Company of Chicago, Illinois. Leeds had a license to sell Disney related character merchandise from 1944 to 1954. Included among their products were figural cookie jars of Dumbo, Pluto, Donald Duck, Joe Carioca Mickey and Minnie, and others. Leeds was a distributor only, not a pottery manufacturer. The jars were primarily made at Ludowici Celadon Company of New Lexington, Ohio but also by American Bisque and other companies1.
One of Leeds' features was the so-called "Turnabout" style jar. These jars showed a different character or view on the reverse side than what was on the front. Mickey is on one side, for example, and Minnie on the other. Similar Turnabouts have Pluto/Dumbo, Donald Duck/ Joe Carioca, and a double sided Dumbo2.
Marks on the original Turnabouts are similar to the new mark shown in Fig. 1 below which is in raised molded lettering. As you can see, there is a glaring mistake in the spelling. The word in the top line is misspelled with a letter "D", PATENDED; the correct spelling, of course, is with a "T", PATENTED.
For those of us who are phonetically challenged, there is also the measuring tape test. The original jar is 14½", two inches taller the copy which is only 12½" high (Fig. 2). This is obvious when new and old are side by side, but not so apparent when the pieces are separated unless you measure.
The third distinguishing feature is how the decoration is applied. All the Leeds' Turnabouts are decorated with cold paint. That means the paint was applied after the jar received its final glaze; the paint itself is not fired, or cold. Because it is not protected under a glaze, it tends to wear and flake rather easily. The new Mickey/Minnie jar is decorated under the glaze so the paint on the new jar is permanent. It is rare to find an original Leeds Turnabout with perfect paint that doesn't show some flaking. All the new jars have perfect paint.
Original and new jars are both an off-white color. Most originals had multicolored decoration with yellow painted feet or shoes with blue, red and black used on the rest of the figure. The new Mickey/Minnie, by contrast, are done in only two colors, black and red.
1. Lehner, Lois. Lehner's Encyclopedia of U.S. Marks on Pottery, Porcelain, & Clay. pgs. 255, 271-72. Collector Books © 1988.
2. Roerig, F. & J. Collectors Encyclopedia of Cookie Jars, pgs. 294-296. Collector Books © 1993.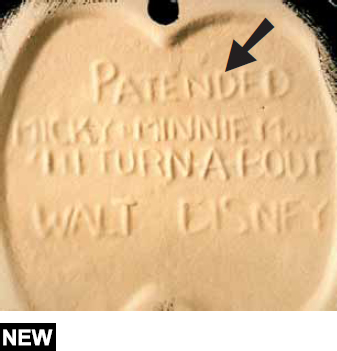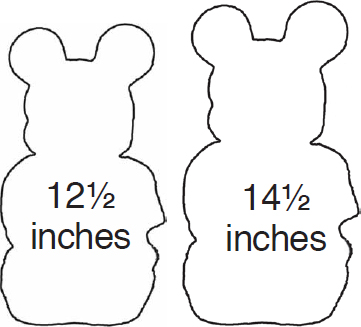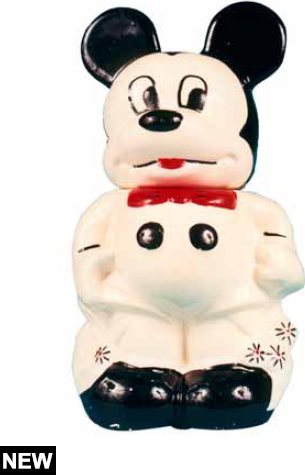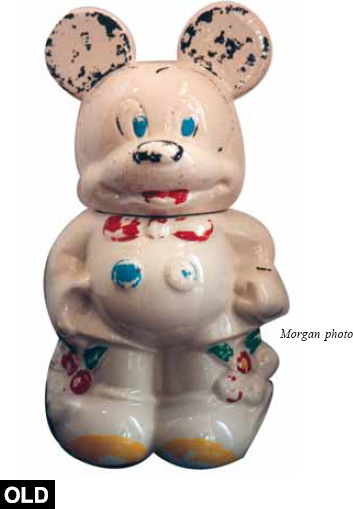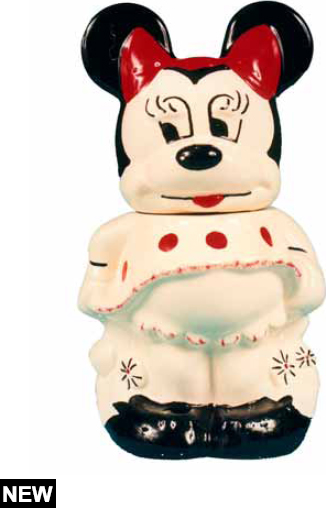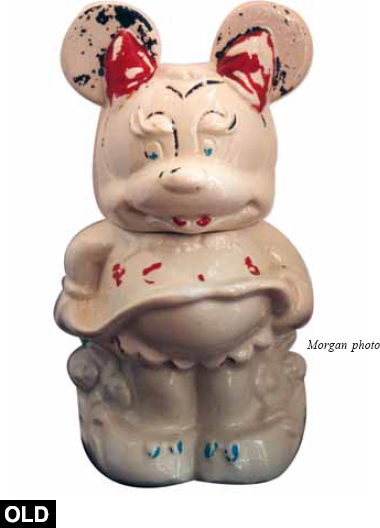 Real Or Repro is an industry resource powered by
a vetted marketplace of dealers and winner of numerous
Ecommerce Bytes Sellers Choice awards
for Quality, Usability, Customer Service, Communications and Most Recommended Selling Venue
---
So now,
Our Ruby Lane Shop Owners
invite You
to shop with them for the
Real Deal
on Ruby Lane ...
View More Similar Items