Tiffany Glass TilesBy
Mark Chervenka
Tiffany Glass Tiles
A Midwestern glass house sold a line of Tiffany styled iridescent glass tiles under the registered name "Tile Glas". The new tiles were tested and met or exceeded minimum requirements of the Tile Council of America (TCA) which is a trade council for the tile industry. As the test reports and product information spread to architects and homeowners, the tiles could have been used anywhere. In this article we'll discuss how original Tiffany tiles were made and differences between new and old.
Original Tiffany Tiles
Tiles were probably the first glass items ever designed by Louis Comfort Tiffany dating back to 1878. In that year, Tiffany launched his first business, Louis C. Tiffany & Co. Associated Artists, which was an interior decorating firm. Tiles began to be mass produced almost immediately in the Heidt glass works in Brooklyn, New York. Later, when Tiffany began his own glass works in Corona, New York in 1892, tile production was shifted there.
Large numbers of tiles were used in interiors designed by Tiffany but many were also sold in the open market and a surprisingly large number existed into the 1950s having never been used at all. In 1957, for example, furniture designer Edward Wormley found enough unused tiles to have them inlaid into a complete line of tables he created for the Dunbar Furniture Company.
Original tiles were made in two sizes: 3 square and 4 inches square. The first tiles made were the 3-inch size and were made in solid opalescent colors or opalescent swirls. Later tiles, primarily the 4-inch size, had iridescent lustered finishes like Tiffany's art glass. Both sizes have a rectangular ridge around the outer edge where the mark, if any, appears in raised letters (Figs. 5-6).
There are two types of original markings. The 3-inch tiles were marked "PAT. FEB 8TH 1881" in one edge and "L.C.T. & CO". in the opposite edge. Four inch tiles were marked "PAT. APPL'D FOR" or "PATENT APPLIED FOR" in one edge only. Some tiles have been found with acid etched marks along the sides but these marks have never been authenticated and are not considered genuine (Fig. 7). There are no company records of how many or what percentage of original tiles were marked. Tiles were mass produced for many years and the types of backs found on tiles, including marks, vary considerably.
How many tiles are found with marks depends on who you talk with or which author's book you read. Robert Koch, the most widely published authority on Tiffany, simply states that "many of the tiles were marked." But two nationally known longtime dealers in Tiffany items think that very few tiles were marked; maybe only one in ten or perhaps only one in twenty or even fewer. Just because a tile is not marked doesn't necessarily mean the tile is new.
A more accurate test of age may come from examining the surface texture on the back of a tile. The backs of almost all original tiles have some type of texture, or at least indentations, to increase the tile's grip when it was set in grout or cement (see Figs. 3, 6, 7, 9, 10). Sometimes the backs have a series of holes like the 3-inch tiles shown in Fig. 3. The holes and indentations on 4-inch tiles are found in a variety of shapes. The bottoms of these holes and indentations are generally wider under the surface than at the surface to increase their grip (Fig. 9). Prices for original iridescent turtlebacks and 4" tiles range from 100-$200 for plain designs, to $500-800 for the more popular designs such as turtlebacks and dragon tiles.
New tiles
There have been a number of new glass tiles with an iridescent metallic luster nearly identical to the iridescence of original Tiffany tiles. Some new tiles are copies of original patterns while others are only similar lookalikes. Most new tiles are 4-inch square like the originals but size varies. An irregular shape, called a turtleback, is also reproduced.
With the exception of the turtlebacks, all the new tiles are available in the following iridescent finishes: pearl on white, pearl on ivory, blue, gold and copper. Turtlebacks are available in green, blue and gold luster only. Most of the new tiles are also available in the following non-iridescent solid colors: ivory, grey, peach, burgundy, forest green, sky blue, cobalt and black. Average cost per new tile (based on a minimum purchase) ranged from $5 for to $20 depending on pattern and finish.
Separating new from old
The most reliable way to separate new from old is probably by looking at the back of the tile. Most old tile have holes or indentations, new tiles do not. Also compare the design. With the exception of the turtleback, dragon, and honeycomb designs, most of the new tiles are only similar to old originals and not exact copies. Don't be misled by thinking an iridescent finish is a sign of age--the iridescence on the new tiles is virtually the same as on the originals. If you find a tile with the appropriate markings in raised letters, the chances are good that it's an original tile. Remember, though, most original tiles are not marked and neither are the new.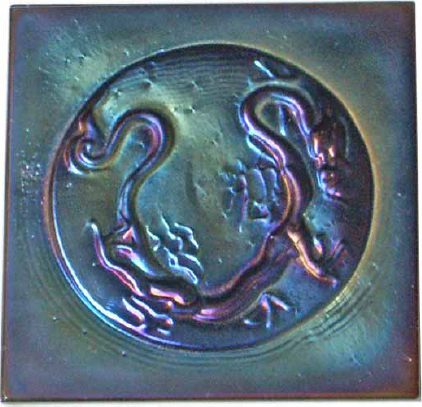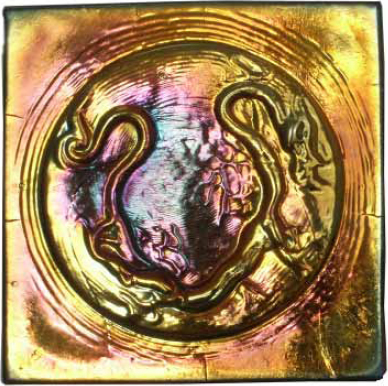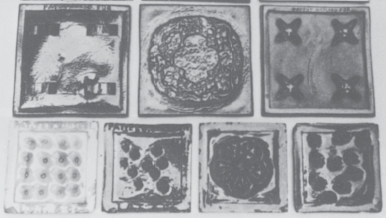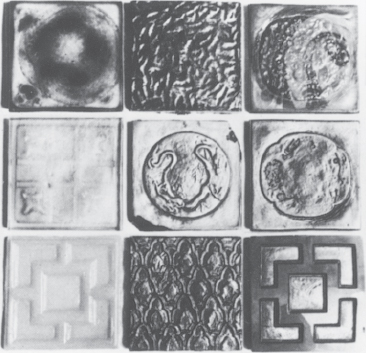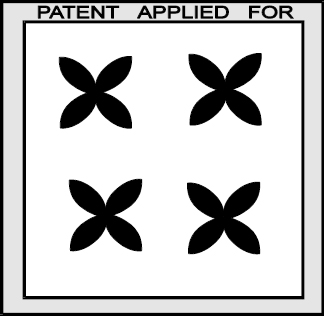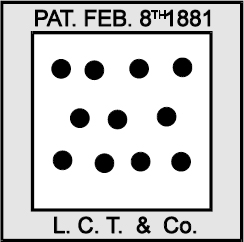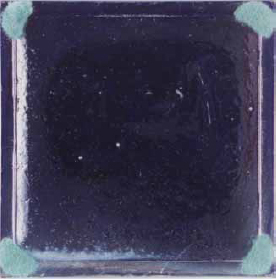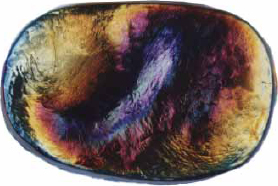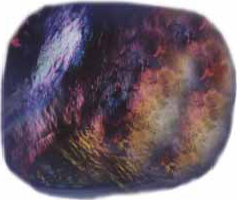 New Tiles