Think Before Sinking Money in Titantic TrinketsBy
Mark Chervenka
Think before sinking money in Titantic trinkets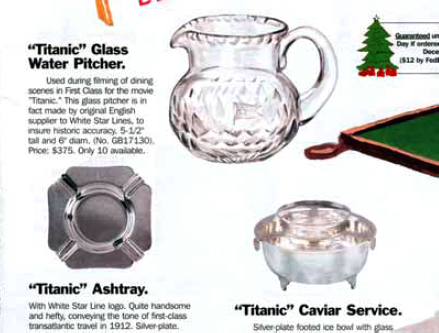 Unless you spent the holidays on the planet Jupiter, you know all about the latest mega-movie, Titanic, released in December 1997. What you may not know is many historically accurate props used in the movie are now being sold in the collector's market.
Items like a 13' anchor ($25,000) and 28' lifeboat ($25,000) don't present much of a problem, those are fiberglass. But a variety of smalls with the White Star Flag logo, the line the Titanic sailed under, might be mistaken as vintage pieces by the unsuspecting. These include engraved crystal tableware, silver plated pieces like flatware, ashtrays and caviar bowls, glass vases and ceramics. Although the props are offered legitimately now, who knows how they'll be represented in the secondary market.
Twentieth Century Fox, which co-financed the movie with Paramount Pictures and owns the merchandising and licensing rights, is in charge of selling the props. Fox's director of archives, Alan Adler, said many items offered in the Peterman catalog had been sold out by December 18, 1997 just two weeks after the catalog was released. Sales from props are expected to top $400,000.
The great depth and bad weather in the North Atlantic where the Titanic sank in 1912 has made salvage attempts very dangerous and costly. Authenticated items from the few successful recovery efforts made over the years bring hundreds to thousands of dollars for such commonplace items as pens and razors. If you have an interest in original Titanic items, insist on a written document of guarantee with a proven provenance
The Titanic, at over $200 million is the most expensive movie ever made. Film industry analysts have speculated that Paramount/Fox's break even is around $350-$400 million.