The truth about Dazey churnsBy
Mark Chevenka
The truth about Dazey churns
New Dazey churns have brought four figure prices across the United States. Of three new styles being made, the most troublesome has been a six-inch version which is being offered as a "salesman sample."
Many of these small new churns were mixed or "salted" into local estate auctions around the country and brought astounding prices. One of the small churns sold in a Virginia auction for $3500. Others have sold for over $1000; many routinely sell for $500-$600.
There are at least three sizes of new Dazey churns: one quart, pint, and half-pint, the so-called salesman sample size.
There were several styles of glass Dazey churns made over the years. Collectors generally group the styles by distinctive features of the glass body such as overall shape or how words in the company name are arranged. The three new jars discussed in this article are the style called "round label" from the circular arrangement of the company name on the front of the jar. All of the features in this article refer to that style only. Do not apply the clues to age discussed in this article to any other style of glass Dazey churn.
Dazey churn history
In the early years of the 20th century, E.B. Jones developed a small glass churn for home use. Nathan Dazey purchased Jones' business and relocated it in St. Louis, Missouri as the Dazey Churn & Manufacturing Co. Dazey churns were made up until about 1945. Although best known for its glass churns, the company also made metal churns. It also made can openers, knife sharpeners and other kitchen products.
Separating old from new
Two of the new round label churns–the pint and half-pint sizes–shouldn't really be a problem. No vintage round label Dazey churns in those sizes have ever been documented. Unless sellers can prove otherwise, those sizes are fantasy products.
Did Dazey even use salesman samples? No, according to Dea and Butch Allen, who are among the nation's leading dealers and collectors of Dazey churns. The Allens have had access to parts of Nathan Dazey's original factory archives as well as communications with Dazey family descendants. So far, there is no evidence the Dazey company ever issued salesman samples for any glass churn.
"Dazey sent out only full-sized churns to display in stores," says Dea Allen. "There is no mention in any company records of miniature churns being used as salesman samples. No miniature sizes had ever been seen or reported until late 2002 when they started appearing all over the country."
The only new round label style Dazey churn that might be confused with a actual vintage product is the quart size. Original quart churns in excellent condition sell for over $2,000. Reproduction quart churns can be purchased for $100-$150 when they are honestly represented as new. Glass bodies, easily broken over the years, are the most valuable part of any glass churn accounting for about 80 percent of the value of a complete churn. It is particularly important buyers determine the glass base is authentic before making a purchase.
The original quart glass body has "1-Qt." molded in raised letters near the top of the churn front (Fig. 5). The "1-Qt." is missing from the new quart glass body (Fig. 3) "St. Louis, U.S.A." appears in sharply molded lettering in a curved line at the bottom of the original jar (Fig. 6). The same area in the new jar is heavily blurred with only fragments of some letters being legible (Fig. 4).
The blurred curved line appears on all three sizes of reproductions. References to U.S.A. are typically removed or obscured in reproductions to skirt American customs regulations. It is a violation of federal trade laws for products made overseas to be marked U.S.A., Made in America, or have US patent markings.
Longwave black light is usually a good test of age for clear American pressed glass, but it is not a reliable test of age for glass Dazey churns. Although many original churns do fluoresce, many other originals do not. There is too much variation for accurate testing.
Original mechanisms for the quart size round label Dazey have wedge-shaped holes and "20G" molded on the large gear, "10H" molded on the crank and "10" molded on the center post. No molded lettering appears on the comparable new parts and the large new gear has round holes (see Figs. 7-1) New mechanisms are attached to lids with aluminum rivets. Old mechanisms are fastened with steel rivets (Figs. 13-14).
Remember, the features discussed in this article apply only to the round label style Dazey churn shown. Do not apply these tests of age to any other style of Dazey churn.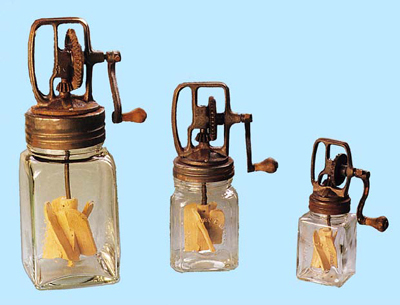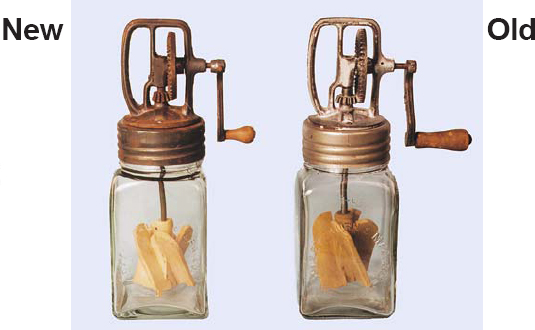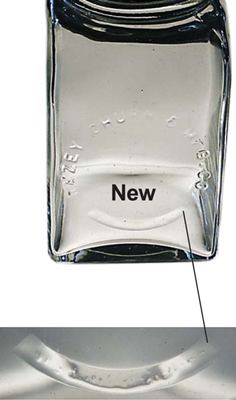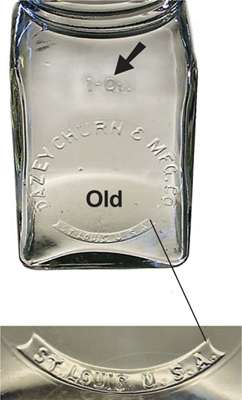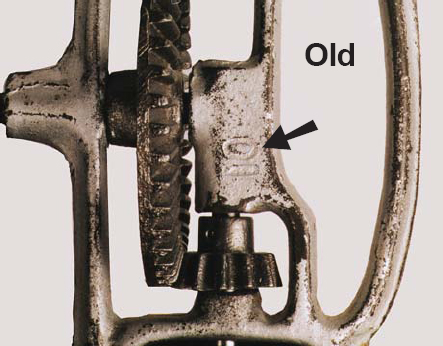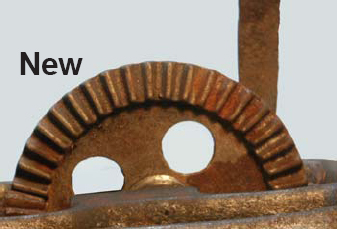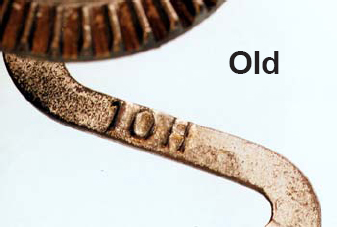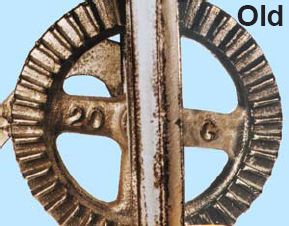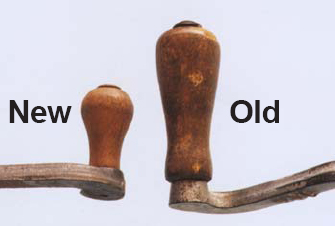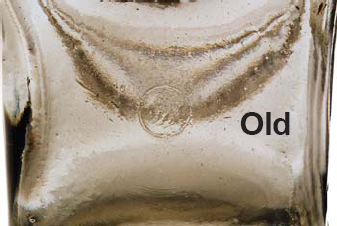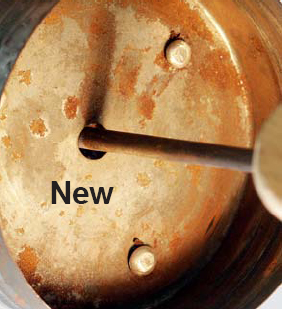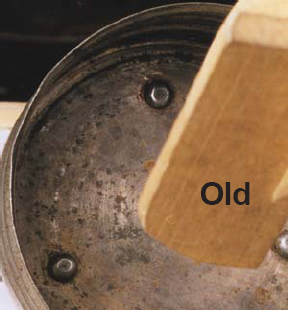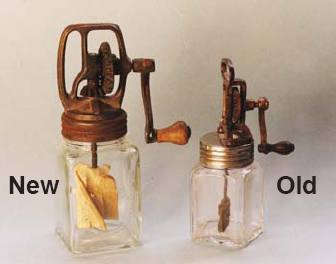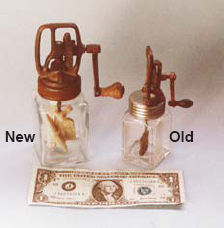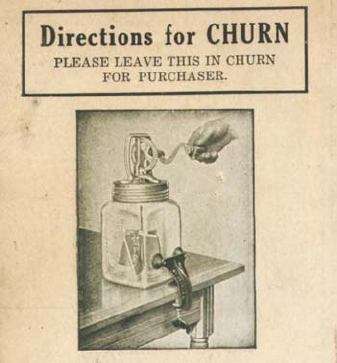 Real Or Repro is an industry resource powered by
a vetted marketplace of dealers and winner of numerous
Ecommerce Bytes Sellers Choice awards
for Quality, Usability, Customer Service, Communications and Most Recommended Selling Venue
---
So now,
Our Ruby Lane Shop Owners
invite You
to shop with them for the
Real Deal
on Ruby Lane ...