The Roycroft markBy
Mark Chervenka
The Roycroft mark
dating old and identifying new
At the turn of the century, Elbert Hubbard (1856-1915) was a leader in the Arts and Crafts movement. Hubbard, with others who shared his beliefs, founded the Roycroft Community in East Aurora, New York (about 12 miles south of Buffalo).
Although the Roycroft Community was based on a philosophy of life, it was also a business. By 1910, over 500 workers were producing a wide range of hand made products including metal goods, furniture, textiles, ceramics and various printed goods such as books and wallpaper.
Elbert Hubbard died in 1915 with the sinking of the passenger ship Lusitania. Roycroft products continued to be made under the direction of Hubbard's son, Elbert Hubbard II. The Roycroft Community was weakened during the depression of the early 1930s but continued until 1938 when it was closed.
Many Roycroft products, especially the metal ware, were marked with a distinctive trademark-- the letter R enclosed in a circle (Fig. 3). Variations in this mark can generally be used to establish an approximate date of production.
Rolled ends on the tail and top of the R, indicate a production date from about 1906 to 1910. The ends were smoothed and straightened in the R from ca. 1910 to 1915. After Hubbard's death in 1915, the word "Roycroft" was added below the trademark and this version was used until 1938.
Historical Background
The Roycroft mark is based on a similar mark first used by a French monk, Casiodorus, a Medieval book illuminator. The word Roycroft is derived from the French roi craft meaning King's Craft or Royal Craftsman. Elbert Hubbard designed the mark of three basic parts to represent Faith, Hope and Love.
For more information refer toRoycroft Art Metal, Kevin McConnell, Schiffer Publishing Ltd.
Legal Claims to Original Marks
Until recently, the three marks in Fig. 3 were relatively good indications of age. Now, new versions of the marks are available in addition to some of the old marks being reused. This situation is caused by separate legal claims to the various original marks. Owners of the marks can then use or license each mark as they wish.
As of this time, original marks are registered only in the state of New York which permits marks to registered for specific materials. Alburn Sleeper, for example, has registered the original R in circle mark for exclusive use on metals. He makes one item a year in a precious metal which carries the mark.
Roycroft Shops, Inc., (RSI) owned by Robert Rust and Kitty Turgeon, has also registered the original R in circle mark in New York state. However, where Sleeper's use is restricted to metals only, RSI has registered the mark for use on a wide range of materials.
One of the RSI licenses of the old mark is L. & J. G. Stickley, Inc. furniture company. Stickley used the mark on a line of reproduction furniture introduced in October, 1994. Shapes included a chafing dish cabinet, cellaret, tall magazine holder, writing desk and tabouret table (Figs. 3-5). The Roycroft trademark is routed into the surface to a depth of about 1/8". These pieces also carry two new Stickley shopmarks; one, a metal plate attached by nails; the other an oval trademark burned in with a hot iron. If a buyer is not aware of the new Stickley shopmarks or if the marks are tampered with, a piece's age can be confusing when it's offered for sale in the secondary market.
Similar Modern Mark
A mark that resembles the originals but is completely new consists of two R's back to back in a circle. This mark is owned and licensed by Roycrofters At Large an organization dedicated to the continuation and promotion of original Arts and Crafts ideals and the preservation of the original Roycroft site in East Aurora. The two R's stand for Roycroft Renaissance, which is a licensed trade name belonging to Roycrofters At Large.
Some of the products which carry the RR mark include china, jewelry, lamps, and metal goods. It is hard to make an exact list because the artist is licensed, not necessarily the product. This means the mark can be found on relatively large production runs as well as unique one-of-a-kind special pieces ordered through an individual artist.
Future Use of Roycroft Marks
It has been reported that a number of attempts to register the original Roycroft marks with the United States Patent and Trademark office were underway. If the marks were successfully registered, they may be in larger quantities on many more products.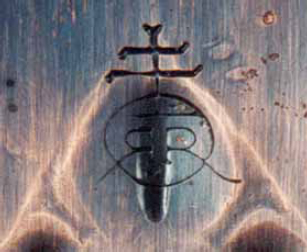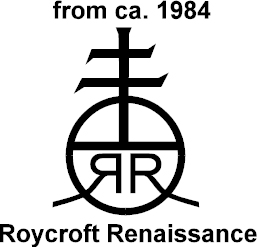 Marks used on Roycroft metal wares ca. 1906 to 1938