The Grasshopper GobletBy
Mark Chervenka
The Grasshopper Goblet
A Fantasy Shape Based on a Genuine Pattern
Original Grasshopper pattern glass was made in the 1870-1880s. It was generally in clear non-flint colorless glass; some were in color but those are rare. The pattern name is taken from a figural solid glass grasshopper which appears on the side of pieces. About 21 shapes were originally made.
However, all grasshopper goblets are NEW. The goblet shape was never made by the original 19th century factory. Grasshopper goblets were made from new molds ordered by the L. G. Wright Glass Company in the 1960s. The 1963 Wright catalog page shown below offered the grasshopper goblet at $1.25 each wholesale in five colors. It is unmarked.
Black light exception
Generally, you can use a long wave black light to test the age of clear pattern glass made in America. Clear pattern glass made before 1920-30 virtually always fluoresces yellow-green. Pieces made after then, which includes most modern reproductions, generally do not fluoresce. For some reason, the new grasshopper goblet does fluoresce yellow-green. But don't be fooled; this is an exception to the rule. The goblet is new.
L.G. Wright Glass Co.
The Wright Glass Company was founded in the 1930s by Lawrence G. Wright. Wright specialized in reproduction glassware. His glass was made from original molds as well as new molds he had designed to make old appearing products (like the grasshopper goblet). The term "glass company" is somewhat misleading as Wright Glass Co. never made any glass. All production was jobbed out.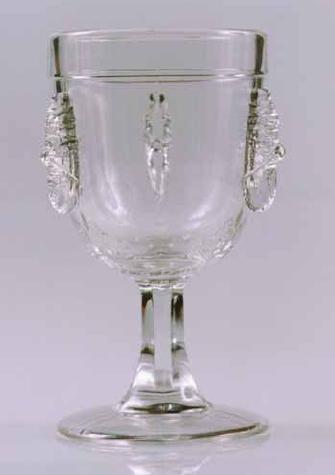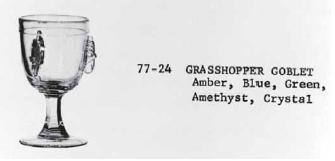 Real Or Repro is an industry resource powered by
a vetted marketplace of dealers and winner of numerous
Ecommerce Bytes Sellers Choice awards
for Quality, Usability, Customer Service, Communications and Most Recommended Selling Venue
---
So now,
Our Ruby Lane Shop Owners
invite You
to shop with them for the
Real Deal
on Ruby Lane ...
View More Similar Items