Sterling Silver Matchsafes with Sporting ThemesBy
Mark Chervenka
Sterling Silver Matchsafes with Sporting Themes
Latest Reproductions Identified by New Hallmark
A batch of sterling silver match safes featuring sporting themes is available. The new safes first appeared in antiques markets and fairs in England. They have now been seen in American shows, malls, shops and many online auctions.
Most pieces of this group of safes–including all that appear in this article–have a distinctive new "hallmark." The new mark (see Figs. 9-10) looks like an entwined G and J inside a diamond. This mark is modern and has no known old counterpart. New pieces with this mark are thought to be made in Thailand. Along with the new hallmark appear 925 and STERLING.
At least two of the new safes are direct copies of old originals. The male golfer in Fig. 2 was originally made by Gorham Mfg. Co. of Providence, Rhode Island, catalog #B223. Originals date to the turn-of-the-19th century. The new version is made in a smaller size measuring only 1¾″ tall; the Gorham original was a larger safe, about 2½″. Virtually all of Gorham's products are marked with the company name or hallmark.
The other new piece that copies an original is the circular box in Fig. 5. There are two similar original circular styles known with golfing scenes. All originals have full English hallmarks including date marks, maker's mark and city mark. The closest original to the safe shown here has the authentic hallmark JF for James Fenton. The reproduction has the new GJ hallmark.
Like other reproduction safes, this group has the proper silver content. All of the new safes shown here test at .925 silver content.
The detail quality varies among the new safes. Some, like the golfer in Fig. 2, are quite good. This safe has realistic grass, a fairly accurate human figure in the appropriate clothing and decent scrollwork.
But other new safes, like the tennis player, have terrible detail. The face of the tennis player has a cartoon-like amateurish appearance that would never be found in a vintage original safe.
All the new pieces shown in this article were purchased from retail sellers in England. When the English prices are converted to American dollars the prices of the new safes ranged from a little over $12 to a high of about $18. The Gorham original golfer can sell for $800-$1000; The English circular golf safes can bring $1000-$1,200.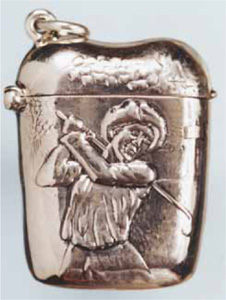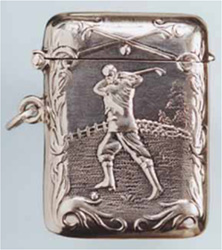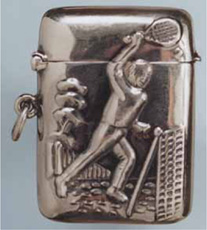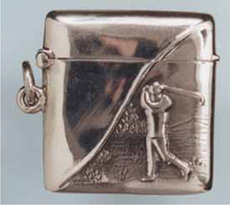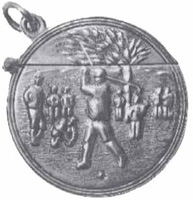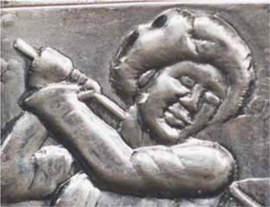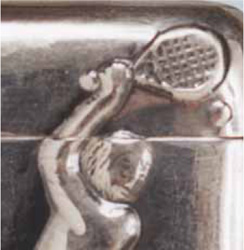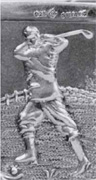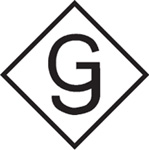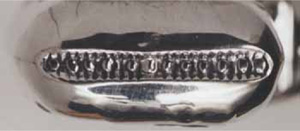 Real Or Repro is an industry resource powered by
a vetted marketplace of dealers and winner of numerous
Ecommerce Bytes Sellers Choice awards
for Quality, Usability, Customer Service, Communications and Most Recommended Selling Venue
---
So now,
Our Ruby Lane Shop Owners
invite You
to shop with them for the
Real Deal
on Ruby Lane ...