Sterling Matchsafe Copies Wallace OriginalBy
Mark Chervenka
Sterling Matchsafe Copies Wallace Original
One of the best-made sterling reproductions we've seen is an Art Nouveau matchsafe. It is a copy of an original made by R. Wallace and Sons, made from about 1880 to 1910. Originals are very rare and are valued at $500-$750. The reproductions, first released in December, 2000, wholesaled for $38 each. The new pieces were made in Thailand.
Unlike many silver reproductions, this new piece is marked STERLING rather than .925. The .925 mark is on a majority of new silver pieces since that is the silver quality mark required by most nations since the mid-1970s. Sterling, which is a distinctly American mark, has appeared on relatively few reproductions. The "Sterling" mark and absence of .925 on the new matchsafe will undoubtedly contribute to confusion about its age.
The original Wallace piece has three marks: the Wallace hallmark, "STERLING" and the original catalog model number, "379". Marks on both new and old are stamped along the top rim of the body.
Another key feature to detecting this and many other new matchsafes is the poorly formed striker, the area where matches were rubbed to ignite them. Virtually all original strikers, even those with normal wear, have sharply defined, closely spaced parallel ridges. Almost all new strikers are poorly defined with weak, shallow ridges. The strikers from the new and old versions of the Wallace piece are shown below.
Seams in the sides of the new matchsafe are slightly sharper and more obvious than the original but this may not be as noticeable to inexperienced buyers as other features.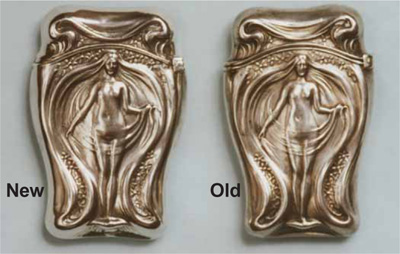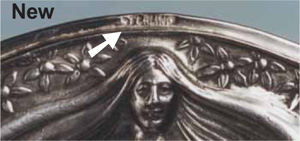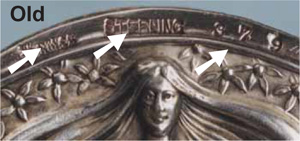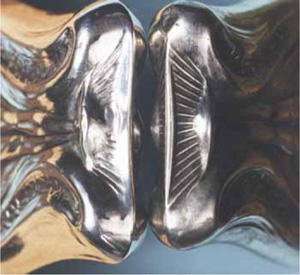 Real Or Repro is an industry resource powered by
a vetted marketplace of dealers and winner of numerous
Ecommerce Bytes Sellers Choice awards
for Quality, Usability, Customer Service, Communications and Most Recommended Selling Venue
---
So now,
Our Ruby Lane Shop Owners
invite You
to shop with them for the
Real Deal
on Ruby Lane ...