Staffordshire Copies from ChinaBy
Mark Chervenka
Staffordshire Copies from China
A major wave of new Staffordshire figures made in China is available in the U.S. as well as in international markets. Unlike many previous reproductions which were only slip cast, the new Chinese products are true pottery and are hand made in a similar style as old.
The Chinese-made Staffordshire is also troubling because all are direct copies of pieces featured in standard reference books. Various faults and quirks found in originals are carried on in the reproductions. Color schemes are the same in new and old with differences only in shades and intensities. While buyers with experience in Staffordshire might be able to pick out the Chinese reproductions on colors and weight alone, most sellers who handle Staffordshire only on an occasional basis need an easier, more objective test. There are several reliable tests that can easily be made on the spot which will detect these new Chinese pieces.
Tests NOT to Use
Keep in mind that the following tests are for the China-made Staffordshire reproductions only. Do not use tests from other ACRN articles on Staffordshire. For example, one of the easier tests on slip cast Staffordshire reproductions was the presence of hollow handles on pitchers, teapots and other similar shapes. The hollow handles leave a telltale hole where the handle joins the sides. Handles on originals were made as separate solid pieces and attached to the sides; there is no hole where they are attached. But don't use that test on the Chinese pieces--all their handles are made like the originals and are solid; they do not leave a hole where they join the sides.
Neither should you look for the large dime-to-quarter sized casting holes left by slipcasting. The new Chinese pieces are a much heavier pottery more closely resembling the weight of originals. The new have the same smaller "firing holes" found in originals, typically about 1/8″ in diameter and found in the bottom of the base or in the back. Having said what not to use, we can now discuss what tests do work.
Tests to Use
1. All the Chinese-made Staffordshire has been over enhanced to simulate age. Each and every piece ACRN has examined has dark black crazing over the entire surface (Fig. 7). The crazing is intentionally done during the manufacturing process. It is further emphasized by rubbing in dark pigments to give the lines their characteristic black appearance. Crazing in any pottery, Staffordshire or other kinds, is never a guarantee of age. Crazing is no more common in original Staffordshire than in many other types of similar pottery.
2. All the Chinese pieces have been sprayed with a dark colored transparent glaze. This gives each piece a dark sooty look not found on properly made old originals with normal wear. If you suspect a piece of being new but are unsure, test the glaze with a few drop of acetone.
[Acetone is the primary ingredient in fingernail polish remover: CAUTION pure acetone is highly flammable--use with extreme care--always ask the seller's permission before performing this or any other test]
Acetone quickly removes the dark spray (Fig. 8). No water and detergent combination we tried was successful; only acetone. Acetone will not harm undecorated areas of original figures which are in generally good condition. Since painted decorations vary widely with originals, use acetone only in undecorated areas which are seldom seen such as the back side or under the base.
3. The new figures have a rough surface overall with numerous pieces and patches of grit (Fig. 9). With the exception of an occasional piece of debris from firing, the overall surface of originals is smooth to the touch.
4. The majority of the new figures show obvious streaking in undecorated areas (Fig. 10). Streaks in originals, when used, are a deliberate attempt to enhance decorative effects such as grass, animals' fur or some other particular feature. Streaking in the Chinese reproductions is random and without a sense of control.
Wholesale prices for the samples shown in this article ranged from $10 for the dog inkwell (Fig. 6) to $20 for the Lord Nelson pitcher (Fig. 5). Prices for the originals would be about $200-350 for the dogs; about $400-700 for the Nelson pitcher.
The new Chinese Staffordshire is currently being offered by all the large reproduction importers as well as a number of general mail order catalogs. Photos on the next page show some of the several hundred different pieces being made. Tests listed in this article will work for all the pieces shown.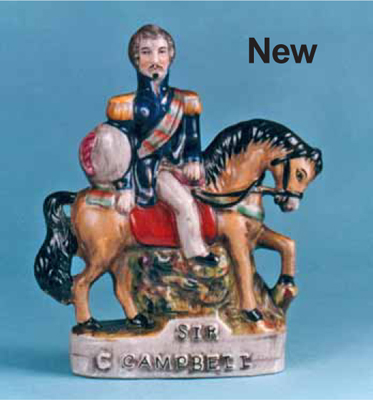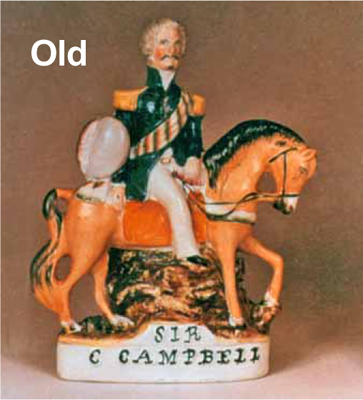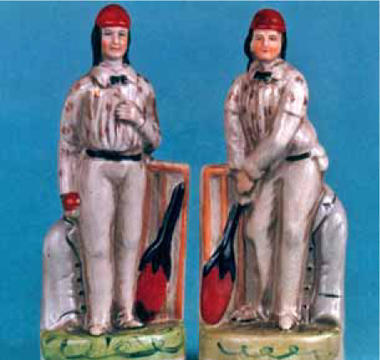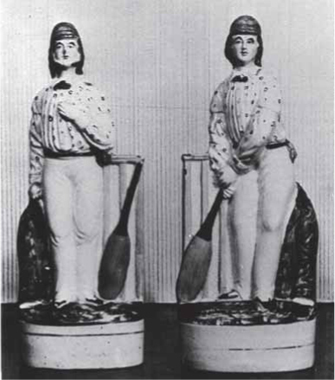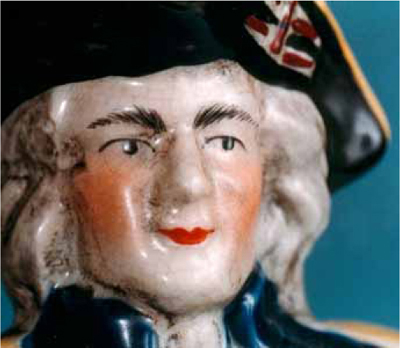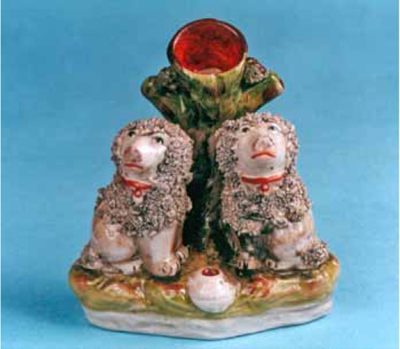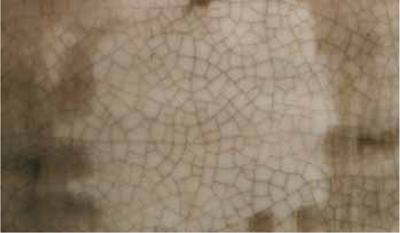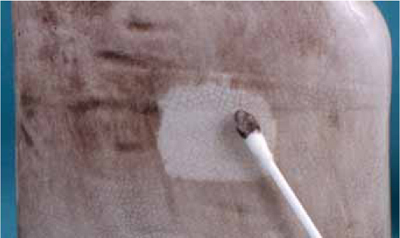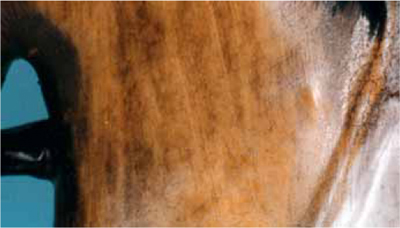 New Staffordshire - Made in China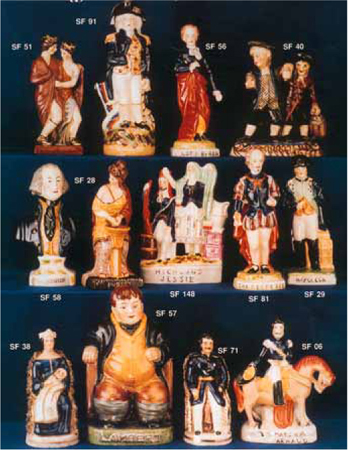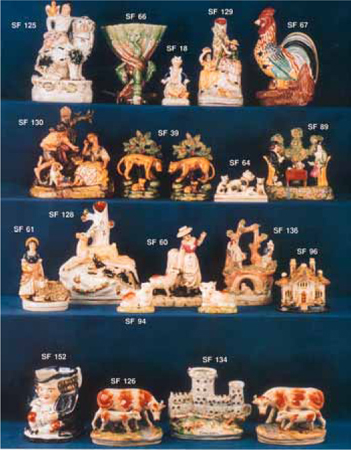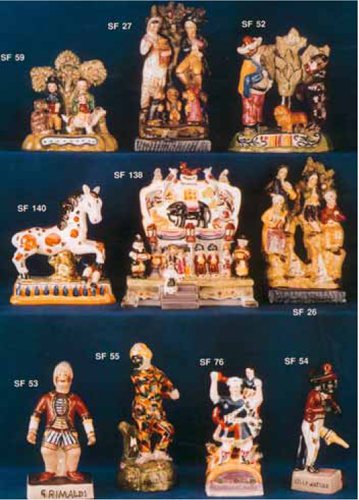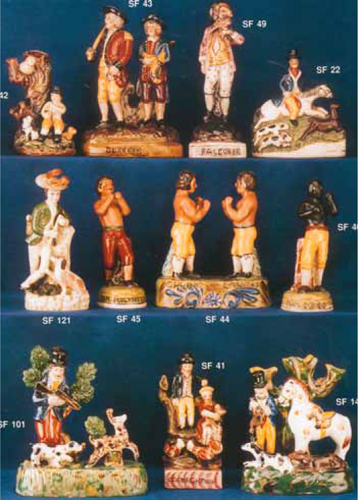 Real Or Repro is an industry resource powered by
a vetted marketplace of dealers and winner of numerous
Ecommerce Bytes Sellers Choice awards
for Quality, Usability, Customer Service, Communications and Most Recommended Selling Venue
---
So now,
Our Ruby Lane Shop Owners
invite You
to shop with them for the
Real Deal
on Ruby Lane ...
View More Similar Items