Some childrens plates never grow oldBy
Mark Chervenka
Some childrens plates never grow old
Some items have been so widely reproduced that the copies far exceed the number of originals.
A series of children's glass plates originally made ca. 1905-1915 is a perfect example. The original molds were put back in production in the early 1970s and have been in nearly constant use since. Malls, shows, and online auctions are crowded with these plates which are almost always sold as old; very rarely are they sold as new or as items of recent production.
Original plates
The original series was made by Indiana Glass Co. of Dunkirk, Indiana (Fig. 5). A center medallion featured four different subjects: Teddy bears, Hey! Diddle Diddle, This Little Pig Went to Market and Little Bo Peep. There were two different borders available: dancing bears in human clothing and Dutch children (Figs. 3-4) On original plates, either border can appear with any of the four medallions. Original plates are 6¼″ dia. and were available in clear crystal or gold painted clear crystal (now called Goofus). All original plates fluoresce yellow-green under long wave ultraviolet light also called black light. Even with gold paint on the back, original plates in the Goofus style will fluoresce along the unpainted plate rim.
Reproductions
Original molds for this series have survived to the present day. They were used to make reproductions at least since the early 1970s. The first copies appeared in the catalogs of AA Importing, the largest reproduction wholesaler in the United States. About ten years later, in the early 1980s, the plates were also offered by Tiara Exclusives which sold glass primarily through a home party system (similar to Tupperware parties).
AA plates were available in clear crystal and an iridized (carnival) blue. AA's Little Bo Peep had the dancing bears border; all other AA plates had the Dutch children border. Tiara's plates were available only in amber and all plates had the dancing bear border. Tiara also dropped the original Teddy bear center medallion and replaced it with images of the mother, father and baby bear which they titled "The Three Bears."
It's easy to rule out the blue iridized version and the amber plates; those colors were never made during the original production. You can detect the new clear plates with your black light. New plates in clear crystal do not fluoresce.
The rarest version of the original series is the Goofus decorated Teddy bear. It is sought by collectors from several different categories including Teddy bears, Goofus and Theodore Roosevelt.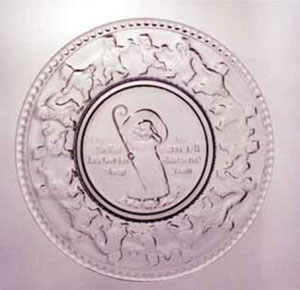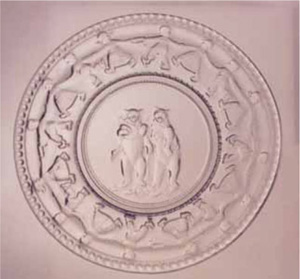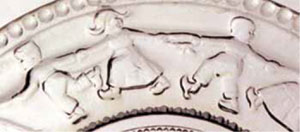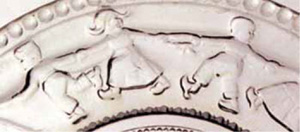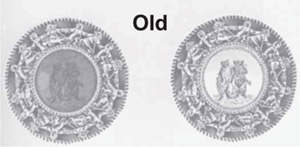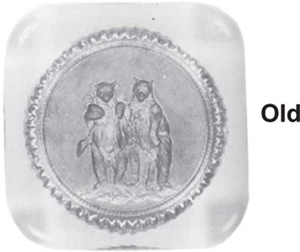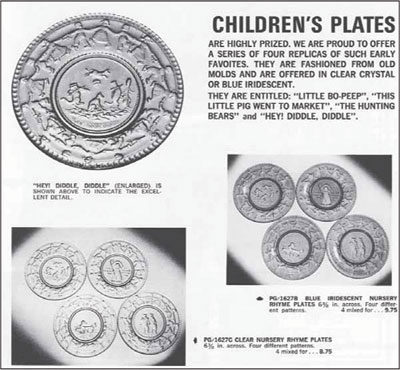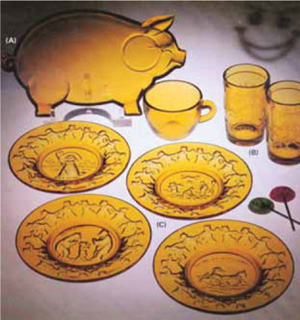 Real Or Repro is an industry resource powered by
a vetted marketplace of dealers and winner of numerous
Ecommerce Bytes Sellers Choice awards
for Quality, Usability, Customer Service, Communications and Most Recommended Selling Venue
---
So now,
Our Ruby Lane Shop Owners
invite You
to shop with them for the
Real Deal
on Ruby Lane ...
View More Similar Items