Slip Casting - Clues to Modern Ceramic ReproductionsBy
Mark Chervenka
Slip Casting - Clues to Modern Ceramic Reproductions
The large number of Victorian-era ceramic reproductions at times seems overwhelming. There's new majolica, Flow Blue, Blue Willow, stoneware, Staffordshire; the list goes on and on. How can we ever remember them all?
One of the easiest ways to separate old from new is to learn about slip casting. By learning to recognize slip cast products, you will eliminate about half of all ceramic and pottery reproductions you find.
By itself, the word slip means a mixture of clay and water mixed to the consistency of a thick liquid. Slip can be used like a glue to join dry pieces of clay together or applied to dry clay with a brush to add details or decoration. Slip casting is simply molding a three dimensional image from this clay/water mixture.
Slip casting, in general, is a process developed for high speed, low skilled factory production. In other words, slip casting usually means new or reproduction or at the very least, modern. Before the wide spread use of slip casting, most ceramic and pottery items were almost totally made by hand. Clay was either pressed into a mold by hand (see Press Mold illustrations) or made on a potters wheel--both of which were relatively slow and labor intensive.
In addition to increasing production speed, slip casting also saves time and money by using fewer and simpler molds. A single 2-part mold is usually all that is necessary for an entire piece. In the Slip Mold illustrations, for example, the pitcher handle is formed as part of the entire pitcher. In contrast, items made in press molds, usually required separate molds for handles, spouts, knobs and other small parts.
Although the majority of all new decorative ceramic and pottery reproductions are made by slip casting, certain shapes are easier to detect than other shapes. Fortunately, the most popular pieces to reproduce-- pitchers and figurines-- are also the pieces the easiest to detect as new.
Slip cast pitchers for example, have holes where handles meet the body. Holes form in this area because the handle is cast as one piece with the entire pitcher. Old pitchers with handles cast separately and applied to the body, do not have holes in the side walls. Large holes (much larger than air vent holes) on the bottom of figurines are also signs of slip casting. These holes are left by pouring out the liquid slip that did not cling to the walls of the plaster mold. These are usually dime to quarter-size or larger in diameter.
Slip casting was known in Victorian times but it was rarely used in large scale production. In Pugh's Staffordshire Portrait Figures listing hundreds of original Staffordshire pieces for example, only 4 figures are known to have been produced by slip casting. There were several reasons why press molds were used rather than slip molds.
One, press molds last longer. Slip molds speed production, but the constant absorption of moisture from the slip and drying wears slip molds out faster than press molds. Second, most low priced mass produced Victorian pottery (like majolica and Staffordshire) depended on low wage piece rate workers. Clay and press molds could be sent with women and children who could do the work at home thus keeping the pottery owners overhead low. Slip casting on the other hand, with large use of water was more suited to an industrial factory setting. Third, most low priced mass produced Victorian pottery like majolica and stoneware for example, were utilitarian rather than decorative and had to withstand hard daily use. Pitcher handles had to be strong enough to lift a pitcher full of water without breaking. Before Staffordshire spaniels graced the mantel, they first had to survive the horse cart ride back home. The thin shelled slip cast products just weren't strong enough to be practical. Since antique reproductions are bought as antiques, not as everyday items to be used, they can be made thin and weak because they will never be used for the purpose the originals were intended.
As a general guideline then, original 19th century Victorian-era items such as Staffordshire, stoneware and majolica should virtually never have holes in bases of figurines or hollow handles in teapots and pitchers. The general rules of hollow handles and holes in bases begin having more exceptions the further you move away from the turn of the century. Roseville and other American potteries, for example, used slip molds as a labor saving device to produce most all of their 20th century pieces.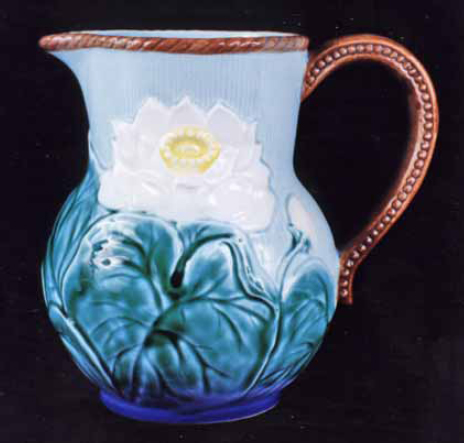 Slip Casting: 2 examples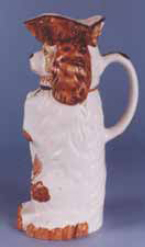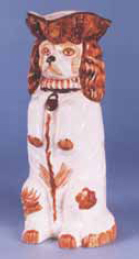 The first step in making either piece is to prepare a 3-D master model, below, step #1. (Note that the handle is formed with the entire pitcher). Next, a plaster mold is made, #2 (again, note the handle is part of the mold). The liquid slip is then poured into the mold, #3, and the mold is set aside. The plaster mold begins absorbing water, #4, from the slip. As the slip next to the mold begins to dry, it forms a shell of stiff clay, A in #5. The remaining liquid slip is poured out of the mold leaving a 3-D clay shell of the entire piece #6. (Slip is poured out the open top of pitchers and out the bottom of figurines.)
Pitchers made by slip casting have holes where the handle meets the body. See pitcher in Fig. 12. The tell-tale marks of figurines made by slip casting are large holes in the bottom from which the slip was poured in and out of the mold. See Figurine illustrations #5-B and #6 at arrow A; also (Fig 7-B).
Pitcher

Figurine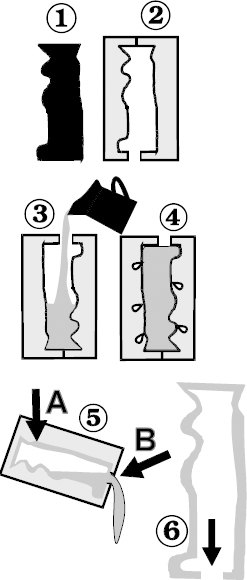 ---

Victorian Press Mold These would be the steps to produce the same dog as above using an old Victorian press mold. Note that the handle requires a separate model and a separate mold.
1. Master model 2. plaster mold 3. the mold can be separated and filled in by different workers 4. sheets of moist clay called "bats" are pressed into the mold by hand forming a shell of clay 5. the clay shells made from all the parts of the mold are joined together. 6. the final piece ready for decorating. Unlike slip molds, there are no holes in pitcher handles or figurine bases.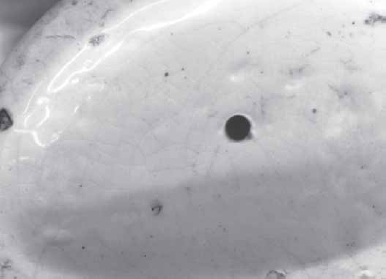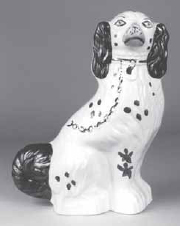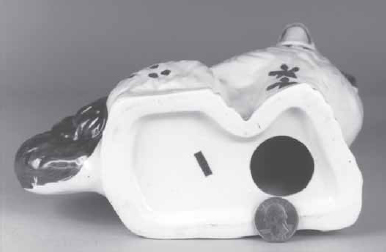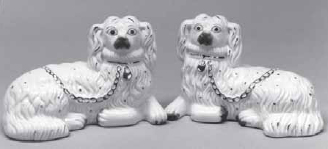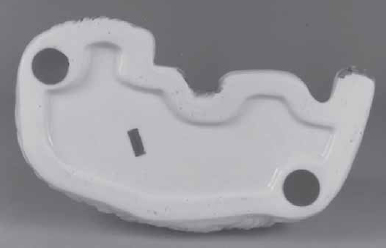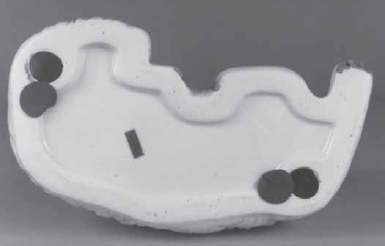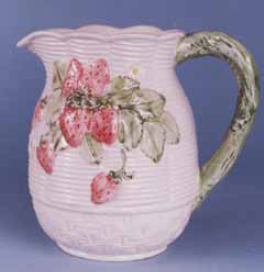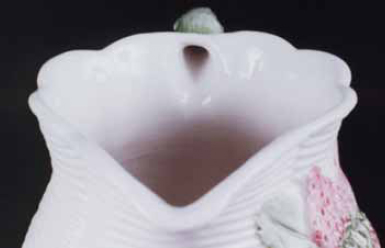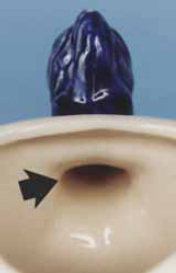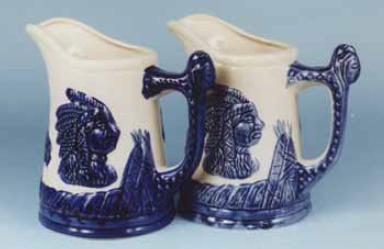 Real Or Repro is an industry resource powered by
a vetted marketplace of dealers and winner of numerous
Ecommerce Bytes Sellers Choice awards
for Quality, Usability, Customer Service, Communications and Most Recommended Selling Venue
---
So now,
Our Ruby Lane Shop Owners
invite You
to shop with them for the
Real Deal
on Ruby Lane ...