Separating New and Old Three Face Pattern GlassBy
Mark Chervenka, editor
Separating New and Old Three Face Pattern Glass
In September 2002, Green Valley Auctions, sold a Three Face biscuit jar for $4,300. Reproductions of the jar have been widely available for $40-$75 for over 25 years.
The original Three Face pattern was introduced by George Duncan and Sons of Pittsburgh, PA in 1878. The figural head and face of a woman is repeated three times on each piece around finials, stems and bases. Heads may be in either clear or clear frosted finishes. Original pieces are nonflint pressed glass.
New biscuit jars were made in new molds by Imperial Glass Co. for the Metropolitan Museum of Art (MMA) beginning in 1975. The new jars, now discontinued, were sold in the MMA gift shop and mail order catalogs. Imperial also made five other different shapes of Three Face for the MMA including a candlestick, compote, cakestand, champagne glass and salt shaker.
All the new MMA Three Face is permanently marked "MMA" in raised molded letters. The new jars are marked twice: on the underside of the lid (Fig. 3) and on the outside bottom of the jar body. (Figs. 4 & 5)
Ordinarily, molded marks such as the MMA would be adequate to separate old from new. However, given the great price difference, ambitious forgers may try grinding MMA marks off the new jars.
The mark on the the underside of the biscuit jar lid would be relatively easy to remove. The remaining surface could be polished out and be fairly difficult to detect. It would be much harder to remove the mark on the base of the jar's body. Note in Fig. 5 that the area surrounding the bottom mark is textured with stippling. Removing the MMA letters would leave an obvious gap in the texture. This would require the entire circular area to be removed to have any hope of passing undetected.
Imperial Glass failed in the early 1980s. Most of its glass-making assets eventually came under the control of the Lancaster Colony Group. Although new Three Face is no longer available through MMA, the location and ownership of the Imperial Glass Three Face molds is unknown. There is always the possibility that these molds could be brought back into production by new owners without the MMA mark.
Other Three Face Reproductions
Three Face has been reproduced since the 1930s when new water goblets and sauces were being made. In the 1950s, Duncan-Miller Glass Co. made a new covered compote. L.G. Wright Glass began making new Three Face in 1968 eventually offering the pattern in 13 different shapes. AA Importing also made a new toothpick holder in the 1970s.
AA continues to be a major player in Three Face reproductions, though, because it bought most of Wright's Three Face molds when the molds were liquidated at auction in 1999. These molds are not known to be in production now, but could be brought back into production at any time.
General Ways to Detect New Three Face Glass
All the reproductions, including those from the 1930s, are made from new molds so there are definite differences between new and old. Perhaps the easiest test is to simply black light a suspected piece. Authentic pieces fluoresce yellow-green. The Wright pieces and the 1970s AA toothpick holder pieces do not fluoresce. We could not find a 1950s Duncan Three Face compote.
Another easy test to separate old from new is to simply check a list of original shapes. No 19th century Three Face was ever made as a toothpick holder. All toothpick holders are reproductions. Other fantasy shapes include the MMA 9″ candlestick and the Wright sugar shaker.
Details and finishing of the faces can also provide clues to age. The frosted finish on many reproductions is so white as to be almost opaque. Frosted areas that appear grainy, look chalky, have blotches of clear glass or are pitted are also typical of reproductions.
Molded details vary considerably among originals and from originals to reproductions. Generally, eyes should be reasonably lifelike. Staring cadaver like eyes are typical of reproductions. Also look for relatively sharply molded strands of hair and strong details in the tiara and necklace. Original pieces have signs of normal wear; new pieces appear mint.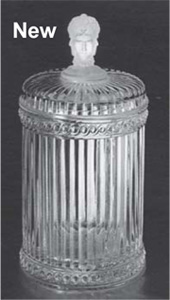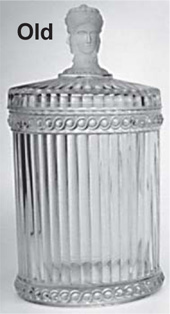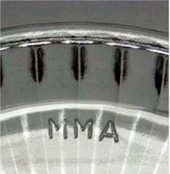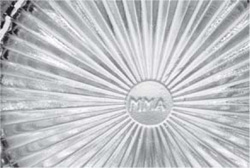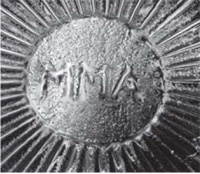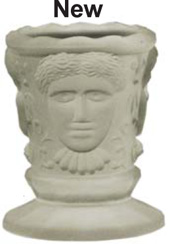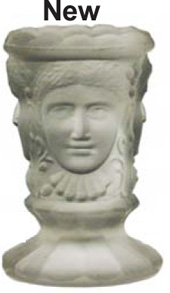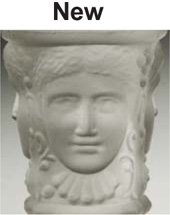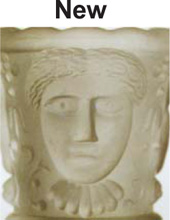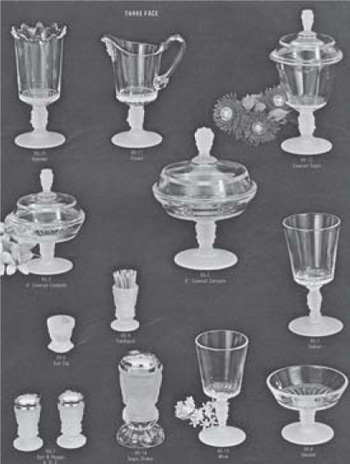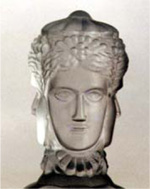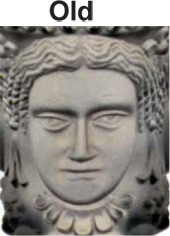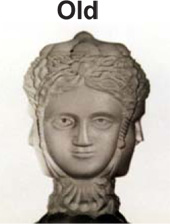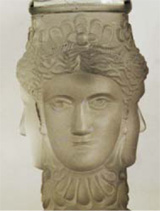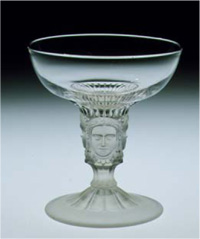 Real Or Repro is an industry resource powered by
a vetted marketplace of dealers and winner of numerous
Ecommerce Bytes Sellers Choice awards
for Quality, Usability, Customer Service, Communications and Most Recommended Selling Venue
---
So now,
Our Ruby Lane Shop Owners
invite You
to shop with them for the
Real Deal
on Ruby Lane ...