Scrimshaw and other nautical carvingsBy
Mark Chervenka
Scrimshaw
and other nautical carvings
When scrimshaw is mentioned, almost all non-scrimshaw collectors and dealers think of carving on sperm whale teeth only. But scrimshaw also includes engravings on skeletal whale bone–such as the jaw bone, called panbone–and ivory from other marine mammals such as walrus. Although scrimshaw is widely associated with nautical themes and designs of the 19th century whaling industry, vintage scrimshaw was also produced as tribal art in many cultures. Today, scrimshaw is recognized as a unique medium in which present-day artists have developed their own modern themes.
Scrimshaw reproductions may take several forms. There are new carvings on genuine ivory or bone with the deliberate intent to create an "antique;" new carvings on genuine ivory or bone sold as signed and dated contemporary art, clearly marked synthetic museum reproductions and mass marketed, unmarked synthetic replicas .
Painstakingly carved deliberate fakes are directed towards the scrimshaw collector and seldom appear in the general market. Pieces of contemporary art and museum copies are usually clearly marked and openly sold for what they are. The biggest problem in the general antiques market are the mass produced synthetic pieces and are the focus of this article.
Synthetic or natural?
The great majority of synthetic scrimshaw reproductions are made of manufactured polymer resins, or plastic. Virtually all plastic will absorb long ultraviolet (UV) light and appear a dull matte blue under black light or appear the same color under black light as it appears under white (room) lighting. This is regardless of the surface color of the plastic. Natural bone and ivory appear white to yellowish-white under long wave black light regardless of their surface color in white light.
Do not use heated pins, open flame, apply acetone, or scratch the surface of the test object. Not only are such tests largely ineffective, they are destructive and potentially harmful–some plastics emit toxic fumes when heated or exposed to acetone.
Bone or ivory?
Carvers in China now using bones of domesticated water buffaloes to imitate ivory objects. Subjects on the new carvings include 19th century whaling and nautical themes (Figs. 10-12). These new pieces will fluoresce white or yellowish-white like ivory under long wave black light. Staff of the Kendall Whaling Museum told ACRN that no similar boxes of bone have ever been documented from the 19th century. All such pieces should be viewed with extreme suspicion.
You can separate bone from ivory by examining the surface. All true ivory comes from a tooth–a tusk is simply a large tooth. The part of ivory that is carved is composed primarily of dentine, a nearly perfectly solid mass. A microscope is required to observe any cavities in ivory, called dentinal tubules, which average one micron in diameter (1/25,400th of an inch). By contrast, cavities in bone through which fluids pass, the Halversian System, are easily visible with the unaided eye or a loupe. They form a typical pattern of dark pits and grooves (Figs. 23-24)
But be careful. The better-made synthetic fakes now include the pits and grooves of natural bone in the molds of synthetic copies (Figs. 23-24) A black light test, however, would prove the more accurate fakes to be made of synthetic material, not true bone.
Remember, guidelines in this article are detecting the mass produced plastic scrimshaw fakes, not individually crafted forgeries on old bone or ivory.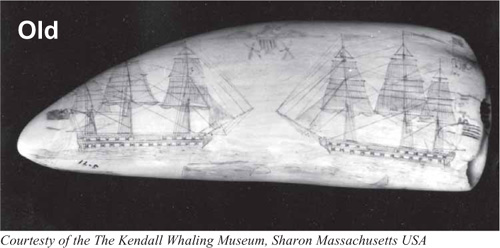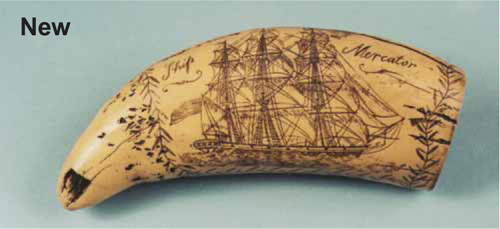 Italicized words in captions below appear as titles or signatures. Figures 3-18 are new.