Scenic Metal Overlay Glass ShadesBy
Mark Chervenka
Scenic Metal Overlay
Glass Shades
One of the appeals of 19th century leaded glass lamp shades is the dark pattern of lead joints created when the lamp is turned on. These dark joint lines were as important to the overall design of a leaded shade as the color and layout of the glass itself. But the high cost of skilled labor required to individually cut and join each small piece of glass–as at firms like Tiffany and others–made most leaded lamps too expensive for the general public.
Scenic overlay shades were created as a low priced alternative to the costly leaded shades. Overlay shades have a design in metal, usually pierced, placed over a relatively small number of large pieces of glass. The solid metal blocks out the light coming from within when the lamp is turned on. This creates a dark pattern against an otherwise bright background which produced the look of a hand leaded shade at a fraction of a leaded shade's cost.
The main difference between old and new scenic overlay shades is how the metal overlays are made. Metal designs in old original overlay shades were cast. Designs on all the new scenic lamps we have examined so far have been stamped. Old cast designs have flat solid backs because molten metal filled a pattern mold up to the top rim. New designs are half-rounded shells because the design is stamped or punched on a machine.
Be careful to use this information only on the scenic overlays. We have seen some new overlay shades in geometric patterns that do have cast designs just like old shades. Don't look at just how a suspected shade's design is made but study how the entire shade was assembled. Genuinely old overlay shades should show how the solid cast metal sections are joined to other similar cast sections. See the photos and illustrations for construction details.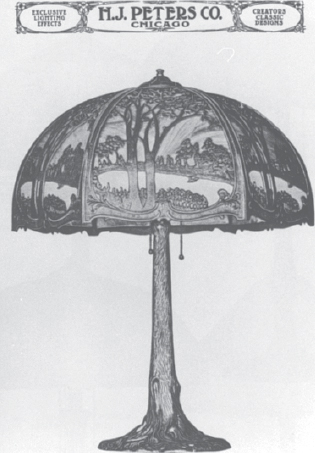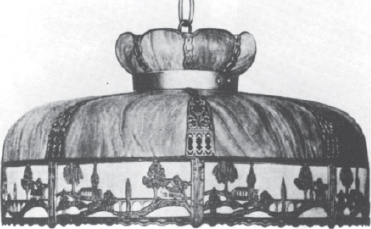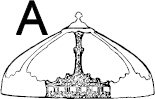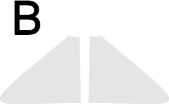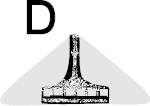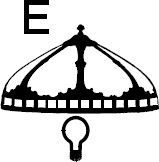 Figure A is from a patent drawing for an old metal overlay lamp. Fig. B shows two large pieces of glass. The metal overlay, Fig. C, will conceal the gap where the two pieces of glass meet shown in Fig. D. When the lamp is turned on, the metal appears as a dark shadow against the brightly lit glass, Fig. E.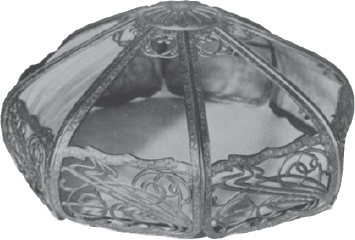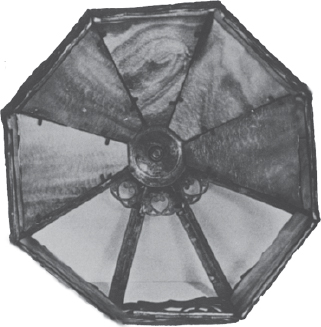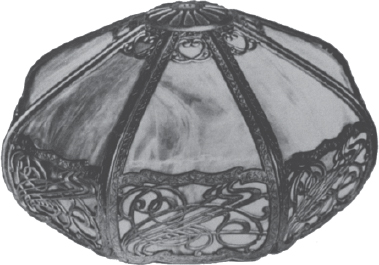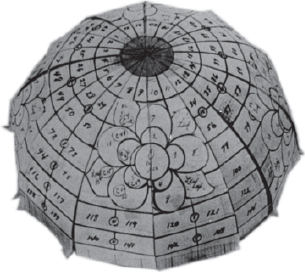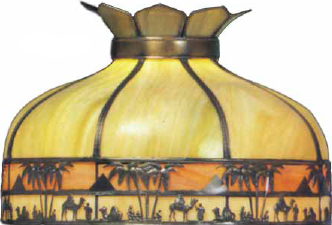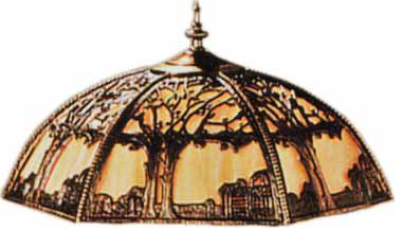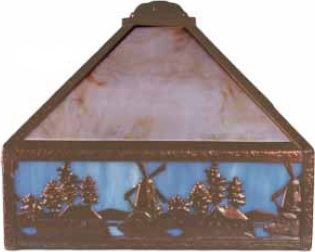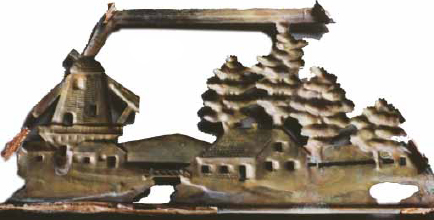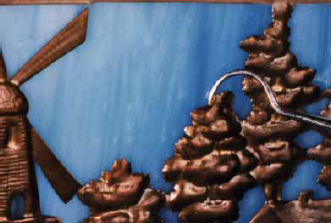 (New, left) (Old, right)