Scarce Stoneware Jar CopiedBy
Mark Chervenka
Scarce Stoneware Jar Copied
Reproductions of a scarce stoneware vinegar jar have been made. Both jars have "For Purity & Strength Use Emrich's Old Glory Vinegar" in cobalt blue stenciling on white glazed stoneware.
The new jars have a slimmer vertical design and measure about 16″ tall. Original jars are distinctively barrel-shaped and measure about 14″ tall. New jars are hand turned; original jars are molded. Glaze on the original jar is almost pure white which is typical of zinc glazes on authentic molded ware made ca. 1890-1920. Glaze on the new jar has an overall gray tint. New glaze also includes brown spots typically caused by iron impurities in new glazes. Clay in the old jar is tan or buff; new clay is more reddish.
New stenciling is slightly darker than the original but this is not easy to see unless the pieces are side by side. The new stenciling has been applied so closely to the original that is it very difficult to tell it is new.
Most of the original barrel jars were made by Burley Winter Pottery in Ohio. Similar original jars include a Hawkeye Vinegar and Pickle jar from Burlington, Iowa and others from Keokuk, Iowa, Kansas City and Nebraska.
One of the new jars was sold at a Kansas flea market; others have been reported for sale at an antique mall north of Kansas City, Missouri. Other pieces of stoneware are also rumored to be produced by the same parties distributing this Emrich's jar.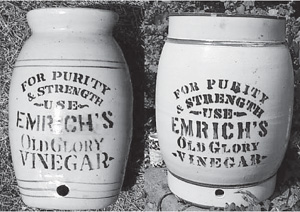 Photo of new and old courtesy Wyn Painter.
Real Or Repro is an industry resource powered by
a vetted marketplace of dealers and winner of numerous
Ecommerce Bytes Sellers Choice awards
for Quality, Usability, Customer Service, Communications and Most Recommended Selling Venue
---
So now,
Our Ruby Lane Shop Owners
invite You
to shop with them for the
Real Deal
on Ruby Lane ...