Roseville Copies Hit MarketBy
Mark Chervenka
Roseville Copies Hit Market
Copies of Roseville art pottery vases marked like originals began appearing in the American market in October, 1996. Two of the first confirmed patterns reproduced were Magnolia and La Rose.
Magnolia
One of the first sources of the new Magnolia was Castle Antique Reproductions of Hawley, Pennsylvania. A group of 300 seven inch vases in brown Magnolia priced at $8 each were sold out in two days in October, 1996. Those pieces were made in China and originally have a Made in China gold paper label. The new vases have the same molded mark (Roseville U.S.A. 90-7″) in raised lettering that appears on originals (Fig. 2).
The original Roseville magnolia pattern was introduced during the 1940s in Roseville's so-called Late Period ca. 1935-1954. Virtually all Roseville originals from that era are marked with Roseville U.S.A. and a pattern code and size in raised letters on the bottom of the base. The new magnolia pieces have the same markings as originals, including shape code and size, because they are cast from molds made from originals. Marks alone therefore, are not a reliable test to detect the copies.
The easiest way to catch the 1996 new Magnolia copies is to look or feel down in side the vase. Insides of original Roseville vases were entirely glazed to protect the clay from water and moisture from plants and flowers. Insides of the new Magnolia pieces are not glazed. The inside surface is unpainted and unglazed just a few inches down from the top rim. This leaves a rough finish that is easy to see and feel (Figs. 7-8). Later Roseville reproductions, though, are glazed on the inside so this is not always true.
Where the new clay is exposed, it is almost pure white; clay in originals has a yellow cast or buff color.
The new blossoms have an exceptionally high gloss glaze (Fig. 9). This difference is not apparent when comparing photographs of originals to the reproductions. Unless you handle a lot of Roseville, however, this could be easily overlooked. The matte finish of the overall background is similar to originals. Another difference is how the paint in the centers of blossoms is applied. Original paint was applied with dipped rags or sponges leaving a solid mass of color. Paint on the new buds is sprayed on leaving a speckled area of color (Figs. 5&6).
Otherwise, the overall color, quality of paint and molding on the new Magnolia are fairly good. Dimensions of old and new are practically identical and vary no more than measurements do among originals. The first color reproduced in Magnolia was brown. Later there were other colors in the Magnolia pattern.
La Rose
Original La Rose is from Roseville's Middle Period made during 1924. The piece reproduced is #242-9″. Not all pieces from this period were permanently marked. If marked, it is an ink stamped capital letter "R" with a "v" enclosed in the top of the R or with a paper label. The original ink mark is deep dark blue ink applied with a rubber stamp. The new La Rose is marked with a virtually identical Rv rubber stamp but in a much paler blue ink. Again, marks alone are not a reliable test of authenticity. The color of original Rv ink stamps varies with the amount and density of ink and pressure used in its application.
Original La Rose has an overall texture to the body; the new has virtually no texture. Decoration on the new is applied to general areas; on originals is applied to specific details like the garland. Do not apply the guidelines on clay and glaze discussed for the Magnolia piece to the La Rose. The new La Rose is glazed on the inside and does have yellowish or buff colored clay. The new La Rose was believed to be made in the United States. There is speculation that the same persons responsible for Watt Pottery reproductions also made the new La Rose. This is unconfirmed, however, and is only speculation.
What patterns next?
A person who bought one of the new Magnolia pieces in Hawley had an interesting look into the future. While paying for his new piece of Magnolia, he noticed a row of other Roseville vases on a shelf. "Are those Roseville reproductions?" he asked. "How much are they?"
An employee said that no, those were originals being sent to China to be copied for the next batch of reproductions. More reproductions in other patterns may have arrived in the United States in subsequent years.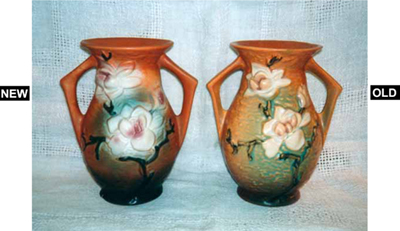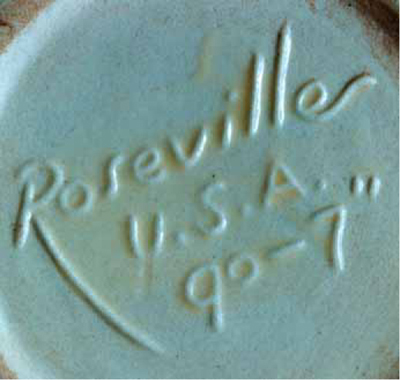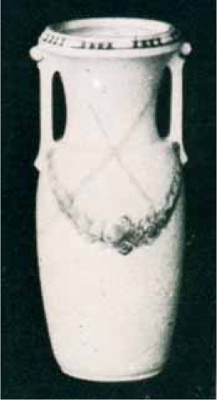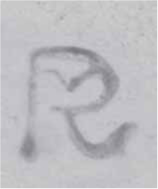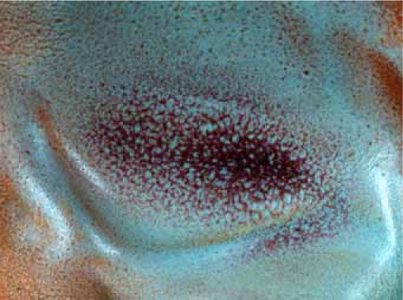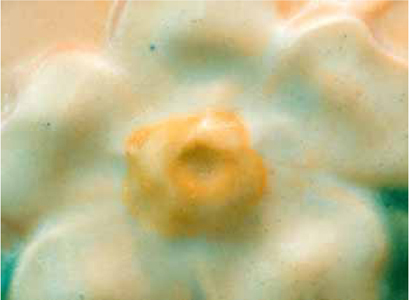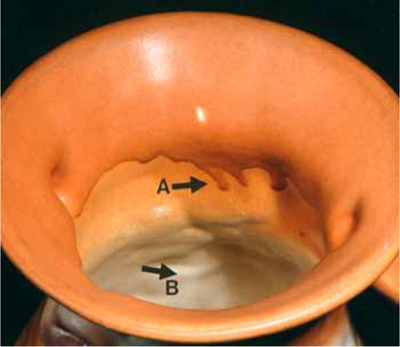 Cross Sections of Magnolia Vases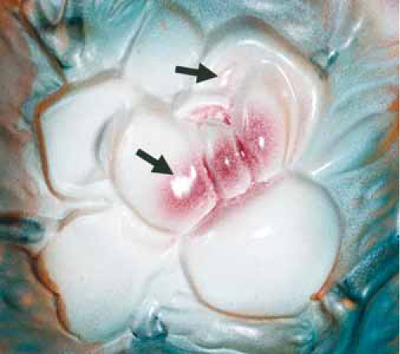 Real Or Repro is an industry resource powered by
a vetted marketplace of dealers and winner of numerous
Ecommerce Bytes Sellers Choice awards
for Quality, Usability, Customer Service, Communications and Most Recommended Selling Venue
---
So now,
Our Ruby Lane Shop Owners
invite You
to shop with them for the
Real Deal
on Ruby Lane ...