Rookwood Pottery CoBy
Mark Chervenka
New Products - The Rookwood Pottery Co of Brooklyn, Michigan
Rookwood Pottery was founded in Cincinnati, Ohio in 1880. For 50 years its products were considered some of the world's finest art pottery ever made. Then the Great Depression and shortages of material in WW II lead to the company's failing. During the 1950s the company passed through various owners and was moved to Starkville, Mississippi. The business completely shut down in 1967 under the ownership of Herschede Hall Clock Company.
The molds and equipment were unused through 1982. At that time, a group of investors began preparing to move what remained of the company to Korea where production would be resumed. The move would have included the molds, company records, medals Rookwood was awarded, and all other physical assets.
Word of the move reached Arthur Townley, a Michigan dentist. Townley went to Starkville and made a deal to buy Rookwood and prevent it from going overseas. The remains of the original company were in 31 crates stored on a cotton plantation. Their contents included: approximately 2000 molds, 13 medals won by Rookwood, original shape books with free-hand drawings, about 1200 master blocks (from which were taken master molds) and around 5000 glaze and clay formulas.
Perhaps most valuable of all are the Rookwood name and associated trademarks. Along with the physical assets, Townley's purchase also included the rights to the reverse R and P mark, the name "Rookwood" and the RP mark with flames.
Although having no experience or training in ceramics, Townley and his wife Rita began making pieces from original molds in the mid-1980s. The Townley's new Rookwood has the same RP flame mark as the original but there are several major differences. First, all the new pieces are dated in Arabic numbers not Roman numerals. The dates are ground into the glaze with a diamond drill not cast into the ceramic material. New Rookwood is all stark white porcelain not the softer Ohio clay used in the original pottery. The glazes are also different in color and finish from glazes used on originals.
Townleys limit production to 500 pieces of each mold number. Currently in production are about 30 different pieces including 14 figural paperweights, various vases, a dealer sign, tiles and bookends. Prices for the paperweights averaged about $30 retail; the larger vases sold for $125-$150. Total production is limited to about 1000 pieces per year. All new pieces are glazed only; no hand decorating is applied.
New Rookwood is sold through independent retailers throughout the United States. The majority of sales, though, are made in Cincinnati, Ohio to pottery collectors and tourists.
Special thanks to Arthur Townley for sharing information about New Rookwood Pottery.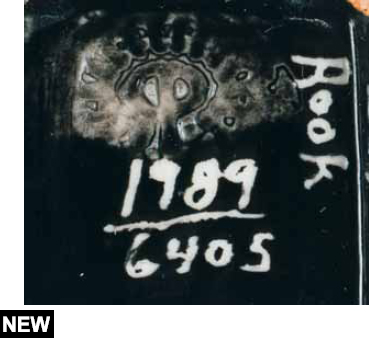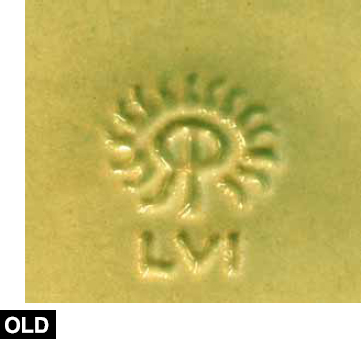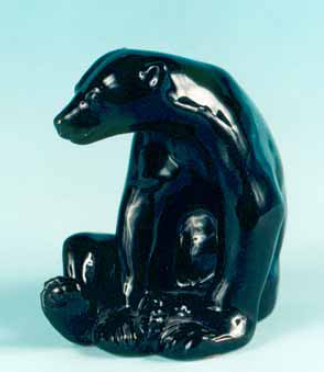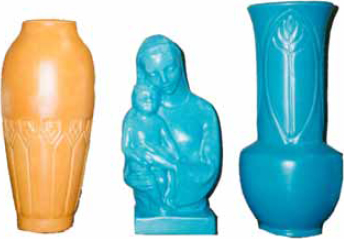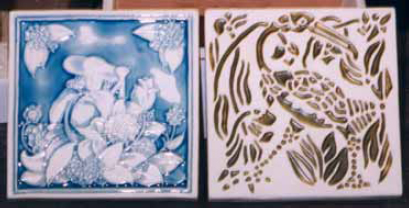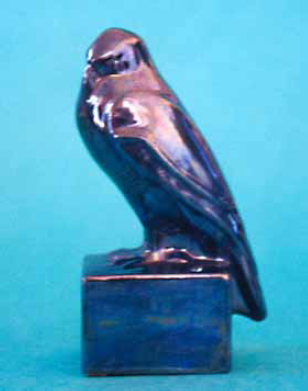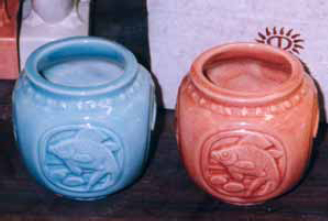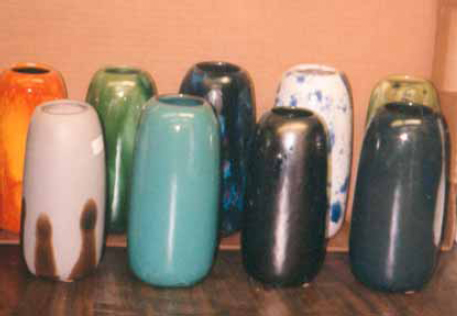 Real Or Repro is an industry resource powered by
a vetted marketplace of dealers and winner of numerous
Ecommerce Bytes Sellers Choice awards
for Quality, Usability, Customer Service, Communications and Most Recommended Selling Venue
---
So now,
Our Ruby Lane Shop Owners
invite You
to shop with them for the
Real Deal
on Ruby Lane ...