Reproduction picture buttonsBy
Mark Chervenka
Reproduction picture buttons
Picture buttons are among the most popular and expensive of antique buttons. They are almost always made of metal and constructed of two or more separate pieces or layers. Designs include animals, birds, insects, occupations, sports, and famous persons to name a few of the more popular categories. Picture buttons based on well known subjects from fairy tales, operas, literature, poetry or folk tales are called story buttons.
Picture buttons were first made during the middle of the 19th century, ca. 1850. They continued in popularity until the start of WW I, ca. 1915. Fine quality picture buttons were primarily made in France, Germany, England and the United States.
A number of the more sought after picture buttons, mostly story buttons, have been reproduced. These include Little Red Riding Hood, Kittens in a Basket, Hansel and Grettel, Chase of Pleasure (Loitering Home from School), Brother and Sister, Pay Toll Here, Cleopatra and the Asp and others.
Authentic picture buttons of the greatest interest to collectors usually consist of three or more separate pieces. The different pieces usually were of different metals (brass, copper, etc.) or had different colored finishes (paint, silvered, etc.) to give a multicolored effect. Typical piece by piece construction of an original picture button is shown in Fig. 9.
In contrast, the reproductions discussed in this article are solid, one piece castings made of a single homogeneous material throughout. The material is a dull gray lead alloy (see cross section, Fig. 7) Gaps and seams are intentionally created to give the illusion of separate pieces (Fig. 8) Upon close inspection, however, it's fairly obvious that the reproduction buttons are cast as a single piece.
Unlike original picture buttons which are multicolored, the reproductions are a uniformly dull pewter-like gray. Raised areas are sometimes shiny, backgrounds and areas below the surface are generally very dark, almost black. All the new buttons are much heavier than originals because they are a single solid casting.
According to Debra Wisniewski, author of Antique & Collectible Buttons, Identification and Values, © Collector Books, this type of button reproduction has been on the market since the early to mid-1990s. "They come in a variety of sizes and a number of different subjects. The new buttons rarely show up at button shows because button collectors know about them. They're usually offered at antique shows, malls and flea markets where general line dealers or the general collecting public mistake them for old. I've heard the new buttons wholesale for about $5 each."
The reproductions are copies of the most desirable, higher priced buttons. For example, Debra says an original Brother and Sister button currently sells for $65-$70. The reproduction is shown in Fig. 2. A particularly desirable original, Kittens (Cats) in a Basket, is currently valued at $75 and up. The reproduction is shown in Fig. 10.
There are three general sizes of collectible buttons: small–⅜″ to ¾″, medium–¾″ to 1¼″ and large–over 1¼″. Cast reproductions have been seen in a variety of sizes so size is not a clue to age.
The most reliable way to identify the fakes is by their single piece cast construction. Another good clue is to look at the shank. Shanks of the new cast buttons are cast as part of the button. The majority, but not all, original picture buttons have a separate piece of metal that forms the shank.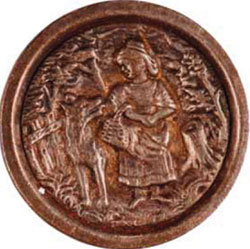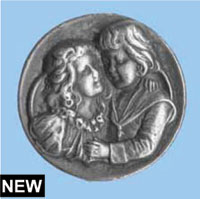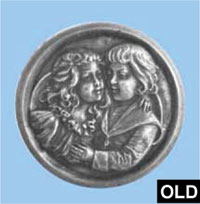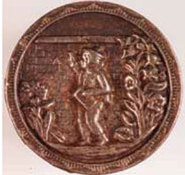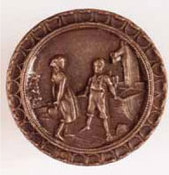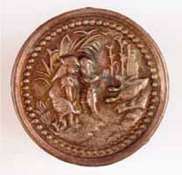 One-piece cast
reproduction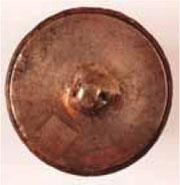 Typical multi-piece
original