Reproduction Dahlia Pattern Carnival GlassBy
Mark Chervenka
Reproduction Dahlia Pattern Carnival Glass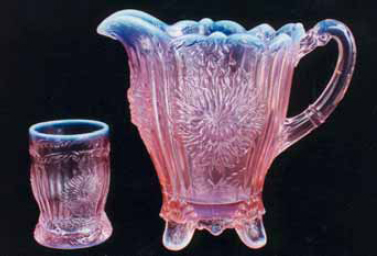 Original Dahlia pattern carnival was produced by the Dugan Glass company of Indiana, Pennsylvania. The only shapes made were service pieces which included a water set, berry set and table set. Original Dahlia was made in purple, white and marigold. Original tumblers sell from $100-200; water pitchers, $600-700 and up.
The first reproductions of the Dahlia pattern were made by Westmoreland Glass in 1977. Westmoreland made the water pitcher and tumbler for the L. G. Wright Glass Company. Terry Crider, a contemporary glass maker and artist, also purchased some non-iridized tumblers and applied his own iridescence.
The 1977 water sets were made in three colors--white, ice blue and amethyst. In 1980, Crider had tumblers made in blue opalescent and green opalescent. It is not known if Wright distributed any of the 1980 colors or if any of the water pitchers were made in them. There are no marks on any of the Wright pieces. Crider's pieces are usually signed (but the signature may be removed).
More new Dahlia was made by Mosser Glass which took orders from glass and gift wholesalers and distributors. Some of the new colors included red carnival, pink opalescent, black amethyst carnival and sapphire blue opalescent. Colors have been changed frequently and this may be only a partial list of colors that may have been made. Note that some new colors are iridized; some are not. New 7-piece sets averaged $45 to $65 per set. The only Dahlia pieces known to have been reproduced at this point are the 48 ounce water pitcher and 9 ounce tumblers.
The simplest way to identify new tumblers is to count the number of flowers around the sides. Old tumblers have four flowers; new tumblers have only three flowers. Bottoms of old tumblers have a 33 rayed star; the bottoms of new tumblers are smooth.
No significant differences between the molding of the old and new pitchers has been noticed. If you are examining a pitcher, remember that the only original colors are marigold, white and amethyst. Likewise, if a pitcher does not have an iridized carnival finish, it is probably new.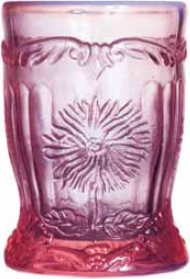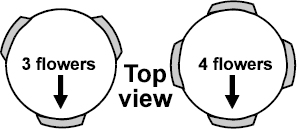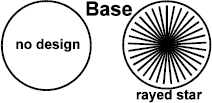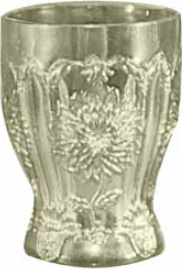 Real Or Repro is an industry resource powered by
a vetted marketplace of dealers and winner of numerous
Ecommerce Bytes Sellers Choice awards
for Quality, Usability, Customer Service, Communications and Most Recommended Selling Venue
---
So now,
Our Ruby Lane Shop Owners
invite You
to shop with them for the
Real Deal
on Ruby Lane ...