Reproduction Majolica with Confusing markBy
Mark Chervenka
Reproduction Majolica with Confusing Mark
Here's an interesting new example with what the owner thought was an old, dated mark. The mark was first thought to include the date 1888. On closer inspection, though, the date was actually 1988.
The full mark stamped in brown ink under the glaze reads, The Haidon Group at top, a monogram in center, the modern registered symbol ®, and modern copyright symbol © before the date, 1988. Virtually all marks on china or pottery that includes the © and ® symbols are new.
The new teapot itself is a fairly close copy of vintage raspberry patterns made by several 19th century majolica manufacturers. Berries, vines and leaves appear on a basket weave background. Pattern details are painted in bright colors found on vintage majolica.
You can also tell the age of this piece by examining how it was made. This piece, and virtually all other new majolicasli is made by slip casting. Slip casting is a process in which clay thinned with water is poured into two-piece plaster molds. Slip casting speeds production because complex shapes like handles and knobs are cast, not made separately and applied as in 19th century majolica.
Slip casting produces holes where handles join bodies and knobs meet lids. There are two holes in this new teapot where the handle meets the body and the knob on the lid is hollow. Handles and knobs on virtually all 19th century majolica were made of solid clay and applied separately, a method which left smooth solid walls with no holes.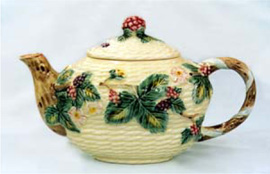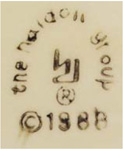 Real Or Repro is an industry resource powered by
a vetted marketplace of dealers and winner of numerous
Ecommerce Bytes Sellers Choice awards
for Quality, Usability, Customer Service, Communications and Most Recommended Selling Venue
---
So now,
Our Ruby Lane Shop Owners
invite You
to shop with them for the
Real Deal
on Ruby Lane ...
View More Similar Items